Brendon Urie wife Sarah Orzechowski bio: age, height, engagement and wedding photos
Have you heard songs of the famous American band Panic! At the Disco? Its crazy, emotional and handsome vocalist Brendon Urie attracts the attention of many young ladies, but his heart is no longer free. It is occupied by Sarah Orzechowski – his beautiful grey-eyed wife. So who is she? Go on reading to find it out!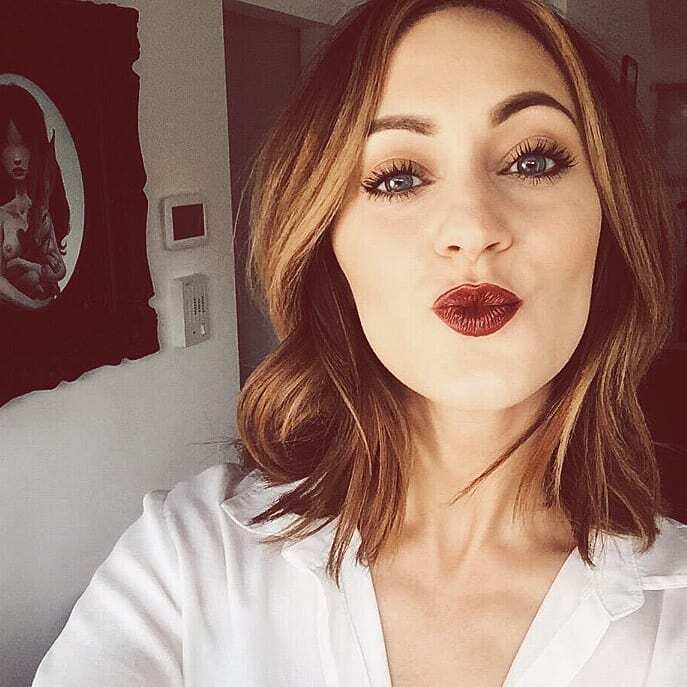 Brendon and Sarah are one of the most beautiful and bright star couples. Why did Panic! At the Disco vocalist has chosen this woman? Perhaps there is something special about her.
Top facts from Sarah Orzechowski bio
Brendon Urie wife is a professional skin-care enthusiast. In 2010 she got her licence on skincare and today she posts many pieces of advice concerning facial routine on her Twitter and even recommends products for treatment and care. Many people ask her questions under her posts, and she answers them often giving practical and useful recommendations.
Not only her face is attractive, but her body too. She is a beautiful woman with model parameters. For instance, Sarah Urie height is 5 feet 8 inches (172cm), and she weighs about 127 pounds (58 kg). Concerning other body measurements, they are 35-26-35 inches (89-66-90 cm).
Her ethnicity is American, and she was born in Detroit, MI, United States.
The young lady is popular on Twitter, where 220 thousand people read her; and on Instagram, where she has 820 thousand followers.
When is Sarah Orzechowski birthday?
Many people wonder "How old is Sarah Urie?" It is difficult to guess the woman's age because she looks as fresh and young as twenty years old girl. However, it is time to reveal that the woman was born on 23rd February 1987. Therefore, Sarah Orzechowski age is 32.
She was born a cute little blond girl but dyed her hair to this contemporary uncomparable black. She wrote on her Twitter:
"I am a natural blonde then it started to turn light brown when I was probably in about 6th grade."
Today, perhaps, no one can imagine her with blond hair. However, it is interesting if her husband can.
What is Brendon Urie and Sarah Orzechowski love story?
The spouses first met accidentally, during Panic! At the Disco tour. Their meeting was short, and the situation was pretty unfavourable: Sarah had a boyfriend. However, the flash that happened between them could be called love from first sight. Brendon recollected this situation on Reddit.
"I met Sarah while touring for Pretty. Odd. She was dating someone else at the time, but I couldn't get her out of my mind. By some good fortune and some help from mutual friends, we met up again eight months later when she happened to be single. We've been smiling with each other ever since. Goddamn, she's amazing."
READ ALSO: Annie Verret bio, parents, college and relationship with Jordan Spieth
They got engaged in 2011 and had nothing to do but to wait for the day of their marriage.
Sarah Orzechowski and Brendon Urie wedding took place on April 27, 2013, in Malibu, California. The ceremony was organised at Saddlerock Ranch, and wedding team ART IS FOR LOVERS helped them to create their special day. The woman told about it in the interview for Green Wedding Shoes:
"It was very important for us to have this day reflect our love for one another, something beautiful, romantic, whimsical, and unique. Every detail really came together the day, and we became very emotional when we finally got to see it all at once. We were honestly speechless at how beautiful everything was – it truly felt like a real-life fairy tale."
By the way, the wedding dress was tailored by Vera Wang, and it looked entirely gorgeous on the fiancée!
Their first dance was accompanied with the song "Faithfully" by Journey, and the wife had a special present for her beloved husband – a vintage dresser used as a bar. She commented:
"I chose it to be the main bar of the night as a special piece devoted to Brendon. The man loves his beer/whiskey, so I wanted to surprise him by having that area be a special highlight. He loved it."
Brendon Urie and Sarah Orzechowski engagement photos can be easily found on the net and in social networks.
The lady changed her name from Orzechowski Sarah to Sarah Urie and has her husband's name even as her Instagram ID.
Sarah and Brendon often post family photos together and does not fail to mention each other in their Instagram posts from time to time.
The couple does not have children today, and they do not reveal any information about planning a baby. However, in 2012, shortly after their engagement, rumours about the woman's pregnancy appeared. Some fans even managed to congratulate the couple, but the lady replied with the following Tweet:
"Haha, I am not pregnant. It's a baggy shirt + the angle of the photo. I'm enjoying some spiked punch as I type this."
Sarah Orzechowski seems quite happy in the marriage with the Panic! At the Disco vocalist. She does not sing, as Brandon does, and does not appear on the public in crazy costumes, as her husband does, but she has a bright and interesting personality. Although many facts about her are not discovered yet; she already attracts much attention and is adored by Brendon's fans.
READ ALSO: Anne Hathaway husband Adam Shulman bio: age, height, net worth
Source: Legit.ng