Molly Eskam: birthday, age, net worth, boyfriend and no makeup pictures
Molly Eskam is a young, well-known Instagram model. This 21-year-old girl has achieved considerable success in the modelling business. What do we know about her life and how did she manage to become so popular? We are going to answer these and many other questions in our article below.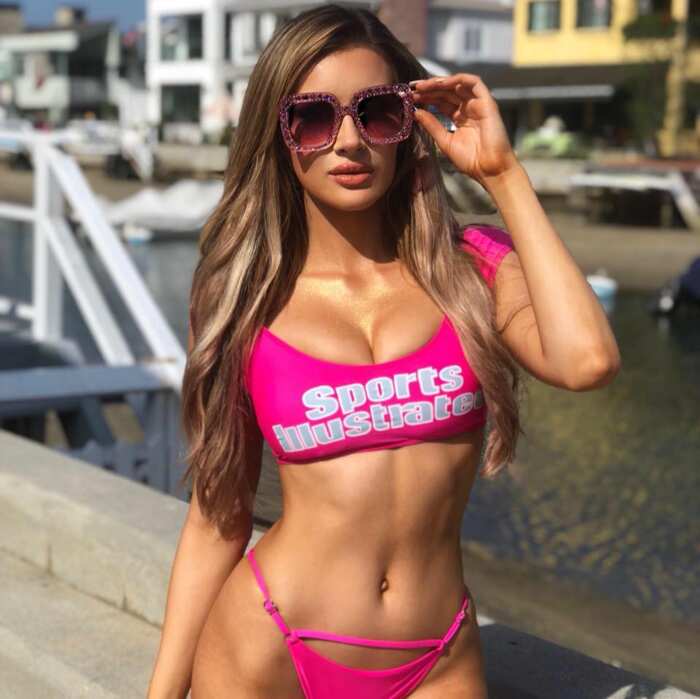 Molly Eskam was born on September 29, 1998. The girl is blessed with an unusual appearance, so there are questions about her origin. She was born in Scottsbluff, Nebraska, USA. Molly Eskam age is 20, which causes a lot of questions including "How has she managed to achieve such great success being so young?" The number of her followers on Instagram exceeds the 1.2 million mark. Keep reading, and you will learn how she managed to conquer the world.
Who is Molly Eskam?
The girl is very different from a large number of models, and this causes a question about her ethnicity. The model has Caucasian roots which can be seen from her facial features. She has blond hair and green eyes. Her image is unique, and that made her so famous.
Molly was born in Nebraska, but as a child, she moved to California, where she stayed. She has two older brothers, Chase and Chance; her parents' names are Kent Eskam and Laurie Eskam.
Molly became famous in 2017. She is not only a model but also has her own YouTube channel where the she mainly uploads her vlogs. She has achieved great popularity with her vlogs. At the moment, her channel has about 0.5 million subscribers.
Her first video on the channel was devoted to plastic surgery, and the girl told about her knowledge in this area. She has three of the most popular videos on her channel: How To Get Free Starbucks (Not clickbait), Gold Digger Prank (Asking Faze Rug For 20K) and Pool Day With My Dogs. These videos have collected more than a million views which attract the audience even more.
READ ALSO: Jerry Trainor now: age, height, net worth and photos
The girl is in a collaboration with the famous blogger RiceGum. Now they are jointly engaged in her videos. The girl devotes a lot of time to her work on the internet and tries to create fun and high-quality content for her fans.
Molly Eskam net worth
Molly is an underwear and swimwear model. She works with well-known lingerie brands and is not shy about showing her curves. The model showcases quite open shots in swimsuits and underwear. She participates in a large number of model shows, and also took part in the Courtney Allegra Runway Show. The girl consistently receives payment for the promotion of well-known brands and also earns very well on her channel.
Through her work on the internet and in modelling, Molly has managed to earn $150,000 until 2019. She openly talks about her assets in her vlogs on YouTube. She keeps working and releasing new videos, and undoubtedly, her wealth will only grow.
Molly Eskam relationships: dating, married or single?
Molly was in a relationship with the famous gamer FaZe Rug. This relationship recently ended, and at the moment the girl is single. Of course, such a beautiful model should not worry about it at all.
READ ALSO: Grace Randolph bio: birthday, age, husband and photos
There is no doubt that soon, the beauty will find a new suitable partner. She has nowhere to hurry, because the age of Molly is only 21 years old.
Molly Eskam has made great strides in modelling and as a blogger. She has a considerable number of fans around the world. Her beauty and her perseverance helped Molly in her accomplishments.
READ ALSO: Laura Rutledge: age, height, husband and hot photos
Source: Legit