April Love Geary is a beautiful American model. With over ten years in the modelling industry, her incredible height, beauty, and hard work have enabled her to be signed under two of the most significant modelling agencies in the world. Apart from beauty, April is popularly known for her relationship with the soul and R&B singer, songwriter, and producer Robin Thicke.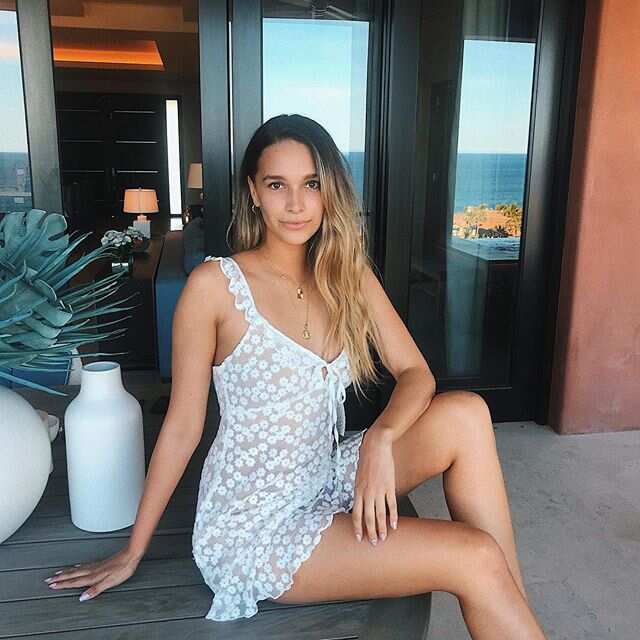 As one of the most experienced models in the American runways, Love Geary has also managed to be a great social media celebrity. This is through her stunning photos that genuinely define beauty at its best. Despite her rather private life, Geary rose to the limelight due to her engagement and children with the music producer Robin Thicke. Love has proven that "age is nothing but a number" through her relationship with Robin.
April Love Geary profile summary
Name: April Love Geary
D.O.B: 6th December 1994
Age: 24 years
Profession: Model
Relationship: Married
Husband: Robin Thicke
Net worth: $50,000
Height: 5 feet 11 inches
Children: Mia Love Thicke
Parents: Diana Geary and Patrick Geary
Ethnicity: mixed
April Love Geary bio
The gorgeous model celebrates her birthday every 6th day of December ever since 1994. As of 2019, April Love Geary age is 24 years, and she will be turning 25 years this December. This simply shows how early April ventured into the modelling world hence making her one of the youngest and most successful models in America.
April Love Geary parents
Despite the model's private lifestyle, especially concerning her family, the beauty was born by Diana Geary as her mother and Patrick Geary as her father. Through her social media photos, she is known for expressing how much she loves her mother by sharing different gifts she receives from her every mother's day. Information concerning her father is only limited to the name.
April Love Geary ethnicity
April Love Geary nationality is American. Even though, she comes from a mixed ethnicity background. The tall beauty shares a rich ethnicity from four different ancestral backgrounds. These include Mexican, French, Dutch, and Irish ancestry backgrounds. Her parents had her as the lastborn of the family.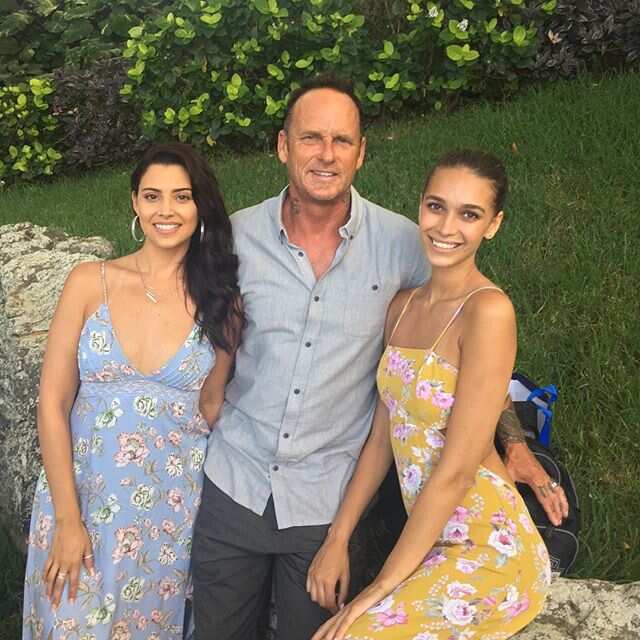 April has two elderly half-sisters, namely Monica and Oliver. Geary and her two stepsisters were born and raised in Huntington Beach, California, United States.
April Love Geary hot body and height
Did you know that Geary ventured into modelling at a tender age of 12 years? Thanks to her extraordinary tall yet proportional height, her destiny in the modelling world was guaranteed to blossom. With a height of 5 feet 11 inches (1.8m), she inevitably makes a statement whenever she strikes a pause or rocks the many designer fashion clothes in the runway. With a beautiful face and tall skinny figure, April has a gross body weight of 57kg with well-curved bust and heaps that brings out that hour-glass stunning body shape. Her body size measures 34-33-23 with respect to her bust, hip, and waist.
April Love Geary net worth
Given to her over a decade in the modelling industry, Love is estimated to possess a current net worth of 50,000 dollars. The tall and gorgeous beauty is currently signed under two of the biggest modelling agencies such as the International Management Group (IMG) that is a sports and talent management company. She is also signed under Photogenic Talent company. Her massive following and views on various social media platforms like Instagram are also playing a significant role in her net worth contribution.
READ ALSO: Elyse Willems bio: age, height, maiden name, husband, baby
April Love Geary Robin Thicke engagement
So, who is April Love Geary boyfriend? In December 2018, Robin Thicke and Love Geary officially got engaged. This was during a Christmas Eve dinner event with their families when Robin decided to go on one knee and proposed to his young girlfriend Love. Geary happily accepted the proposal and went ahead to spread the good news to the entire world by sharing the photo of her and Robin besides a Christmas tree with the captions "YES YES 1000x YES."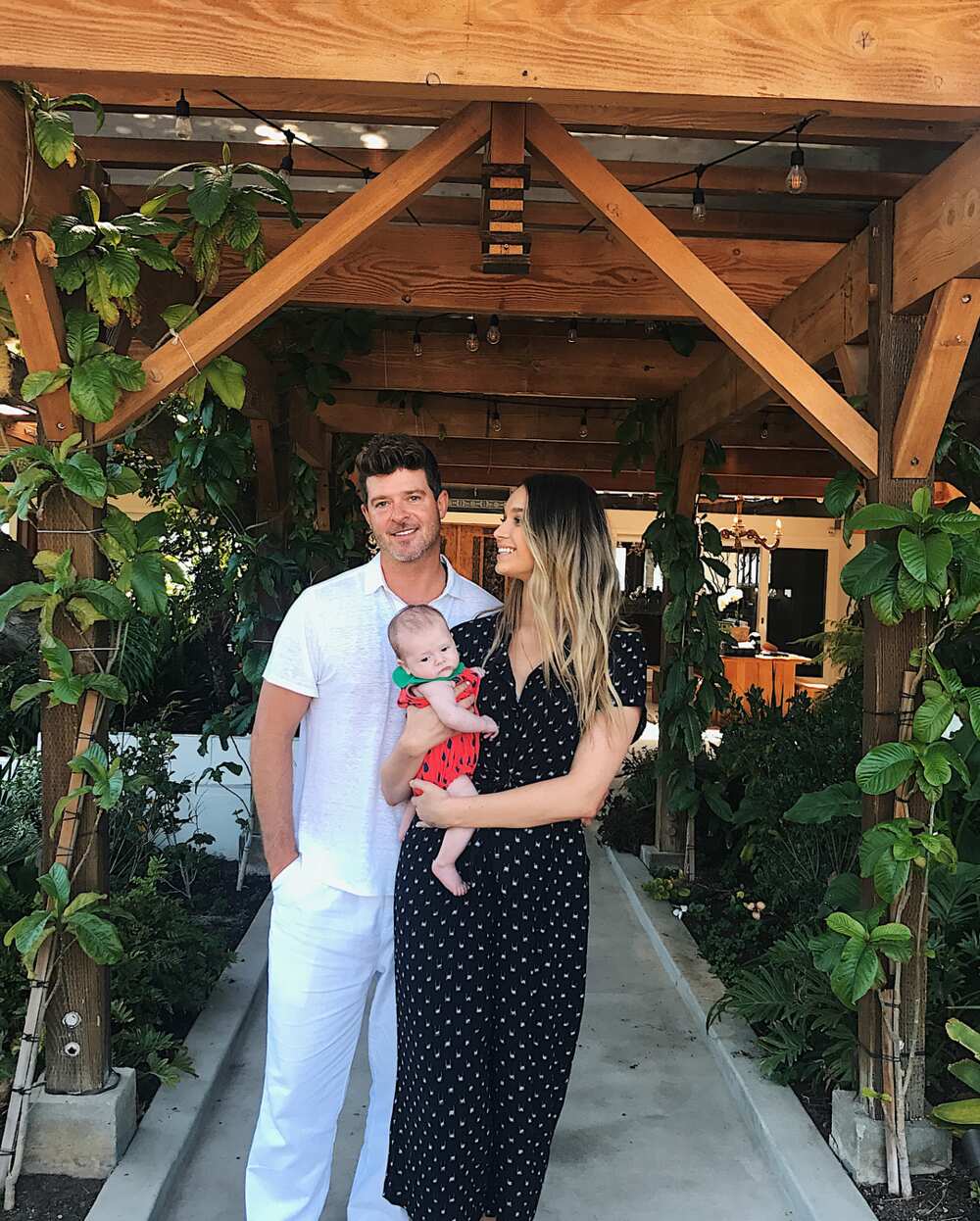 April and the R&B singer started their relationship way back in 2014. This was during Robin Thicke finalization of divorce with her ex-wife Paula Patton. Paula and Robbin got married back in 2005 and were blessed with a son named Julian. The couple decided to call it quits ten years later by officiating their divorce on 20th March 2015.
Age difference
Love and Thicke relationship took social media with a storm due to the vast age difference. April Love Geary birthday falls on 6th December 1994 while Robin's birthday is on 10th March 1977. The beautiful model is 18 years younger than his R&B singer boyfriend, who is 42 years old. Despite the age difference, the duo is known to share one of the happiest relationships amongst celebrities. This clearly proves the fact that when it comes to love, age is nothing but just a number.
April Love Geary baby
Mia Love Thicke happens to be the first child between the "Blurred Lines" singer and the model. Mia was born on 22nd February 2018. This happened to be the second child of the singer given to Julian Thicke from her ex-wife.
Second child
Six months down the line, the gorgeous model surprised her fans and Instagram followers with a teaser concerning her second child. In her 21st August 2018 Instagram post, she posted, "Well someone is going to be a big sister next year! We're so excited to share with y'all that I'm expecting again!" She was referring to her firstborn daughter Mia Love who was going to be the bigger sister come to the second child.
The model went ahead to confess that before having her firstborn child, she experienced a miscarriage. Even though, she stated in her Instagram that she was not afraid and was ready to deliver her second child come the right time. This was her answer on Instagram that she posted on 21st August 2018 following a question and answer conversation with her fans and followers.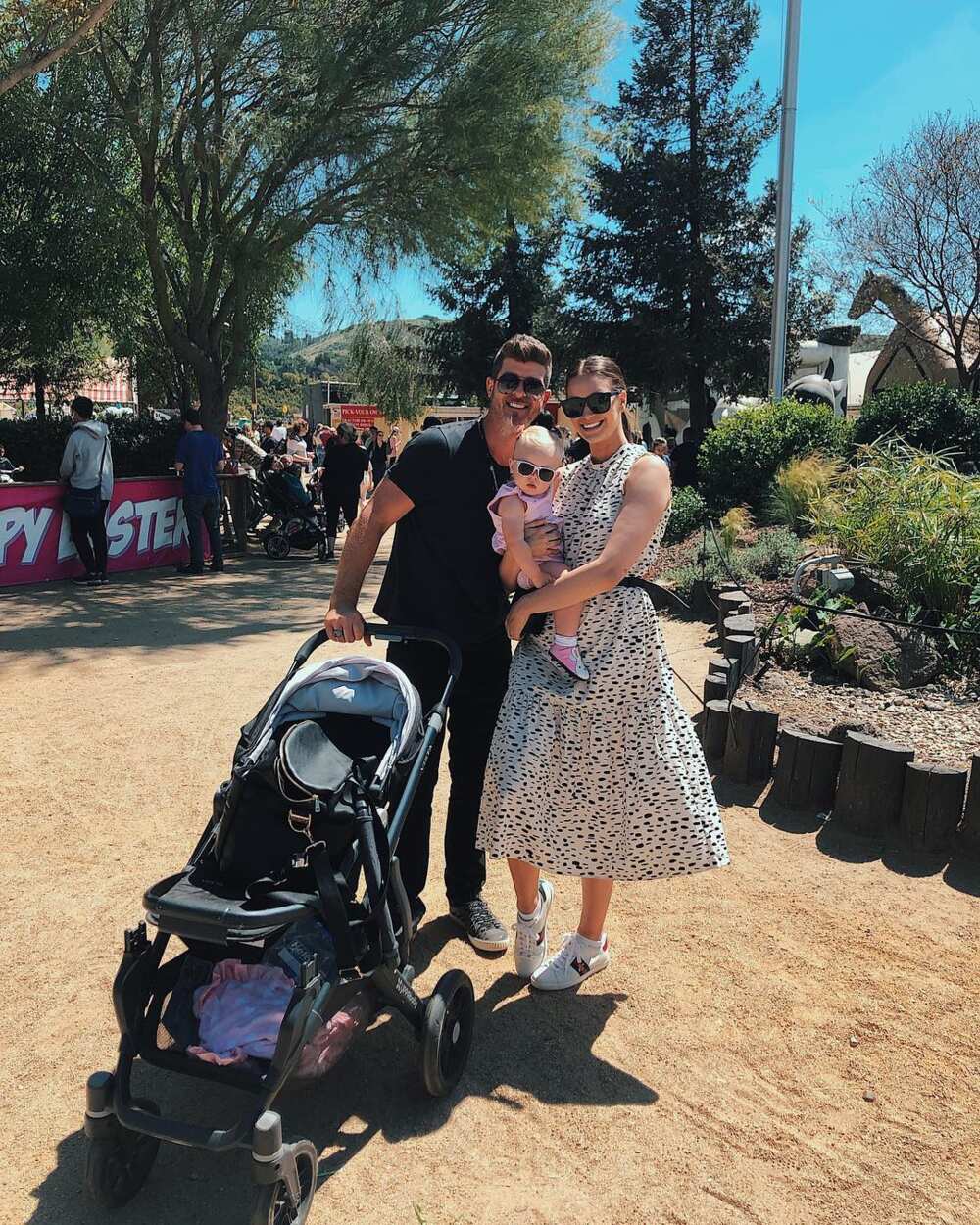 On 26th February 2019, the "Lost Without U" singer posted "Lola Alain Thicke" was born this morning 2/26/19 at 8:21 am." This followed the first photo that he ever posted with her daughter. Later on, the model also went ahead to share with her fans a picture of her, her daughter, and Robin with the caption, "My beautiful baby girl, I'm already so in love with you! Your big sister is on her way to meet you." As a tribute to his late father named Alan Thicke, the couple decided to call their second daughter as "Lola Alain Thicke."
April Love Geary is a 5'11" tall, gorgeous model that works for both the International Management Group (IMG) and Photogenic Talent companies. At 24 years of age, the model has had a great, successful, and lengthy career in the modelling runway for over a decade. The mixed ethnicity model is famous for her relationship with the American "Lost Without U" and "Blurred Lines" singer Robin Thicke.
The couple engaged after Robin went through a divorce with her ex-wife named Paula Patton. Currently, the couple has a total of two children, namely Mia Love Thicke as the first girl and "Lola Alain Thicke as the second daughter. The couple made headlines for its age difference relationship with Love being 18 years younger. It is a beautiful thing to watch the couple grow as we wish them nothing but the best in the future.
READ ALSO: Model Rachel Cook bio: age, height, boyfriend, net worth