Somkele Iyamah biography and facts
There are millions of reasons to love Somkele Iyamah. Someone admires her for her acting, someone else adores her style, and someone buys into the actress's worldview. If you do not know much information about this beautiful woman, then keep reading and find your own reason to fall in love with her.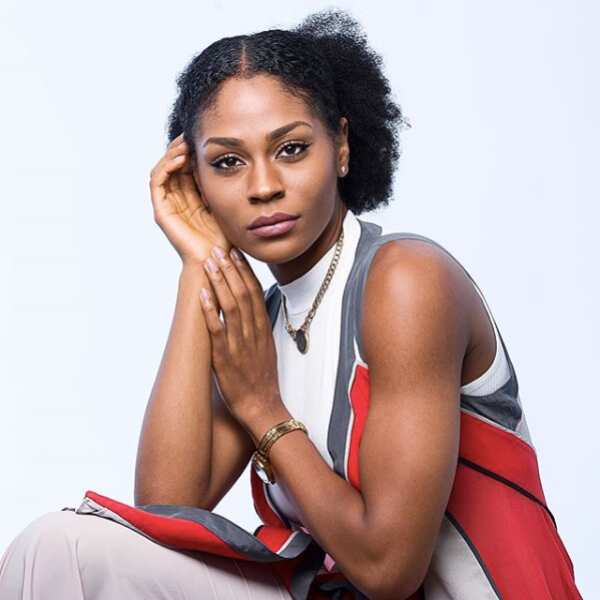 It is hard to be a celebrity as being one you become a role model, which puts so much responsibility on you for every act you do and every word you say. But Somkele Iyamah deals with it incredibly perfect. You probably will not believe that this is true until you read the article.
Biography of amazing Somkele Iyamah
Somkele Iyamah-Idhalama is a talented and worldwide recognised actress and model of Nigerian origin. She was born in the city of Lagos in a family of an engineer, her father Andrew, who ran the organisation which was dealing with power generating retail and related services. Somkele's mother, Onyi Iyamah, took over the business in the year 2000 after her husband had died. By the way, there are four children in this strong-knit family, and Somkele Iyamah is the third one.
Being a school student, the actress has attended several Nigerian schools, namely Chrisland school and Grange school in Lagos. She studied there until the 10th grade. Then she has moved to Lifeforte school, which is located in Ibadan. Somkele has finished her secondary-level education at Columbia International College in Canada. As for higher education, she has attended Canadian McMaster University and obtained a degree in Biochemistry.
Somkele's acting career started while she was attending Grange school. She was deeply inspired and supported by her teacher, Mrs Abe. The actress said that this woman always knew how to motivate her; having given her the spark that is burning till the present day. Her mother also was a great supporter of her initiative to become an actress, although she was somewhat sceptical of her daughter's ambition.
Somkele Iyamah's first professional experience was the Dreamwalker movie in which she had a small role. Nevertheless, it was a great beginning and breakthrough for the actress. Also, this movie became a real sign for Somkele that acting is what she wanted to do for her whole life.
For the present day, Somkele Iyamah movies and TV shows list is not that considerable, but each motion picture or series is definitely worth watching it. The actress has starred several TV shows, that have been broadcasted on Nigerian television. Among them, there are:
Gidi Up (Season 1, 2014);
Best Friends (2015);
Gidi Up (Season 2, 2016).
As for Somkele Iyamah movies, here they are:
The Department (2015);
The Wedding Party (2016);
93 Days (2016);
The Arbitration (2016);
The Wedding Party 2 (2017);
Lara and the Beat (2018);
A Soldier's Story: Return From The Dead (2018).
READ ALSO: Actress Lizzy Anjorin's biography
Somkele Iyamah nominations have also brought a lot of respect to the actress as she has won almost each of them. In the year 2016, she was nominated five times and won four awards, namely:
At Toronto International Film Festival in the category International Rising Star;
At the Africa International Film Festival in the category Special Jury Recognition Award;
At The Exquisite Lady Of The Year Awards in the category Actress Of The Year;
At The Future Awards Africa in category Prize For Actor;
At the Africa Movie Academy Award in the category Best Supporting Actress (nomination).
In 2017, Somkele had been nominated at the Africa Magic Viewers Choice Awards in the category Best Supporting Actress and received the Trailblazer Award at the same festival.
In her interview for Saturday Magazine, the actress has clearly stated that she is going to go the extra mile for acting and make everything possible to contribute to the movie industry and its impact on the world. She said:
I hope to have encouraged anyone who questioned his or her passion by the traction I hope to have attained by that time, not just in film, but also in influencing the right perception of the entertainment industry. Fame is the very uncomfortable part of this job, but I intend to put it to use in the right direction by being a voice for those who would have otherwise had none. I would say to those young people who want to get into the industry to keep the unique things about them that got them the right attention in the first place, and one of which is humility.
Somkele Iyamah is another Nigerian celebrity, who does not highlight her personal life. Preferring to be secretive of it, the actress rarely shares beautiful photos of her husband and her son Jordan. She delivered the baby on the 29th of September in 2014, and since that time Somkele is having a fantastic experience, which is the blessing of being a mother.
READ ALSO: Nollywood actor Olu Jacobs biography
In her another interview for TNS portal, Somkele shares her profound gratitude to her whole family and the support she receives from it:
I do that with the support of my family; If I didn't have my family, I couldn't do anything. That's the honest truth. I think once you're a mom, number one thing is – who is looking after my child when I have to be away? And I think I had to have the confidence to leave him with someone, while I have to work. And for the most part… any free time I have to be with him, I still try to do certain things with him. And I try to limit how much time strangers have (with him).
From what we can tell at this point, Somkele Iyamah is a wonderful person with a strong personal opinion, broad views for life and heart of gold. And now, it is time to get acquainted with this woman even more closer. So, meet the ten most interesting facts about Somkele Iyamah!
Top 10 facts about Somkele Iyamah
Somkele Iyamah has shared a lot of interesting information about herself in her interview for the Genevieve Magazine. And we want to show you the most exciting of them:
1. Somkele Iyamah is a real expert at window shopping. The actress has this unusual talent to guess prices for different clothes in the shop window precisely. And this is not surprising us at all, as she is involved in the fashion and modelling industries and is a fashion lover in general.
2. Somkele is a big fan of female superhero characters and leading female drama roles. She confesses that she has so many of her favourite ones, that it is almost impossible to enumerate all of them.
3. Actress's mother is her greatest inspirer and role model. Somkele's passion for a healthy lifestyle and nutrition takes its roots from the habits and pieces of advice of this woman.
4. From the previous fact, it is evident that Somkele prefers a healthy diet. She admits that she had not become such a person in one day, and all of it took time and was significantly contributed by the support of the actress's mother since her childhood. Somkele shares that the house, in which she was brought up, was always full of healthy food and creative menus, designed by her mom.
5. Having been influenced by the mother's example and impact, Somkele can show off being a creative cook herself. She definitely knows how to make a delicious dish, which will have fantastic taste and be healthy simultaneously. Her personal preference is spicy food. The actress loves to add pepper to almost every meal she cooks, saying it makes the food hundreds of times tastier.
6. As we all know, a healthy lifestyle is not only about a wholesome diet. And Somkele knows it for sure as well, as she is additionally admires doing sports and keep herself fit. And numerous posts from a gym on Instagram is the best evidence for this. Doing good to herself, the actress is an excellent example for all her fans and society at all.
7. Of course, it goes without saying, that Somekele is genuinely in love with her husband. They always keep in touch, share every single thought with each other and still have a subject to talk about even when a significant distance separates them.
8. Did you know that Somkele has two extraordinary sisters? Their names are Dumebi and Oby Iyamah. Dumebi holds a fashion brand called Andrea Iyamah, which deals with folkways couture, retro swimming suits and ready-made clothing. And Oby runs Switch Cosmetics company, and in addition, she is a talented makeup artist.
READ ALSO: Olamide's girlfriend Aisha Sulaiman: interesting facts
9. Somkele is a great woman, who promotes the ideas of female power and inspires other women to stay strong and believe in themselves. We guess we will not be able to interpret her wonderful speech any way better than the actress herself did it.
I have always said to women; love yourself enough to wake up every morning and chase the vision until you arrive at your destination. You are a manifestation of your mind. If you want to change something about you that you honestly think you cannot [live with] or would live better [without] it, then do something about it but never kill yourself over it on the way. You have to remember that the journey is the tedious part and you absolutely cannot afford to be the one in your way. Be the best you every time and every step of the way.
10. Somkele is a fashion addict and helps her sister Oby to manage the clothing brand we have already talked about. Many of you may wonder how such a busy person finds spare time even for this. And the lady has an answer for it. The only thing that inspires her to cope with all the tasks is her genuine love, especially when it comes to family. When she thinks of possibilities to help her relatives, nothing seems impossible to Somkele.
Well, now, with all of this information, you can consider Somkele Iyamah your best friend as you know almost every possible thing about her life – starting with her father's specialisation and ending with her food preferences. All jokes aside, it would be fair to say that this actress is a great personality who can inspire thousands of people to act and reach their goals.
READ ALSO: Chinedu Ikedieze net worth 2019
Source: Legit.ng