Top 20 P Square songs of all time
R&B music created by two famous Nigerian brothers Paul and Peter Okoye is loved by millions of people from all over the world. It is great that you can listen to the creative inheritance left by this band even after the famous duo's separation. These top 20 P Square songs of all time are their best musical pieces that are enjoyed in 2019 by their fans.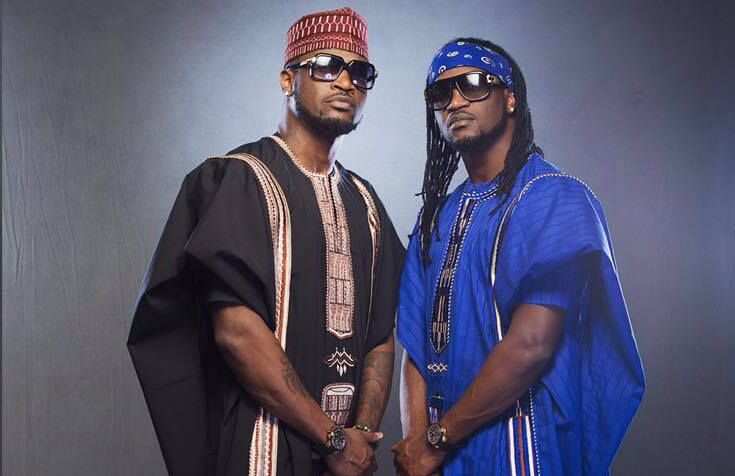 P-Square was a collaboration of the two Okoye twins who love music, look great dancing on stage, create inspiring videos and have been successful in their career. Paul and Peter look alike, and this fantastic nuance has attracted many fans to their music, which won many prestigious awards.
Best of P Square songs
What are the most famous P Square songs played on YouTube and other platforms in 2019? Believe us, their hits of all time still sound awesome and can offer you many minutes of joy and pleasure.
1. Temptation P Square
It is one of the many P Square songs that can be replayed over and over again. You will probably want to pause it to make yourself a cup of tea or coffee because the tune is too impressive to miss even a second.
Listening to this song might bring back memories from your school years (if you are not a school student anymore). The streets, the pretty girls and fabulous neighbourhood scenery look a bit naively and romantic. The lyrics and melody are heart touching and very pleasing.
2. Taste the Money by P Square
It is another dancing hit from the famous duo. You can sing along, move to the rhythm of Taste the Money song and watch the official video that shows luxurious life and a party in a big mansion.
Even if you are sitting at the office, you will most likely move your feet and body along with Peter and Paul. However, if you are at home or have to do some job like washing a car, cooking or cleaning, you can improve your mood by listening to this fun African tune. You will not notice how quickly time passes and everything gets finally done.
READ ALSO: P-Square split juicy details: Paul Okoye opens secrets
3. Say Your Love P Square
It is one of the top 20 songs by P Square. Its title speaks of itself and hints that the tune is about love.
The melody is slower if compared to other hits, but it is so touching and gentle that you can relax and think about your feelings and love stories of your life.
4. Shekini P Square
This one of the best of P Square songs is very energetic and impressive. It is worth listening to, and its official video is must-watch.
Firstly, the twins did an incredible job in writing a hit that gets into your head and makes you sing it all day long. Secondly, the video is fantastic with fireballs and dance floor with professional African dancers whose hip hop takes your breath away.
5. Story by P Square
It is an inspiring story about P Square told in romantic voices by the Okoye brothers and with children's voice in the back. Slow tempo and great lyrics make the Story a beautiful song from the past that sounds in 2019 just as attractive as it used to be in 2005 when it was released as a part of Get Squared album.
It reminds us that saying 'thank you' and being grateful for the best people we meet and the best moments in our lives is must-do.
6. No One Like You P Square
Pretty piano melody, pleasing voices, and touching words make the song No One Like You extremely popular. This hit is one of the most tender love songs by P Square. The music flows and makes you dance to the drums beat, repeat the best verses and chorus along with the two Nigerian brothers.
This hit was released back in 2011. And it is still enjoyed on YouTube and other platforms. Its official video shows gorgeous brides and grooms dancing together, and watching so many happy couples can bring back memories about the most amazing moments from your life.
7. Get Squared
The best music video of 2006, according to The Headies music awards, and number one song on the Get Squared album has attracted many fans to the Nigerian band.
The two brothers perform extremely good in this video. They look attractive and dance to the high-quality R&B rhythm. The leading melody is very addictive, and it makes you move to the left and to the right from the first chord even if you were sitting still the moment before the song has started.
8. Am I Still That Special Man by P Square
Beautiful words make this tune one of the best 20 P Square songs of all time. It is a love story about deep feelings and an exceptional person many of us dream to meet one day.
This song is about the first love that is hard to forget. Even though there is no official video for Am I Still That Special Man, listening to the mp3 file awakens all romantic feelings and emotions.
9. Alingo P Square
A popular dancing hit Alingo will remain the song of all times by P Square. It is an excellent track presented in 2012. It was featured in the band's Double Trouble and compilation albums.
Anyone who wishes to dance Alingo P Square along with the duo should watch its official video on YouTube. It received recognition as the Most Gifted African West Video by Channel O Music Video Awards in 2013.
10. Bizzy Boy
It is not just one of the best of P Square songs. Bizzy Boy won the Song of the Year title by Hip Hop World Awards (currently known as The Headies) the year this music award ceremony was founded by Hip Hop World magazine, in 2006.
Its dancing rhythm, romantic voices, and lyrics about love make it a perfect tune for any night club and party even in 2019.
11. Do Me P Square
What do you want to do when you hear the African drums? It is probably difficult to stand still when you hear the drums in Do Me song. The body will begin to move on its own.
With over 26 million views on YouTube, the official Do Me video shows many impressive dancing moves performed by the band and dancing squad. Watch it, and you will enjoy the song itself and also learn something new to show off at the night club. Besides, this video received the Video of the Year award from Channel O Music in 2008.
12. Nobody Ugly
It is one of the best of P Square songs presented in 2017. It is a single that can be enjoyed on the bad days because it will bring up your mood, make you smile and share positive highlife energy with you.
The Nobody Ugly official video on YouTube is colourful, bright and funny in a good way. It shares the positive message about each one of us being unique, special and beautiful no matter what.
13. More Than a Friend
If you like luxury cars and high-quality music, watch the official video More Than a Friend from Game Over album. This romantic hit is very emotional. You can feel the relaxation aura when you listen to this song released back in 2011.
For many Nigerians, this tune has become number 1.
READ ALSO: 2019 Grammy Awards winners: full list
14. Away
It is a beautiful track among the best love songs by P Square. Called Away, this R&B hit shares cool rhythm that makes you want to dance. The beat is pleasing and soothing. Fans of romantic lyrics and top-quality videos will enjoy listening to Away.
'Please, do not leave me, girl,' 'I need you,' the duo sings. If you do not know how to express your powerful feelings towards your girlfriend, you can share this track, and it will speak from your heart.
15. Bank Alert
Many people have Bank Alert saved to their playlist since 2016 when the song was released. The official video is incredible, the rhythms ask you to dance, and the lyrics are amazing. Everyone is dancing in the video, so turn it on and also move to the African beats and great vocal motive.
Just like other P Square music, Bank Alert motivates and inspires us to love, work hard and live to the fullest.
16. Collabo
Lyrical melody, beautiful voices and gorgeous views. It is what makes Collabo an incredible tune and one of the best love songs by P Square. The famous duo presented this track in 2014. It features not just the twins but also a well-known Nigerian musician Don Jazzy.
This title is a part of an excellent Double Trouble album. So, listen to Collabo, dance and enjoy other motivating and love songs by Peter and Paul.
17. Financial Woman
While this song is by Phyno, it features P Square duo, and many fans associate it with their creation. It was presented in 2016, and it has quickly become a real hit. It was all over the radio. And just in case you have missed it, upload it to your playlist or watch a fun video on YouTube.
The song is rhythmic. The melody is simple to remember and pleasing to the ear. You will probably repeat the chorus at once because the melodic sounds seem to come off the tongue on their own.
18. Beautiful Oyinye
A gorgeous video that supports one of the top love songs by P Square called Beautiful Onyinye makes this hit even more attractive. The sweet melodies, cute rhythms, rap lyrics, thoughtful chorus, and incredible sea overview make this a favourite tune in Nigeria and across the globe.
Even though this track was presented to the public in 2012, it is still loved by many people seven years later. It features Rick Ross whose talent is remarkable. And the tune is about love, and songs about feelings often become the hits of all time.
19. Personally
The hit Personally was nominated for the Song of the Year in 2014, and even though it did not receive the MTV Africa Music Awards back then, it became one of the top 20 P Square songs of all time.
This tune is a part of the Double Trouble album. Its energetic rhythm and awesome video will put your body into the dance. It is hard to sit straight when the famous Nigerian twins and other people in the footage perform fun moves and motivate you to join them.
20. Forever
Are you ready to rock along with the beats of Forever, one of the cutest love songs by P Square? Many girls dream about hearing the four-word phrase 'I love you forever.' And this is the main idea of this sweet and energetic tune.
The two brothers have created an impressive romantic dance that is still enjoyed in 2019 by many fans of this band.
The break up of P Square
Sadly, the break up of P Square a couple of years ago upset many of their fans. The two brothers did not leave music. They continue their careers individually. Peter is now known as Mr. P., and Paul's stage name is King Rudy or Rude Boy. Still, many of us miss them performing the best of P Square songs.
If you are looking for 2018 songs by P Square, you should remember that the break up of the band occurred in 2017. In other words, all their hits were released in 2017 and before that year. As a duo they presented several albums:
Last Nite (it was released in 2003)
Get Squared (fans enjoyed its presentation in 2005)
Game Over (this album saw the world in 2007)
Get Squared: Reloaded (this version of Get Squared was updated in 2008)
Danger (this record became available in 2009)
The Invasion (the released date was in 2011)
Greatest Hits (this compilation of the best records was presented in 2013)
Double Trouble (the last official P Square album released in 2014)
These are the top 20 P Square songs of all time that are still popular in 2019, but the list of the band's most popular tracks cannot be limited to twenty. There are other incredible hits you can enjoy, including Roll It, Ifunanya, Miss You Die, Chop My Money, Me and My Brother, Stand Up and many others.
READ ALSO: Latest Olamide songs 2018-2019
Source: Legit Newspaper