Top 10 Daddy Lumba songs of all time
Daddy Lumba songs definitely belong to the so-called old school highlife style that you may have adored from your childhood. Find out all about his top compositions and discover why they continue to gain popularity as the days go by.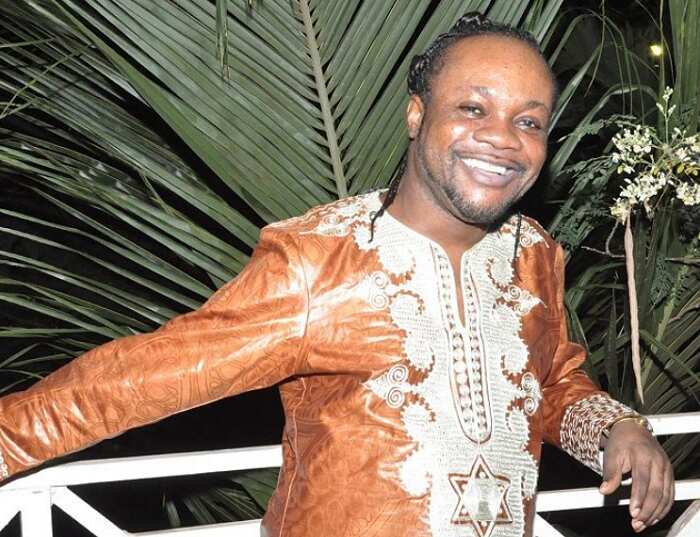 Daddy Lumba is a real king of Ghanaian highlife. He has released more than 30 albums so far, and it is very probable that the majority of highlife songs people murmur while doing their everyday business belong to this artist. It is tough to determine only ten out of dozens of hits produced by this artist, but we will try. Enjoy the sunny beats, careless mood, and lovely tunes of his highlife masterpieces.
Daddy Lumba songs list: 10 immortal hits you keep on singing
This is a list of ten tracks produced by one of the most famous Ghanaian highlife artists. The order in which they appear here does not necessarily reflect their ranks in the hearts of listeners. It is just a compilation. You are welcome to check it out and see whether your favourite ones are also in.
Aben Wo Aha
This hit is older than many of those who now use the internet and watch videos from YouTube! It comes from an album with the same name released in 1998. There was a controversial situation connected to this song, as a part of people wanted it to be banned because of some hidden obscene meanings in the lyrics while another group of people wanted the song to remain on airwaves because of the lovely tune and beat.
READ ALSO: Top 10 trending Kuami Eugene songs of all time
There was a real struggle of opinions when older people with different moral standards wanted the song to be banned in order to prevent "spoiling" of young children, and younger people were totally for it because not all of them understood the Twi language and just loved the lively and happy highlife beat.
It was probably the noise around the song that made the whole album a hit of that moment; one of the most quickly sold recordings on audio cassettes.
Theresa
This is another one of Daddy Lumba old songs that never seem to age. The song was dedicated to Daddy Lumba's girlfriend Therese Abebrese, the very first love he had in his life. Their dating reportedly started when both were attending secondary school. The love story behind the song was romantic but sad: Theresa helped the rising star to reach Germany but never waited for his return and got married. It hit the artist in the very heart, but he kept on loving her, no matter what.
In 2017, it was reported that Theresa passed away after a short disease.
Dangerous
This song is performed in English and speaks about "some girls" that "are dangerous". This probably means that a beautiful girl can break a man's heart into pieces. However, the sweet melody of this highlife hit suggests that even such love is a blessing every person should cherish and appreciate.
READ ALSO: Travis Scott net worth, age, height, full real name
If we compare this song (and other highlife hits of that time) to the ones composed by modern highlife performers, we will hear how different they sound. However, the hits composed by Daddy Lumba and other artists of that time are said to be the true classics of this genre.
Poison
This song is one of the relatively new releases. It was produced in 2001 with the album that had the same name with this song. In it, you can notice how the style of the artist has changed into something more modern and suitable for dancefloors. However, the main highlife spirit of the track has not changed.
This album was a hit, just like many others he had released previously. By 2002, every release of his was a smashing success, and the audience accepted practically everything he did with a lot of affection.
Doctor Panee
This lovely song with a chorus that sticks to one's tongue so easily is among the leaders of search requests. People seek a place where they can download Daddy Lumba songs they have been singing since their childhood and youth years. It is a kind of sweet nostalgia that wakes up at the first sounds of these cheerful and lively highlife songs.
The most popular hits of the highlife king can be downloaded from iTunes. You can find separate tracks and whole albums and compilations if you wish. Alternatively, you can find some tracks that are available for free in some unlicensed sources, but such downloading is not legal, and the quality of the sound will be much lower.
Menya Mpo
This lovely track can be about nothing else but love. Even if you do not speak the Twi language the artist does, you will understand it from the tone of his voice that he is turning to the woman he loves so dear. After all, it is sometimes enough to read reviews of other people who listen to this song, too, to understand its central idea. This track definitely has something special about it, and it is not just the atmosphere of highlife.
111666
Daddy Lumba has always been known as the author of quite controversial works. He has always been able to release an album of gospel hits and then produce a collection of tracks with quite bold and daring lyrics. "111666" is one of those controversial tracks due to the mishearing of "six" that sounds as "sex" in this song. However, in spite of all this, the song still remains a hit due to the incredibly sensual vibe it possesses.
Akoma Da Akoma So
It is another perfect example of highlife just like everything else that comes from Daddy Lumba. The artist definitely knows his job and has this extraordinary power to capture the audience. Here the usual sound changes slightly, and women participate in the vocals. It adds a unique charm to this song, making it really sweet and touching. Even after many years, this track is among the leaders of Daddy Lumba songs download.
Ye Nea Woho Beto Wo
It is one of the newest hits produced by the artist. Still, you will hardly tell any difference: his classical highlife style remains the same. The lyrics probably reflect the lifestyle of the author himself: do what you want and what makes you feel pleased in this life because there will always be somebody who will hate what you do and complain a lot.
It is an excellent principle of living, and many people would be much happier if they had the courage to follow it and live their own life without thinking of others' appreciation.
Aunti Atta
It is one of the oldest songs performed by Daddy Lumba, but still, so many people like to listen to it, again and again, remembering their school years and youth. It is always a pleasure to listen to the music that has accompanied one's young age. This kind of sweet memories always wakes pleasant emotions, no matter how many years have passed since those happy days.
Daddy Lumba music and life in brief
Born as Charles Kwadwo Fosu in Ghana, the future singer began his career in music when he was only 16. Theresa, his girlfriend, helped him leave for Germany where he met his soulmate Nana Acheampong and discovered highlife music. They formed up a band called Lumpa Brothers and released their first album in 1989.
Since that time, Daddy Lumba has been extremely productive. His excited fans accepted practically every album of his as a masterpiece. The artist has already gathered a pretty good collection of awards and enjoyed wide recognition in his home country and beyond.
He has once been accused of skin bleaching but with no significant result. Even these accusations have not influenced the way people treated his music. In the hearts of many people, Daddy Lumba songs are a part of their cloudless childhood, a happy time that is so pleasant to remember.
READ ALSO: Top 10 trending Ebony songs of all time
Source: Legit.ng