In today's article, we are going to teach you how to fry potato to get the best result. On the one hand, fried potatoes is the simplest meal ever, but on the other hand, it has some ins and outs, which can help you make the meal like a pro.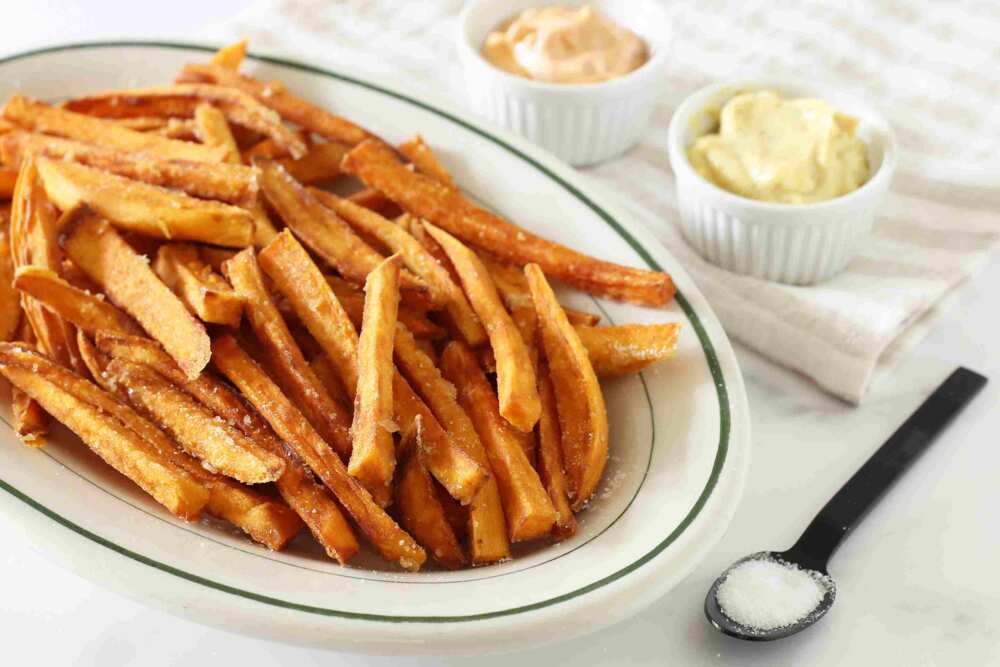 How to fry potatoes the best way
Fried flavored crispy potato is a quick and simple dish, which is loved by many people. But not everyone knows the secrets of proper potato frying. There are numerous troubles with potato sticking and burning to the pan. To avoid such kitchen failures while cooking fried potatoes, learn some culinary tricks here!
First, you need to understand that different varieties of potatoes have different cooking time. So if you want it to be evenly roasted, you need to fry the same variety of potatoes. In order to give the potato a perfect kind of crips, it is necessary to remove excess starch from it. To do this, soak chopped potatoes in cold water for about an hour before preparing and then dry them with a paper towel.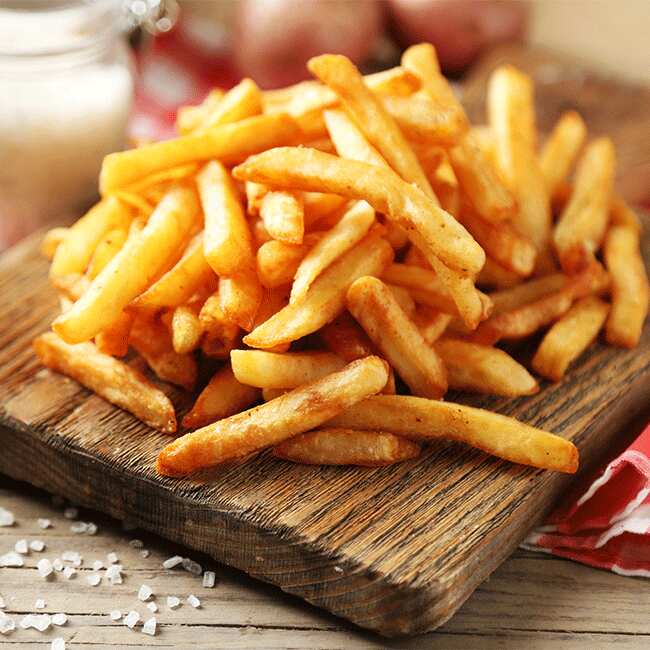 The second step for perfect fried potatoes is the way you cut it. Technique for cutting potato is straightforward. But you must be very careful anyway in order not to hurt your fingers. Sharp knives and comfortable cutting boards will be the best helpers to you!
You can chop potatoes or cut it into sticks. The potatoes will be cooked crispy and roasted with a golden crust. If you cut potatoes into little cubes, it will be browned, but more soft and juicy. You can use a special cutting tool if you have one. Such device will make it much easier to cut the potatoes tubers into equally large or thin pieces.
To fry potatoes properly, follow this simple procedure. When the oil is well heated and gives a bit of smoke, put the potatoes into the frying pan and cook for a couple of minutes on high heat without a lid.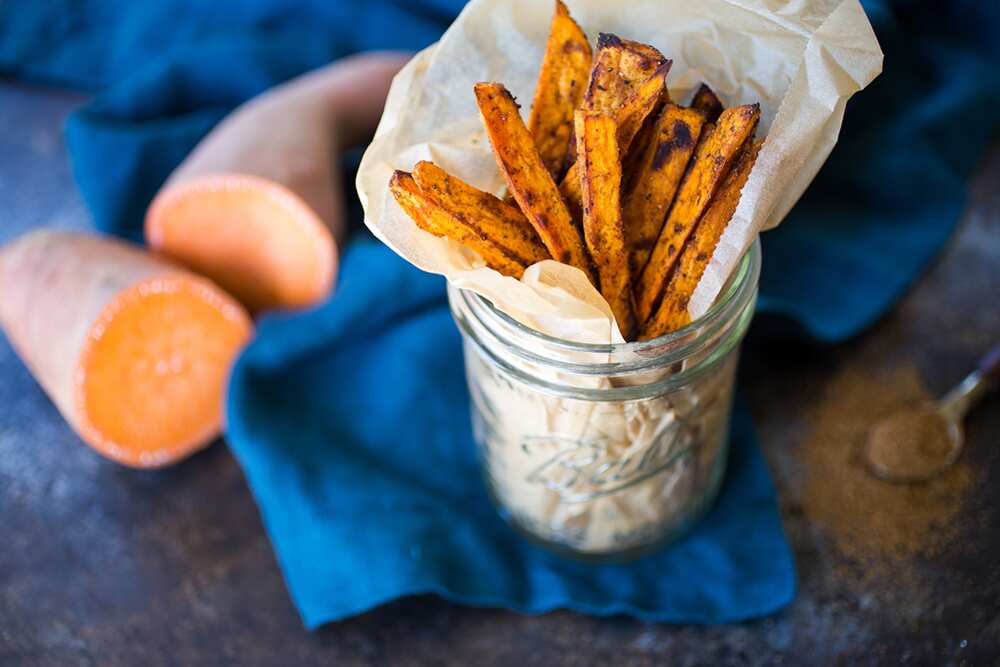 Turn round the potato slices, and reduce the heat level to medium. Mix the potatoes from time to time until it starts browning. Then salt and season the pieces at the end of frying so that the pieces do not stick together.
You will get crispy and roasted potatoes if you use a frying pan with thick walls. It will evenly warm the potatoes from all sides. Here is another tip how to make fired potatoes even tastier. For this, you can season the oil for frying beforehand with some garlic (ground or chopped), pepper, nutmeg or any other spices to your taste.
How to fry sweet potato
Sweet potatoes can be fried in different ways. And each one will give you a delicious and nutritious dish, which you will definitely love. Let's check out some easy recipes with sweet potatoes. For the first one, we will need such ingredients: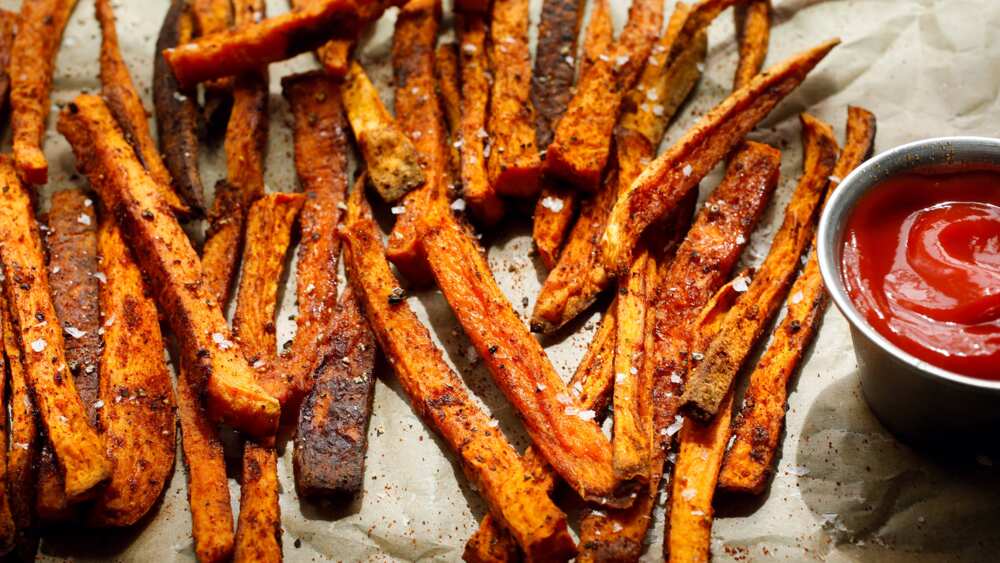 READ ALSO: Irish potato recipes for babies
sweet potatoes - 2
onions - 1
ground cayenne pepper (chili) - 1/4 of a teaspoon
tomatoes - 1
sweet pepper - 1
chicken eggs - 2
cilantro (or coriander) - 2 teaspoons
salt - two pinches
Preparation: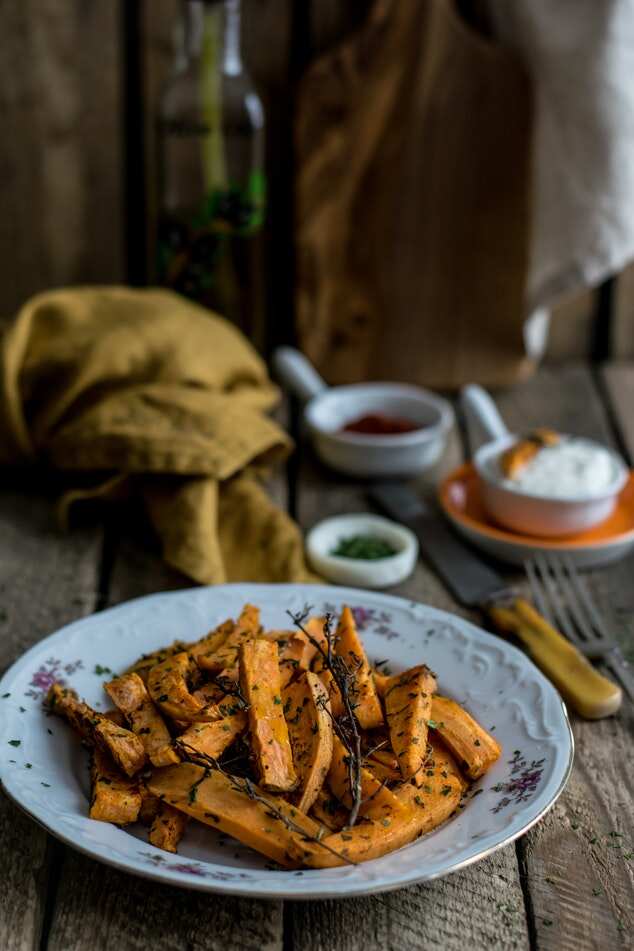 Add salt and pepper into the oil to be used for frying. Preheat it in a frying pan. When the oil is hot enough, reduce the heat to the medium level and add the potatoes to the frying pan. Also, add chopped onions to the potatoes.
Cover the pan with a lid, and fry the potatoes for about 5 minutes until our sweet potatoes become softer. Remove the cover and fry for another couple of minutes until it begins to look golden in colour.
After that, add cut tomato and pepper. Fry all the ingredient for about 4 minutes, mixing everything permanently. Then, make a little hole with a spoon inside the frying pan and pour an egg into it. Cover the frying pan with a lid again and cook until the egg is ready. When everything is prepared, add coriander or cilantro to meal, and it is ready to be served.
How to fry sweet potato chips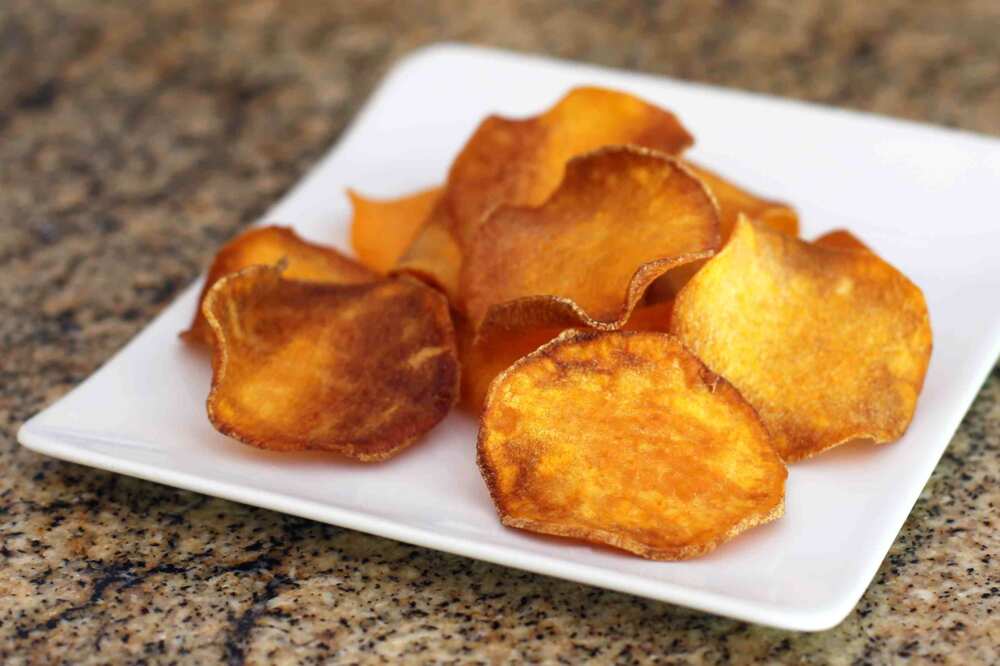 READ ALSO: Top 3 yam recipes in Nigeria
Homemade sweet potato chips is a much healthier alternative to potato chips purchased in the shop, which are deep-fried with more salt, calories and fat. To prepare sweet potato chips, cut the potatoes into very thin round slices and heat the frying pan very well.
Sprinkle spices on the sweet potato slices, place them in n a frying pan, covered with baking paper and cook them until they become crispy from both sides. This process will take about 25-30 minutes. During this time, the potato chips must be turned over so that they become brown on both sides evenly.
How to make french fries with sweet potatoes
French fries made with sweet potato will be a fantastic option for those, who are sick of regular fried potatoes. Besides, homemade french fries will be much healthier and tastier.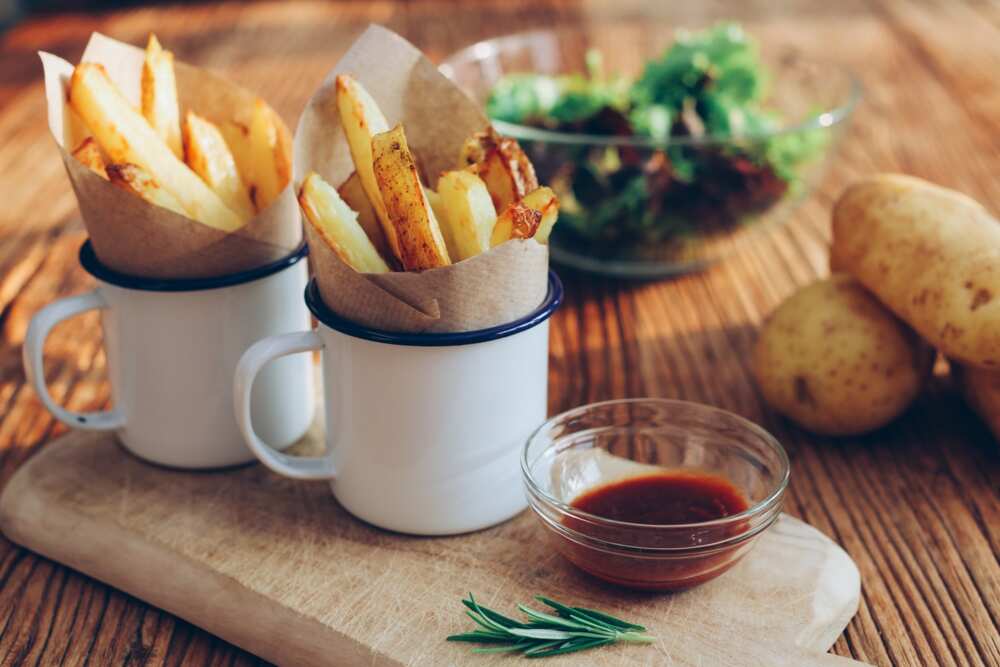 To prepare french fries with sweet potato, cut it into strips of medium thickness. Do not make them too thin from the start, as they are going to shrink during frying. Place sliced potatoes into cold water for about 15-20 minutes before cooking. It will help remove extra starch from them. This will make your french fries more crispy. Now, pour the oil into the deep frying pan to cover about 2-2.5 cm of its volume.
While the oil is heating, dry sweet potato slices with a paper towel and slowly immerse them one by one in the frying pan with the hot oil. Fry the sweet potato on high heat level for about 5 minutes or until it turns golden brown in colour. When the french fries are done, put them on the plate with a paper towel in order to remove the excess oil from the pieces. Now sprinkle it with your favorite seasoning or greens, and it is ready to be served. Enjoy your meal!
So, that it is for today's article on how to cook potatoes on a frying pan. We hope you have found it useful and interesting and will try at least one of the recipes.
READ ALSO: Is a potato a vegetable?