Regulatory bodies in Nigeria and their functions
How much do you know about regulatory bodies in Nigeria and their functions? To survive, the economy of Nigeria has to handle regulating practice more efficiently.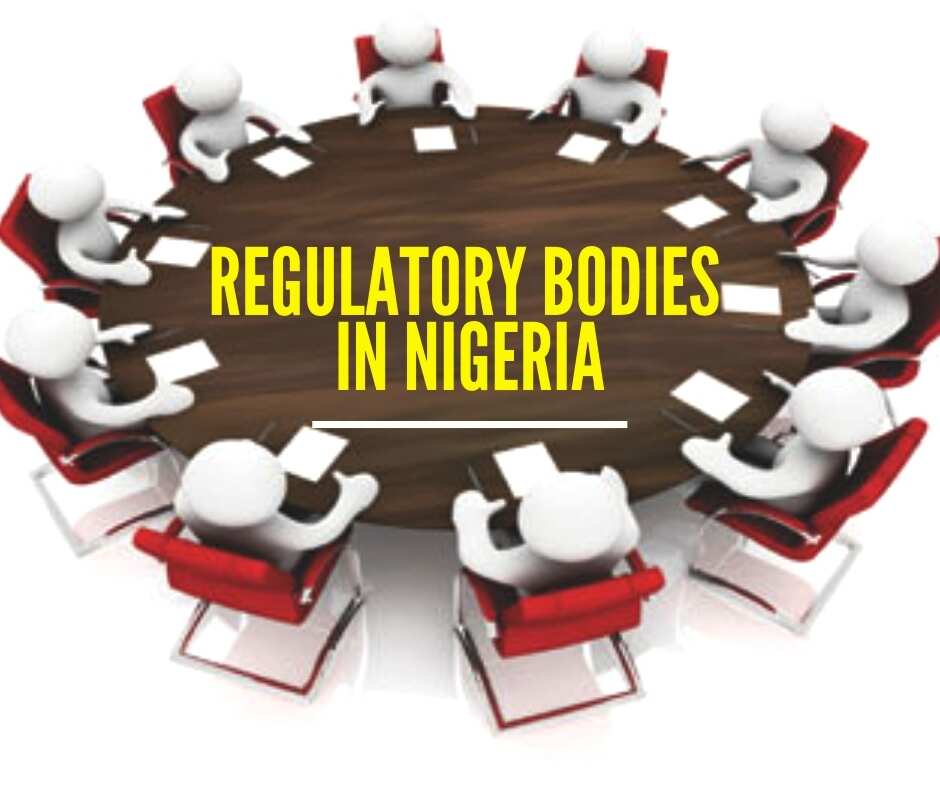 There are many regulatory bodies, which influence daily human activity. Being a worker, a consumer, or a businessman, you are obliged to follow many laws, set by the government or administration to guarantee a safe environment, services, and life to other people and you. The corresponding regulatory authority controls the implementation of each of these laws.
In this article, you will find out the definition and functions of regulatory bodies in Nigeria.
What is a regulatory body?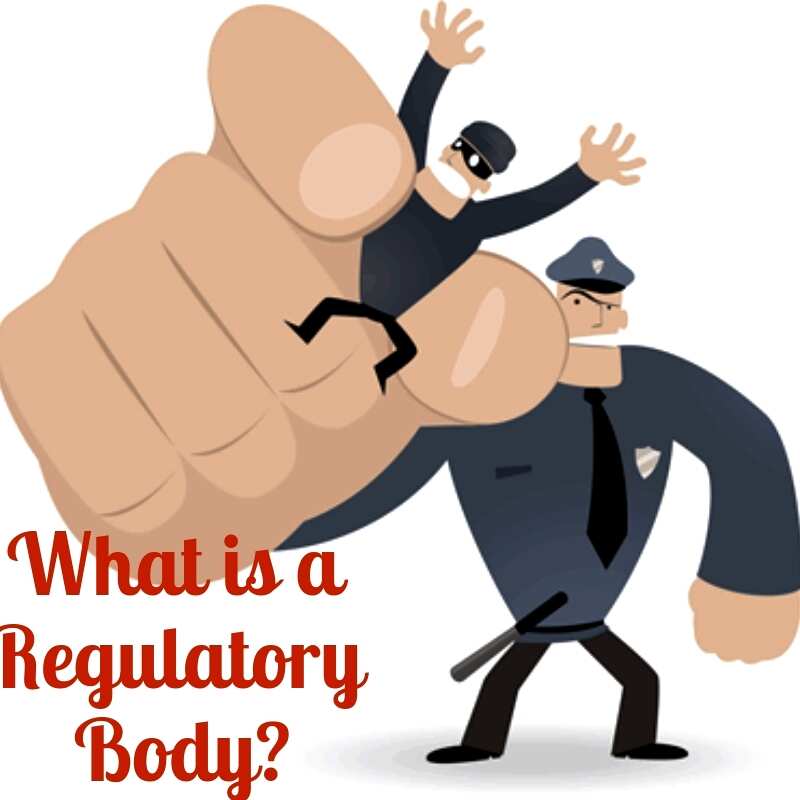 Safeopedia.com defines the notion of "regulatory body" as a public organization or government agency that is set up to exercise a regulatory function over some area of human activity. A legislative act appoints the regulatory body.
The top 3 tasks regulatory body performs:
administrates requirements, restrictions or conditions
sets the adequate standards for specific activities, safety, and health
performs the implementation of set standards
Regulatory bodies in Nigeria and their functions
There are lots of regulatory agencies in Nigeria. They are appointed by the government to implement different laws in various fields of human activity. Among these laws are:
economic laws;
social codes;
safety laws;
environmental regulations;
occupational health laws;
criminal laws;
employment laws;
professional laws.
The regulatory bodies are called to establish standards for different business sectors and protect the rights of consumers and workers.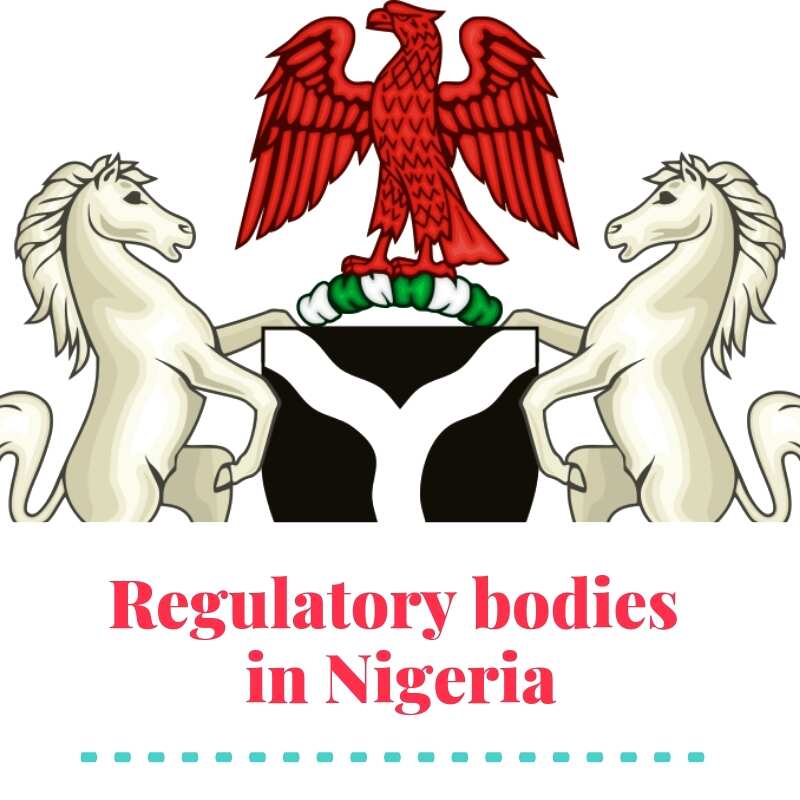 READ ALSO: Child Labour Law in Nigeria: challenges and possible solutions
Nigeria has the following 41 government and regulatory agencies:
Budget Office, Federal Ministry of Finance. This governmental body is responsible for managing the finances of Nigeria in all its forms. It collects and controls the distribution of funds, develops the policies of tax formation, establishes tariffs, prepares, and controls the annual budget. To put it in a nutshell, this official organ solves all the questions, related to the financial issues of the country.
Bureau of Public Enterprises (BPE). This body performs the function of a secretariat for the National Council on Privatization (NCP) upon questions, which relate implementation of privatization and commercialization. It coordinates the NCP in consults, management of accounts, oversees the actual sale of shares of the public enterprises that are supposed to be privatized, etc.
Central Bank of Nigeria (CBN). It is the central body regulating finance and the apex monetary authority in Nigeria. It is responsible for the promotion and maintenance of fiscal stability; it provides credits, manages debt, serves as a national reserve, and helps to balance inflation in the country.
Corporate Affairs Commission (CAC). It is an organization, which regulates registration and work of companies in Nigeria. The CAC is responsible for fulfillment of provisions of the Companies and Allied Matters Act (CAMA). CAMA is the fundamental law, which manages businesses and companies in Nigeria (their incorporation, registration of business names and incorporated trustees).
Debt Management Office. This agency focuses on providing rational help to the government in financing for economic development. It also implements the consults on the forecast of loan, sets guidelines for managing financial risks; offers advice on re-structuring and re-financing debt obligations; sets a projection of borrowing capacity, maintains the relationships with international financial institutions, etc. – this body is responsible for debt issues and provides necessary support to the Federal Government related to debt refunds.
Department of Petroleum Resources (DPR). This agency is in charge of ensuring compliance with petroleum laws and primary features of the Oil and Gas industry of Nigeria. Its activity aims to maintain the overall standards and preparation of necessary documents, which relate the petroleum reserves, its production, licenses, and export.
Economic and Financial Crimes Commission (EFCC). It is the law enforcement agency that is in charge of holding the investigations on the financial crimes, including money laundering and advanced fee frauds.
The Economic Community of West African States (ECOWAS). It is a regional body, one of the five regional units of the African Economic Community (AEC). It provides support in economic integration to all the member countries; it manages peace, stability, protects human's rights, and directs its policies at the economic development.
Federal Aviation Authority of Nigeria (FAAN). The agency is responsible for servicing the airports of Nigeria and is aimed at providing safe, regulated, fast and reliable operation for both aircraft and the passengers within every airfield.
Federal Housing Authority (FHA). This body establishes the recommendations for the government on planning and solving the issues, connected with accommodation and housing communications in urban and regional areas as a part of National Housing Programs. Its primary function is to deliver high-quality accommodation to the residents of Nigeria.
Federal Inland Revenue Service (FIRS). This regulating agency is in charge of assessing, collecting, and accounting the taxes and all the sources of income that is received by the federal government. The FIRS manages enforcement of tax laws and tax compliances by citizens. It also imposes fines and penalties on private entrepreneurs and businesses if they break the set rules. There are two taxes regulated by FIRS: value-added tax (VAT) and corporate income tax.
Independent Corrupt Practices and Other Related Offences Commission (ICPC). It is a regulatory body that deals with anti-corruption processes, investigation, and prosecution of offenders thereof.
Independent National Electoral Commission (INEC). It is the body, which was established to provide management of free and fair elections in Nigeria.
Industrial Training Fund. The primary function of this regulating agency is to encourage greater involvement of small employers establishing training programs to promote the development of employees' skills, required by national industry and commerce for the successful operation of the country.
National Agency for Food and Drug Administration and Control (NAFDAC). This regulating body is responsible for public health in Nigeria. NAFDAC is in charge of control and maintenance of distribution and sale of medications, cosmetics, chemicals, packaged water, etc. Its key function is to ensure the manufacture, delivery, and sale of high-quality products within Nigeria and beyond its lines.
Nigerian National Assembly. According to the Constitution, this regulating body was established to take laws promoting peace, order, and proper governance of the Federation. It also has the right to establish committees out of its members for the check of accepted legislative bills, the actions of governmental institutions and actions of their official representatives.
National Bureau of Statistics (NBS). This agency is responsible for monitoring and publishing statistics on various researches held throughout Nigeria.
National Council on Privatisation (NCP). The NCP is a regulatory body that is in charge of determining the economic, the social and political objectives of privatization and commercialization of state-owned enterprises in Nigeria.
National Orientation Agency (NOA) http://www.noa.gov.ng/index.htm. It is a body, whose primary function is to inform the governmental bodies about the impact of public policy on public opinion; to promote patriotism, national unity and the development of society in Nigeria. The key motto of this organization is "Do it right: transform Nigeria!".
National Planning Commission (NPC). NPC is a pioneer agency in the sphere of political reforms. In the past, this regulatory body developed and implemented the economic liberalization programs and many other reforms successfully. Currently, the key task of the body is to monitor and evaluate the economic development of Nigeria.
National Examination Council (NECO). This body is responsible for holding an exam to certificate students that obtained the higher secondary education. After the test completion, it gives them a general certificate of education. This exam usually takes place in June - July, and December - January.
The New Partnership for Africa's Development (NEPAD). The policy of this regulatory agency aims to eradicate poverty, promote sustainable growth and development of Nigeria. NEPAD also promotes the integration of Africa into the global economy and the acceleration of women's empowerment.
The Nigeria Export Processing Zones Authority. This body promotes development and diversification of export trade in Nigeria. It also assists in the development and promotion of industries related to export activities in Nigeria.
National Health Insurance Scheme (NHIS). The primary function of NHIS is to provide universal access to quality health care and ensure the availability of funds for the health sector for further improvement of standards of provided services.
Nigeria Deposit Insurance Corporation (NDIC). This regulatory body protects the banking system from instability that is caused by runs and loss of depositors' confidence. It also supervises the insured banks in the country.
Nigeria Investment Promotion Commission (NIPC). This regulatory body is responsible for the promotion and coordination of foreign investments in Nigeria.
Nigeria National Petroleum Corporation. It is a body, which represents the interests of Nigeria in the oil industry of the country.
Nigeria Postal Services. This organ is in charge of providing, developing, coordination and dispatch of postal services throughout Nigeria.
Nigeria Stock Exchange. This body manages regulation of the flow of money in Nigeria via buying and selling all the variations of securities.
Nigerian Air Force. It is a special military body, whose primary functions are to ensure security or the air space, guarantee its defense, train personnel to conduct special combat operations and prevent any possible threat to safety and freedom of Nigerians.
Nigerian Army (NA). It is a regulating agency that is a part of a bigger structure called the Nigerian Armed Forces. This authority is responsible for conducting ground operations during the war.
Nigerian Communications Commission (NCC). This regulatory body is responsible for the control of businesses involved in the telecommunications space in Nigeria. It ensures the availability of high-quality and cost-effective telecommunications services in the country.
Nigeria LNG Limited (NLNG). This body ensures the production of liquefied natural gas. Its production stands on Bonny Island, Nigeria.
Nigerian Police. The key function of this body is to protect human lives and their properties from any threat.
Nigerian Television Authority (NTA). This regulatory agency is responsible for providing the independent and impartial television broadcasting for general reception throughout Nigeria.
Power Holding Company of Nigeria (PHC). The primary function of this agency is to regulate and govern the use of electricity in Nigeria.
Security and Exchange Commission (SEC). This agency is in charge of regulation of the securities, produced for the needs of the Nigerian Public.
Service Compact (SERVICOM). It is a special mechanism that is responsible for providing effective services to people, who understand what standards they should get and how to obtain them. It fights against service failure and provides a direct link to the administrative organs, which help to improve citizens' satisfaction on the governmental work.
The Standards Organization of Nigeria (SON). This body regulates the production of goods following standards imposed by the government due to the needs of consumers. It also manages check of products for conformity, especially if those are intended for import to other countries. Its target mission is to improve the lives of Nigerians by providing products of better quality, which meet the international requirements.
West Africa Examination Council (WAEC). It is a specialized agency that is called to control the level of knowledge of students, who graduate from the West African Senior School before they enter the University and pass Jamb entry examination in West African countries. This regulating body took part in the establishment of the endowment fund that sponsored the education of students, which had a lack of financial support and couldn't afford it themselves.
The National Pension Commission (PENCOM). It is the central authority in the management and regulation of matters, related to pension benefits in Nigeria.
Poor administration leads to increased level of poverty, a bad economy, poor social regulations, and unfavorable conditions for running a business.
Well-coordinated work of all government structures and proper performance of their functional duties will help the country to solve the problem of poverty and to bring Nigeria to a new level of social and economic development.
READ ALSO: List of computer professional bodies in Nigeria and their functions
Source: Legit.ng