Aliko Dangote's biography: the story of the richest man in Africa
Aliko Dangote is a famous Nigerian tycoon who owns various businesses worth billions. He is a business magnate, investor, and most importantly, the owner of a mega-successful conglomerate, Dangote Group, that has interest commodities and operations in several countries. He is regarded as the wealthiest person in Africa.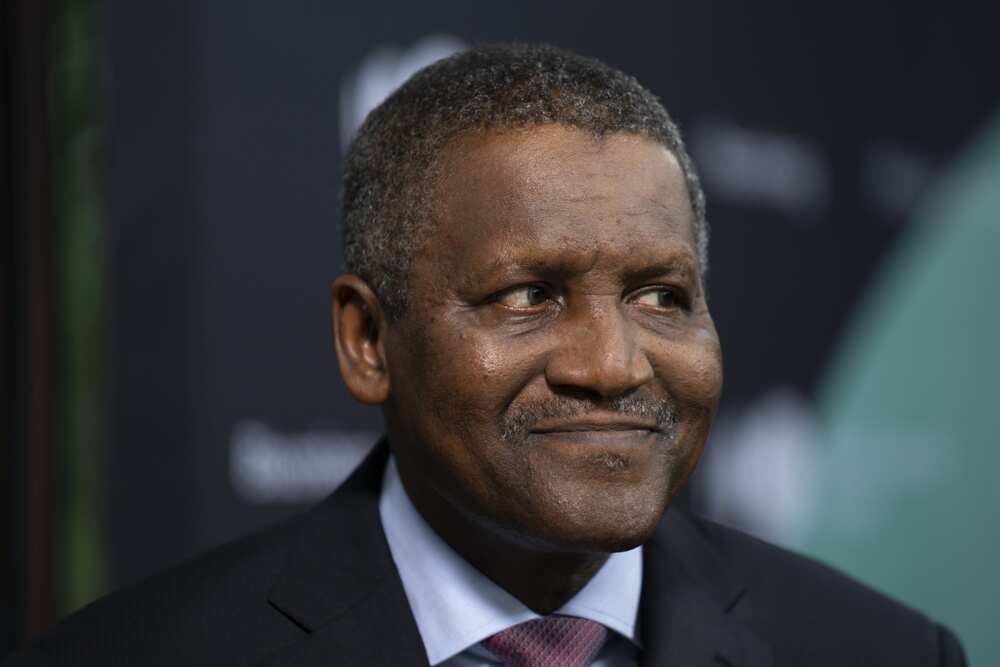 Aliko is very frequent on Forbes's Top 100 list of the wealthiest people. His peak on this list was in 2013, when he became the 43rd richest person in the entire world.
How did he achieve such brilliant success and become so rich? Have a look at the inspiring Aliko's biography, including details about his success and personal life.
Profile summary
Full name: Aliko Dangote
Date of birth: 10th April 1957
Place of birth: Kano State
Age: 64 years (as of 2021)
Nationality: Nigerian
Ethnicity: Black
Height: 5 feet and 8 inches
Weight: 69 kg
Profession: Businessman
Net worth: $11.4 billion
Aliko Dangote biography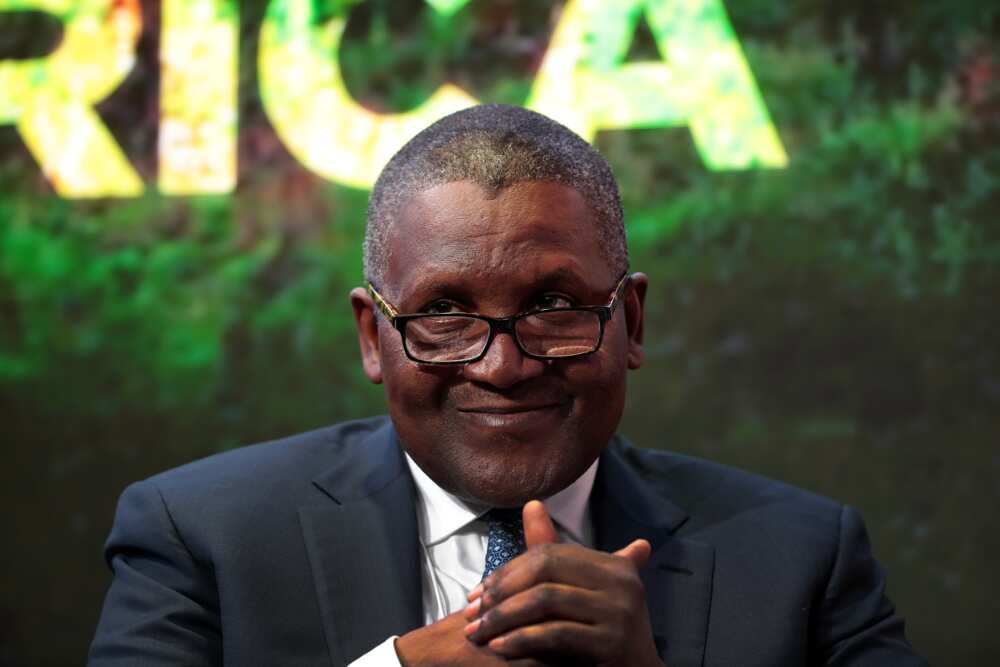 Aliko Dangote was born on 10th April 1957 in Kano State to Mohammed Dangote and Mariya Sanusi Dantata. He is the great-grandson of Alhaji Alhassan Dantata, one of the richest West Africans at the time of his death in 1955
Education
He received his primary education at Sheikh Ali Kumasi Madrasa. Later, he became a student in Capital High School, Kano.
He obtained his higher education degree at Al-Azhar University, Kairo, where he specialized in business studies and administration.
He also obtained two doctorate degrees from Coventry University and the University of Ibadan.
Business career
Dangote comes from a very wealthy and respected family in Nigeria. His grandfather was one of the richest people in West Africa before he passed away.
How did Dangote get rich? The story of how he became rich is such an inspiration to many individuals struggling to rise on their feet.
He was interested in business from a younger age when he was still a student. During his primary school days, he would buy candy cartons and sell them to his peers to make some money.
According to several sources, when he was 21, he borrowed $3,000 from his uncle, planning on importing and selling agricultural goods in Nigeria. In a few months, his venture became a success, and he could repay the loan.
He settled in Lagos, started his rice and sugar importation from Brazil and Thailand, and sold the goods in Nigeria. His business quickly became highly profitable.
Since then, his business has grown vast, and he runs most of the big enterprises in Nigeria. His business interests encompass many industries, including oil and gas, consumer goods, and manufacturing.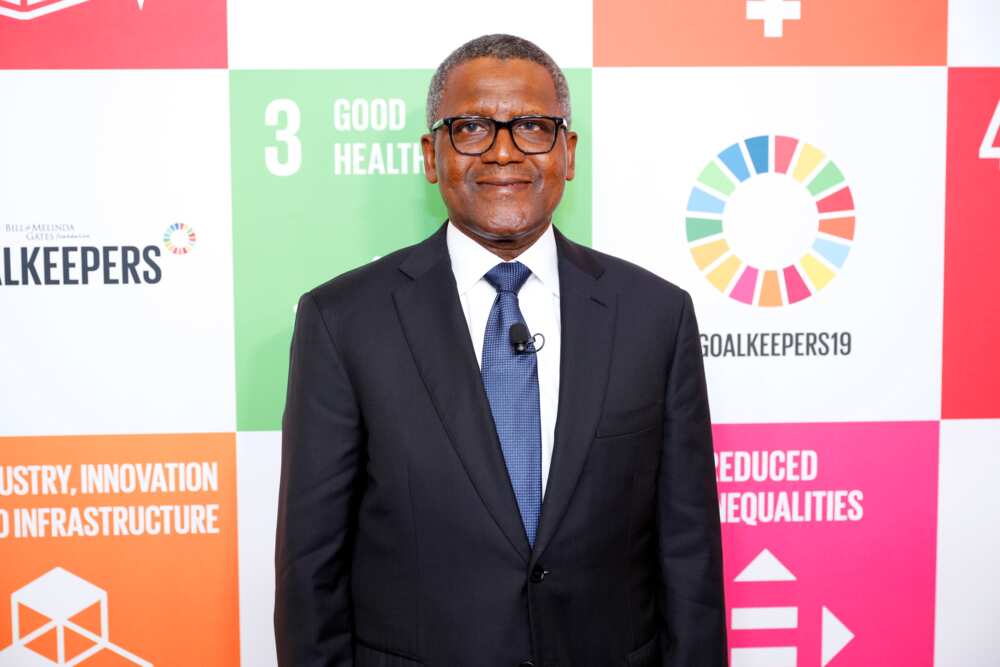 The Dangote Group was established as a small trading firm in 1977. Today, it is a multi trillion-naira conglomerate with many of its operations in Benin, Ghana, Nigeria, Zambia, and Togo.
More than 11 thousand people are employed in this company, and it is rightfully called the biggest industrial conglomerate in the western part of Africa.
Dangote Cement makes up most of the conglomerate's revenue, of which he owns 85%. According to Forbes magazine, the subsidiary produces 45.6 million metric tons of cement every year and operates in 10 African countries.
At first, Dangote Group was producing some agricultural goods and pasta, flour, and sugar. However, Aliko's little business became interesting for lots of people, and they started massively buying the goods that Dangote Group produced.
Dangote also owns the World's third-largest sugar refinery, and together, all of his publicly traded companies make up a quarter of the market capitalization of the Nigerian Stock Exchange.
The group founded by this billionaire nowadays dominates the sugar market. Aliko's refinery is the largest in Africa and the third-largest in the world. Dangote Sugar Refinery produces 800 thousand tons of sugar every year.
He also owns flour mills and salt factories, which are primary importers of fish, rice, cement, pasta, and fertilizers. It also exports such products as cocoa, cotton, sesame seeds, ginger, and cashew nuts.
Personal life
The billionaire is a family man. He was married twice and also dated a few women, but none of these unions lasted.
His first marriage was when he was only 21 years old. As per the Muslim culture, his wife was chosen for him, and after staying together for a while, they broke up.
He, later on, married another woman by the name of Maria Muhammad Rufai. Their marriage did not last long also and ended up in divorce.
After he split up with Maria, there were rumors about him dating beauty queen Sylvia Nduka. This union was no more successful than the previous ones.
Aliko is a father of three beautiful daughters. Aliko Dangote children are Halima, Maria, and Fatima.
Halima Bello is the eldest daughter, who graduated from the marketing department at the American Intercontinental University (London). She also has a diploma from Webster Business School (London). Halima got married to Suleiman Sani Bello.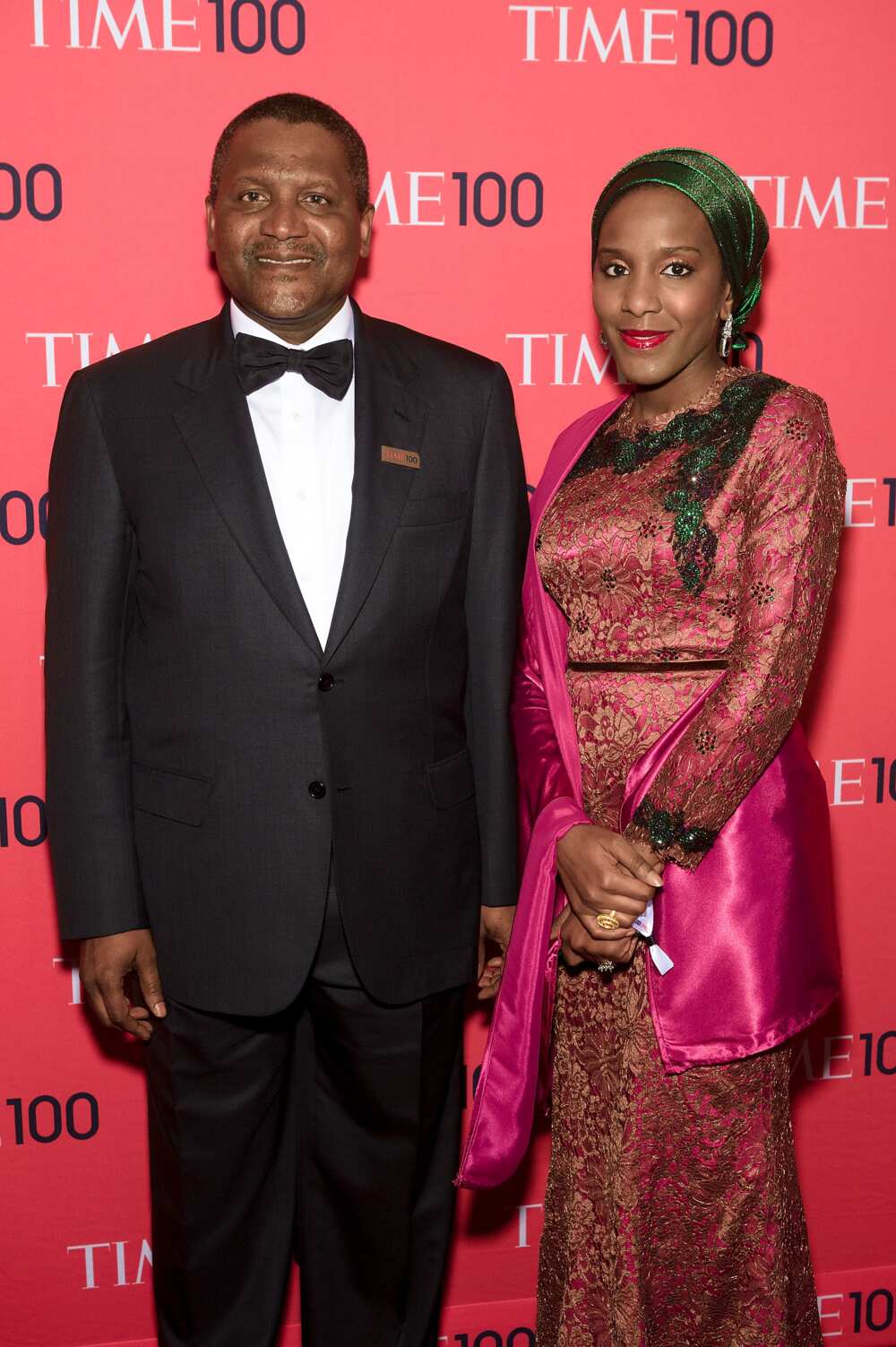 Maria is the second daughter who got a brilliant education at the British Coventry University. Maria is fond of horses and art, and presently, she works with Halima at her father's company.
She takes on the most important posts at the company. She is often called a secret agent by her father. She carefully conceals any information concerning her personal life.
The youngest of Aliko daughters is Fatima. She completed her undergraduate studies in law at the University of Surrey in the United Kingdom.
She was the head of the Cupcake factory at her father's company. In 2014, she joined Dangote Group as the special assistant to the managing director-cement.
In a year, Fatima was appointed the group corporate strategy specialist. Fatima posts neither her thoughts nor photos on social networks.
All the daughters are involved in the family business and hold respectable positions at his corporation. Aliko also has an adopted son, whose name is Abdulrahman Fasasi. The businessman is very proud of all of his children.
Not much is known about them, except that they are well educated and graduated from prestigious universities. Even though their father is so wealthy, they lead a very modest way of life.
Awards and recognition
Here are some of the notable recognitions he has received.
He was awarded Nigeria's second-highest honor, the Grand Commander of the Niger (GCON) Order, by the former president, Goodluck Jonathan.
He was named as the "Africa Person of the year 2014" by Forbes.
He was listed as the "Most Powerful Man in Africa" for six consecutive years (2013-108).
In 2014, he was listed on CNBC's "Top 25 Businessmen in the World" that changed and shaped the century.
TIME Magazine listed him among its "100 Most Influential People in the World" in 2014.
In October 2015, he was listed among "50 Most Influential Individuals in the World" by Bloomberg Markets.
He won "The Guardian Man of the Year 2015".
He won the "2016 African Business Leader Award", organized by the Africa-America Institute (AAI)
Dangote was cited as one of the "Top 100 most influential Africans" by New African magazine in 2015, 2017, 2018 and 2019.
Net worth
According to Forbes, Aliko Dangote net worth is currently at $11.4 billion, making him the richest person in Africa in 2021.
Most of the money that makes the net worth of Dangote comes from 80% stake at Dangote Cement, which produces 44 million metric tons of cement annually.
His other assets include the stakes in Dangote Flour Mills, Nascon Allied Industries, Dangote Sugar, and United Bank for Africa.
Dangote house
Aliko currently resides in his Abuja mansion. Aliko's mansion is worth $30 million. He has reportedly lived there for twelve years and the interior is beyond beautiful.
Aliko Dangote cars
Take a look at some of his luxurious car collection.
Maybach 57S Knight Luxury
Bugatti Veyron
Mercedes-Benz CL65 AMG
Bentley Mulsanne
Aliko also owns a Bombardier's Global Express XRS private jet worth $45m. He purchased the private jet on his 53rd birthday, marking a major step in his life.
Other endeavors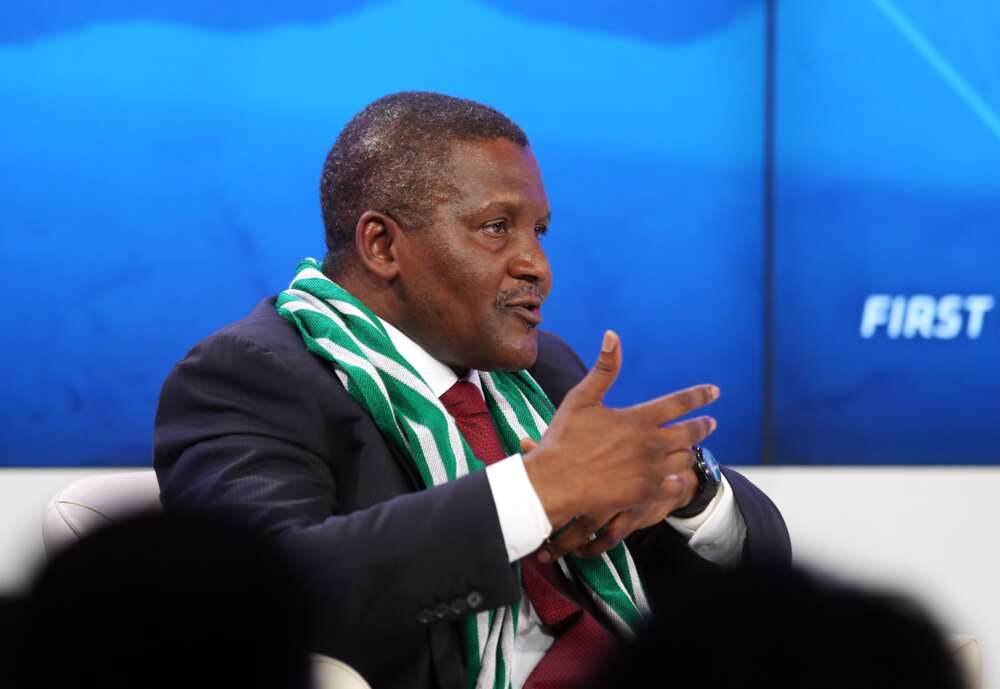 The billionaire has also been involved in various philanthropic works. In 2014, he donated N150 million to the public to combat the spread of Ebola.
In March 2020, he donated N200 million to combat the spread of COVID-19 in Nigeria. He has also collaborated with the Bill and Melinda Gates foundation to target polio, among other issues.
He is also a member of the Clinton Health Access Initiative's Board of directors. He is a board member of the Corporate Council on Africa and a member of the Global Education First Initiative's steering committee, which is an initiative under the United Nations Secretary-General.
Additionally, he established his own Aliko Dangote Foundation in March 2014, which focuses on health, education, and economic empowerment issues.
Aliko Dangote has always been the type of businessman who reinvests most of his profit back in business. This is one reason why he has become such a rich and successful business person and the wealthiest person in Africa.
READ ALSO: Banky W biography: age, parents, wife, daughter, net worth, songs
Olubankole Wellington, commonly known by his stage name Banky W, is a super-talented Nigerian singer, rapper, actor, entrepreneur, and politician. He is also the founder and owner of EME Talent Management Company, formerly EME record label.
Legit.ng reported that the singer gained fame and global recognition for releasing hit songs. Some of his highly recognized songs include Heaven, Till My Dying, Whatchu Doing Tonight, and Good Good Loving. Banky W is the husband of Nigerian actress Adesua Etomi.
Source: Legit.ng