Many children dream of becoming famous, many teenagers dream about turning into billionaires in their future, but some kids are born already famous and wealthy or have amazing talent that makes them wealthy quickly. Checkout top ten richest kid in Nigeria. These girls and boys make impressive amounts for their ages!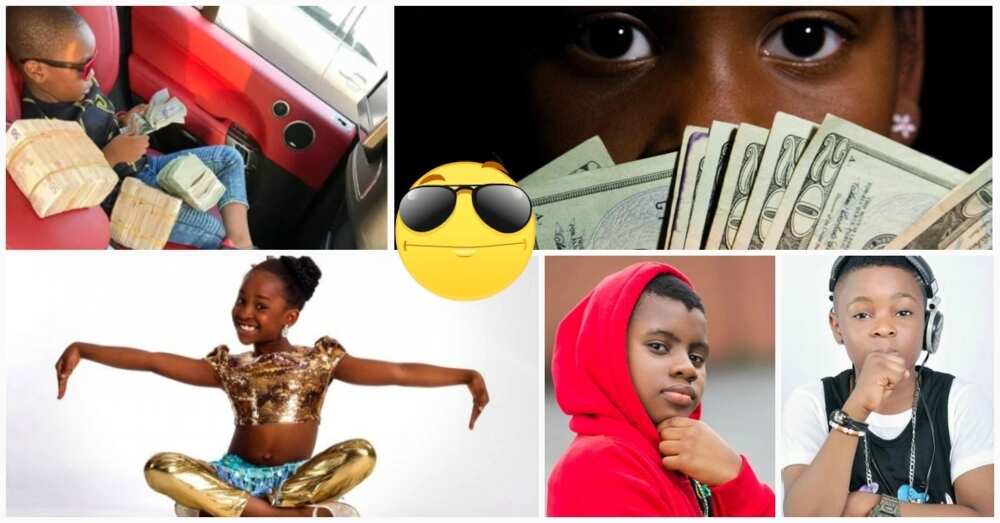 Top ten richest kid in Nigeria
What are the names of kids who are the richest in Nigeria? How much money do they have? Millions of people in the country want to know the answers to these questions.
Below you will find our list of 10 richest kids in Nigeria and know their net worth. Many kids became rich through their parents' wealth, while there also other kids who are self-made millionaires. By the way, many rich kids are not as active on Instagram as grown-up celebrities, because their parents (who are sometimes celebrities themselves) do their best to protect their child privacy and details of their family life. So, let's get started.
READ ALSO: Richest children of billionaires in Africa who are as hardworking as their parents
1. Mompha Junior
This child's real name is Muhammed Lawal Mustapha. He is the son of a famous Nigerian businessman Ismaila Mustapha. The boy's photos are often shared by his father on Instagram, and it seems that this family lives an interesting luxurious life.
The estimated net worth of his father Ismaila Mustapha is more than $500 million according to many sources including moss9ja.com.
2. DJ Young Money: talented DJ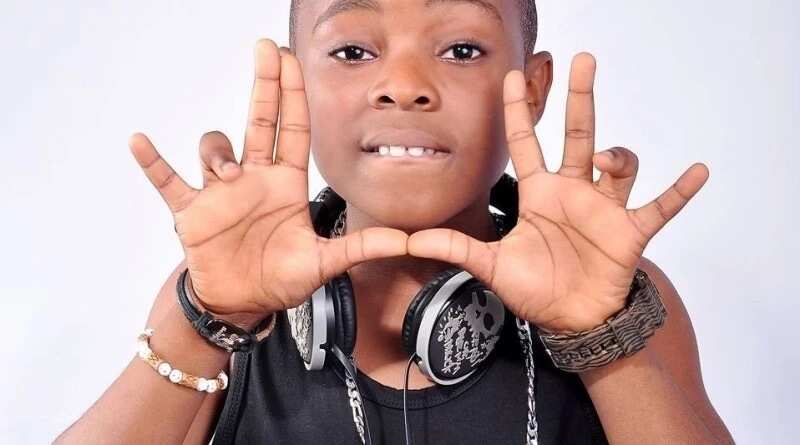 Photo: Gossips ngg.ng
This is one of the richest kids in Nigeria. The talented 11 years old DJ already makes millions of Naira through different contracts and performances.
In 2016, he signed a deal with K-Nation Entertainment, as the in-house DJ of the Label, according to lindaikejisblog.com this deal brought the young talent millions of Naira. Unfortunately, there are no exact figures, but we believe that the talent and hard work of the young DJ made him one of the richest kids in the country.
3. Ozzy Bosco: singer
This child is also rich and popular in Nigeria. Experts believe that his estimated net worth has reached over 150,000 U.S. dollars (according to austinemedia.com). The boy who was born 11 years ago shows an incredible musical talent. He composes his own songs, performs on stage and records his awesome hits.
4. Amarachi Uyanne: talent show star
READ ALSO: Nigerian teenage celebrities and their stories
This is another extremely talented Nigerian dancing girl who was born in 2004. Being 14 years now, she can boast some amazing awards. For example, she won Nigeria's Got Talent 2012 show and was awarded 10 million Naira prize money.
It is a nice amount for any little child. The pretty talented girl continues to develop her talents, participate in numerous shows as well as runways and make her family proud of their unique daughter. Her estimated net worth is over 100,000 U.S. dollars (according to austinemedia.com and bionetworth.com.ng).
5. Emmanuella Samuel: comedienne
Can a child be a famous comedienne? She started her YouTube skits several years ago, and her videos became extremely popular. She is famous across Nigeria and is believed to have a role in an upcoming Disney movie. Her estimated net worth is approximately 25 million Naira (nearly 70,000 U.S. dollars, according to austinemedia.com and thewealthcircle.com).
6. Ify Ufele: promising fashion designer
Can children design your clothes? Can they create outfits for your own kids? The answer is 'yes' if they are as talented as Ify Ufele. This little girl has shown her passion and talent for fashion design when she only turned 7 years old. Her interesting works were demonstrated at New York Fashion Week (the girl lives in the United States of America, but she loves being inspired by African culture when she visits Nigeria), and she is believed to earn her own money (enough for her business).
Ify often post inspiring messages on her Instagram account.
7. Ahmed StarBoy
Can you suddenly wake up famous and rich? The experience of this 12-year-old child who loves to rap proves everything is possible. This talented Nigerian boy received his first earnings from the record label he was signed to by Wizkid. His contract is impressive, as the boy received 10 million Naira in cash to begin his career. Thus, his estimated net worth is around 28,000 U.S. dollars, according to moss9ja.com and tvcontinental.tv.
8. Segun Wire: media sensation
READ ALSO: Richest teenager in Nigeria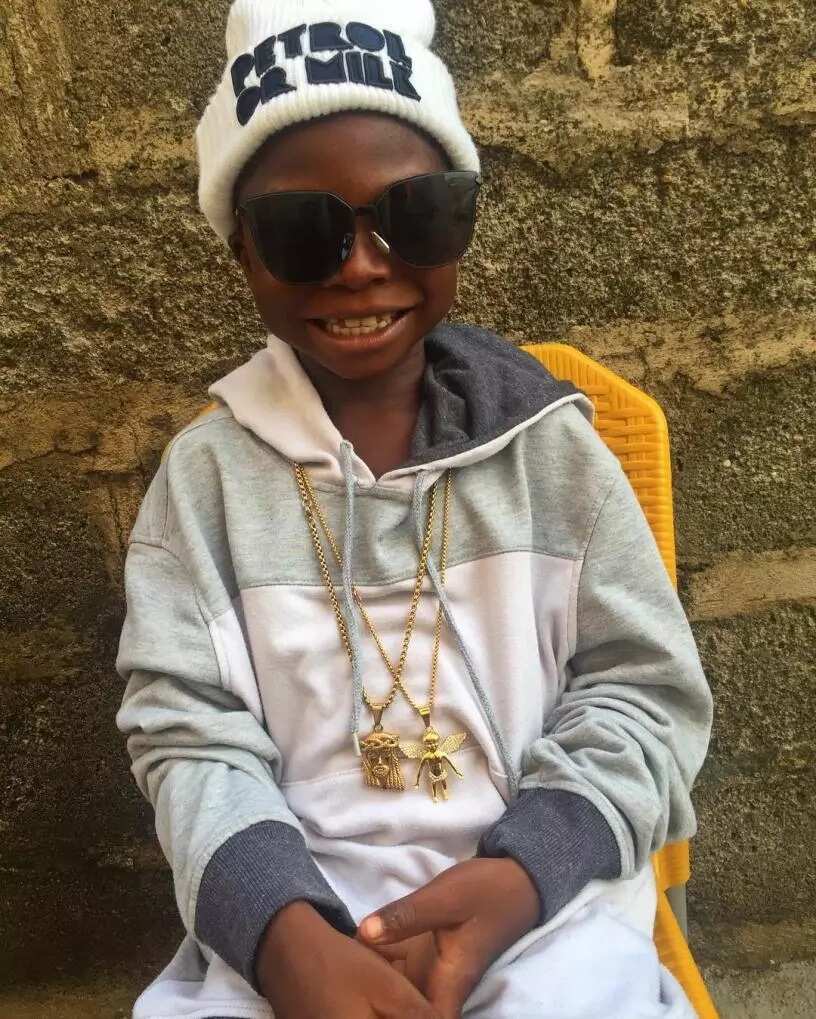 Segun Wire; photo: g9ija.com
This child got his rays of fame after creating a viral video of himself where he declared how much he wished to turn into a Yahoo boy one day in the future. He became a true media sensation and pretty popular in Nigeria afterwards. Some sites, including moss9ja.com, reports that his net worth now is approximately 25,000 U.S. dollars. Not too bad for an 11-year-old, right?
9. Destiny Boy: musician
Afeez Adesina aka Destiny Boy became famous after he covered the song IF (by Davido) and got noticed. His talents and hardworking character helped him to get promoted in the pop-music industry in Nigeria. Now, as he turned 14 years old, he can boast a net worth of approximately 18,000 U.S. dollars (based on moss9ja.com).
10. Marylove Edwards: young tennis star
This girl is unique and impressive. She plays tennis and does it incredibly. Born in 2005, she celebrated her 13th birthday earlier this year. She takes part in prestigious tournaments (she has trophies from nearly every Junior Tennis Championship she takes part in) and is extremely promising to Nigerian Federal Government.
Everyone hopes she will be the next tennis star in and outside the country. In 2017, she ranked #4 on the list of Nigeria Tennis Federation for women singles. According to moss9ja.com, Marylove's net worth is about 15,000 U.S. dollars. Marylove inspires others, wins many trophies and absolutely deserves her place on our list.
Mompha Junior
DJ Young Money
Ozzy Bosco
Amarachi Uyanne
Emmanuella Samuel
Ify Ufele
Ahmed StarBoy
Segun Wire
Destiny Boy
Marylove Edwards
This is our list of the richest kid in Nigeria in 2018. Every child who can dance, sing, perform on stage, entertain others, draw or do other impressive things that attract millions of eyes deserves to be loved, noticed, and honored. Pay attention to the talents of your kids, and probably they can make good profit from their hobbies.