How to make liquid soap for bathing
If you are tired of using regular soap and wish to use something impressive in the shower, learn how to make liquid soap for bathing at home. In this post, we will explain the easy soap making procedure and list all the ingredients you will need for this DIY guide.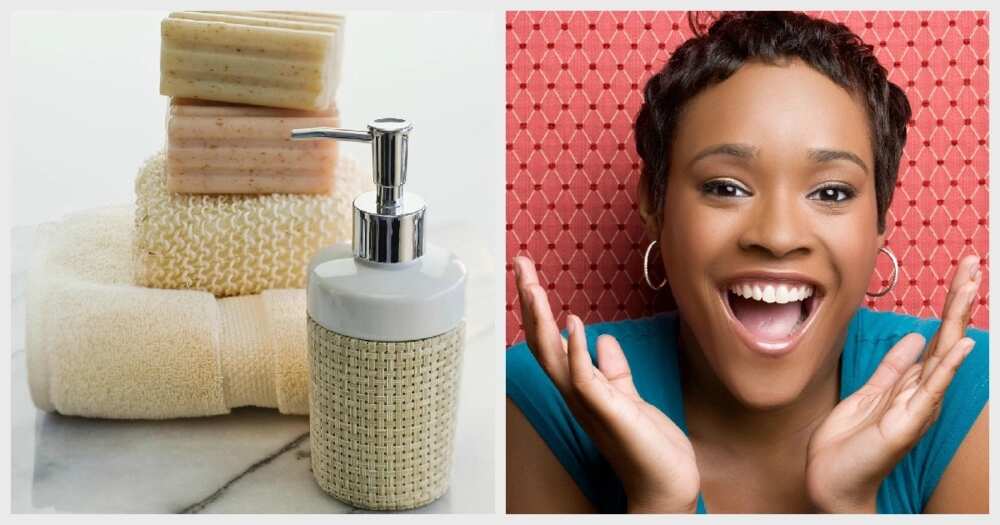 Why would you like to know how to make liquid bathing soap at home?
There are so many companies that make and sell liquid soaps all across Nigeria. Some of these soaps are amazing, others will suit only particular families.
Many Nigerians prefer using ordinary bar soap for bathing, but a lot of women and men also enjoy only exclusive liquid soap. Thus, while it is possible to purchase liquid soap in the stores, a lot of people choose liquid soap making at home.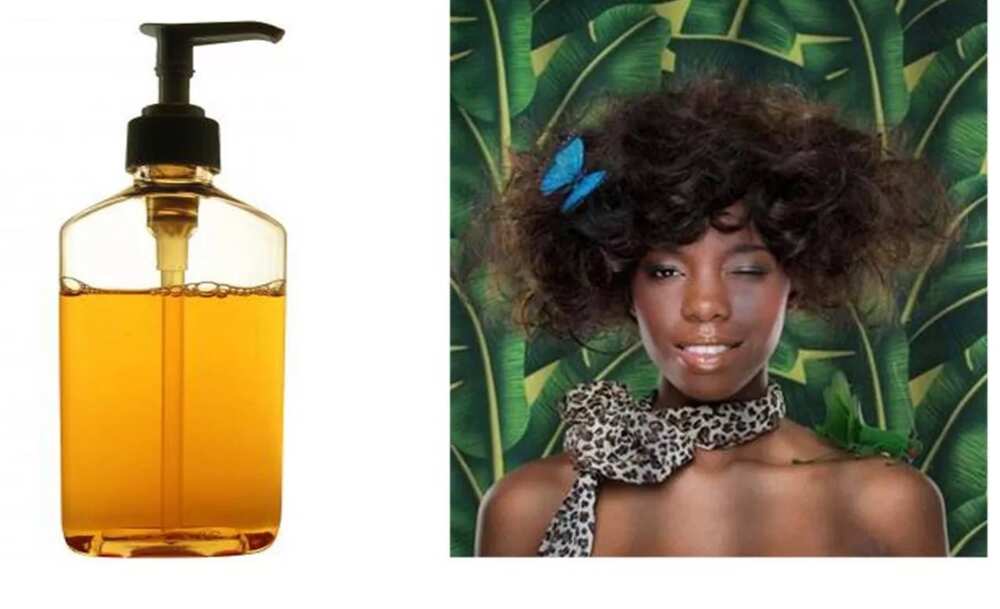 READ ALSO: How to make liquid soap for face?
Adding a personal touch to your creations is a big advantage, and that is why many of us choose to make our own soap for using within the family and handling to other people as gifts or products.
Liquid soap can be stored in beautiful glass bottles, or you can choose plastic jugs with a cap instead. You can decorate the bottle to your taste and add only safe ingredients to your soap, that would improve your skin and even hair.
Soap making procedure and ingredients
The process of liquid soap making includes some really important steps:
Choosing the correct liquid soap ingredients.
Spending your time and patience.
Some creativity if you wish to make it as a gift.
We should begin this interesting how to make liquid soap instruction by listing all the ingredients you should prepare beforehand if you want to save your money and do something really special.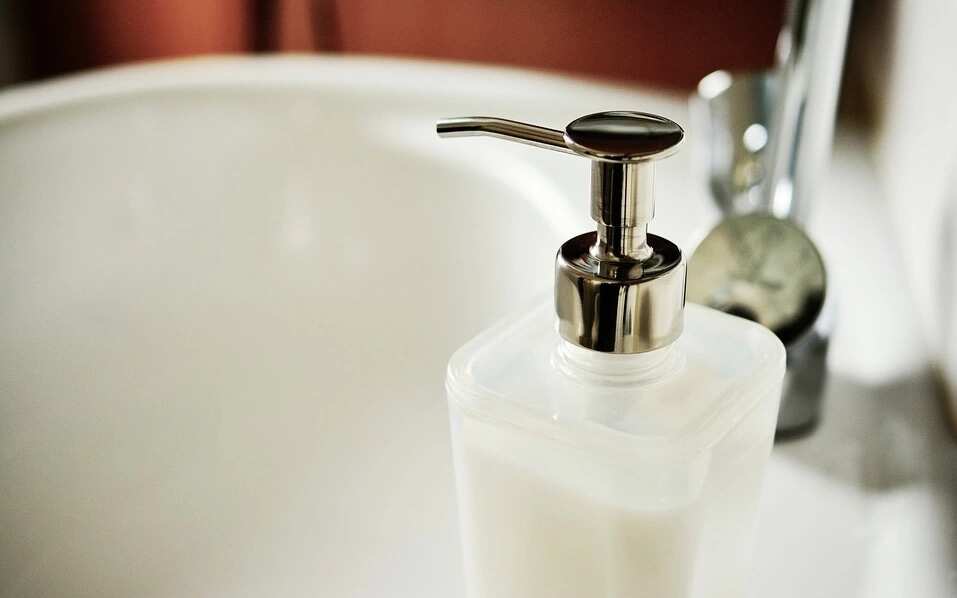 Ingredients for liquid soap
Distilled water – 0.5-2 liters
Soap flakes – 2 cups (optional)
Oils – castor, olive, coconut, jojoba (90-1000 milliliters of each, optional)
Fragrance plus coloring – to your taste and like
Glycerin – 2 tablespoon
Lye – approximately 150 grams (or less, or more depending on your amount of soap)
Extra products – honey, vitamins, lemon juice, lavender oil (optional)
Equipment – spoon (the wooden one), slow cooker, pot, funnel, cheese grater, bottle, stirring stick, bowl, etc.
Gloves – to protect your skin
You can replace soap flakes with soap bar (choose white color and grate it) or go with oils without these extras.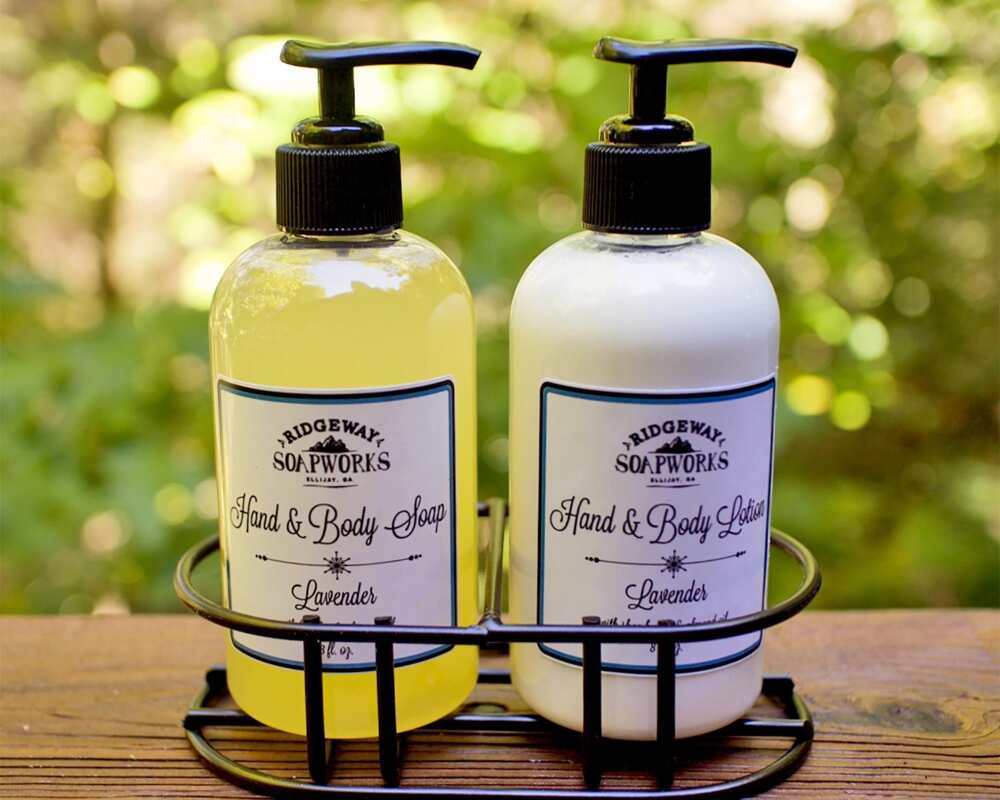 READ ALSO: How to mix African black soap with shea butter?
How to make liquid bathing soap at home
Step 1. If you don't want to use oils and haven't found soap flakes you need to make them on your own. Take a piece of regular soap bar (it is better to choose the white color because you would add your own coloring in the process of making your masterpiece) and a grater. Prepare approximately two cups of grated soap flakes.
Step 2. Put on the gloves. It is better to protect your skin while you are making your liquid soap because you are working with heat, oils, and chemicals.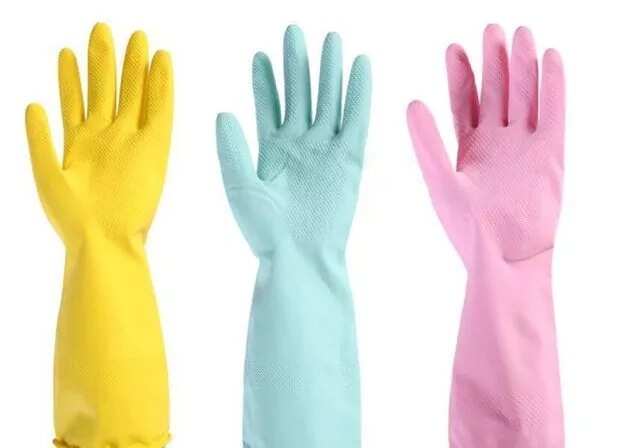 Step 3. Preheat the pot. Use the lowest heat. If you are planning to add the oils instead of soap flakes for enjoying more vitamins and pleasant aroma, you should begin with them and skip the Step 1. If you are using oil, add approximately 80 milliliters of Jojoba oils, 300 milliliters of olive and castor oils (each) and nearly one liter of coconut oil. Mix them in the pot and heat them. Then turn off the heat and let the oils cool down a bit. Or add soap flakes into the slow cooker instead of oils and preheat them.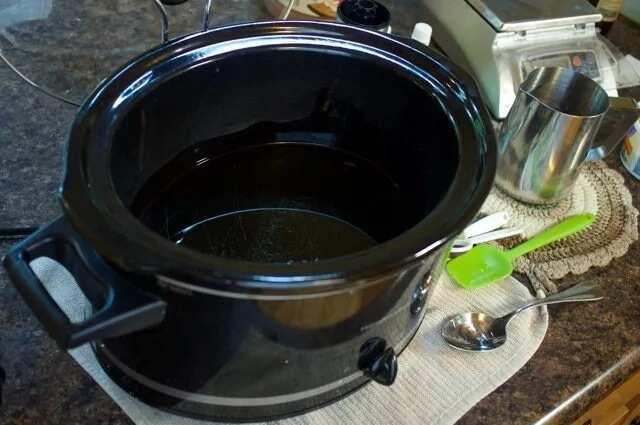 Step 4. It is better to use a special calculator you can find online to count how much lye you will need. You might be good with 150 grams of it or need less or more. Carefully weigh your lye and place it in a separate bowl.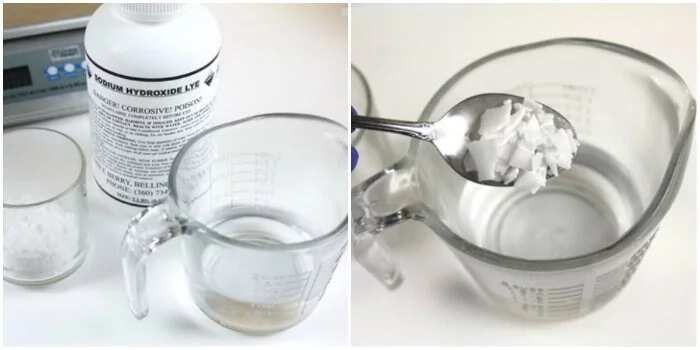 Step 5. Take another bowl (a clean one) and pour the distilled water inside. Usually, you would need twice more water than lye, so you can use this proportion.
Step 6. Carefully add lye into the water and stir all the time while you are performing this step.
Step 7. Put the new mixture into your preheated oils or melted soap flakes. Make sure you are doing everything very attentively and carefully. Avoid getting any drops on the skin.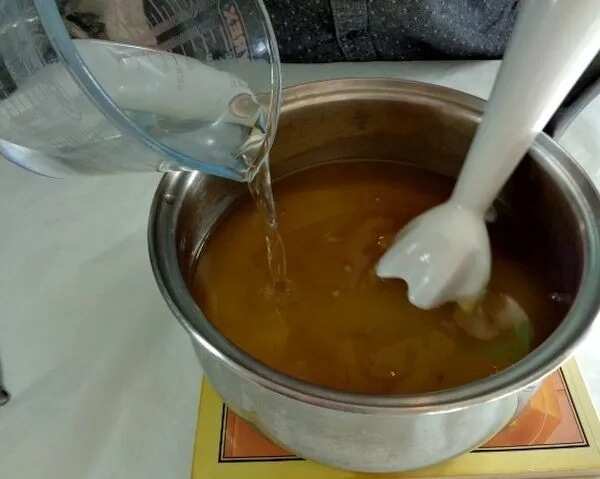 READ ALSO: How to make whitening black soap at home?
Step 8. Slowly blend the new mixture. It should be stirred really well because you have to create a thick mixture of oils and lye. It will look like a paste when ready.
Step 9. Making the awesome paste for your future liquid soap for bathing is a time-consuming task. It can take 5-6 hours to complete everything. You will need to keep checking on it and stirring every half an hour (use a stick for this purpose).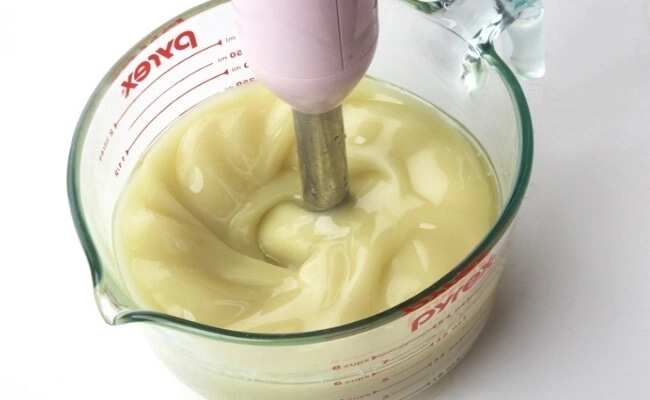 Step 10. To be 100 percent sure your soap paste is ready-to-use so that you can continue with this instruction on how to make liquid soap at home, you can try doing the following thing. Take one teaspoon of your paste and place it into the cup with two teaspoons of boiling water. Watch what happens. If the paste dissolves clearly and you see no 'milky effect' – you can continue because the paste is ready and done correctly.
Step 11. You can now weigh the amount of paste you have created. If you have approximately 450 grams of it, it is great. If you have less than this or less than the amount you wish to get, you can pour more distilled water inside and wait for several more hours until the paste achieves the right dissolving stage.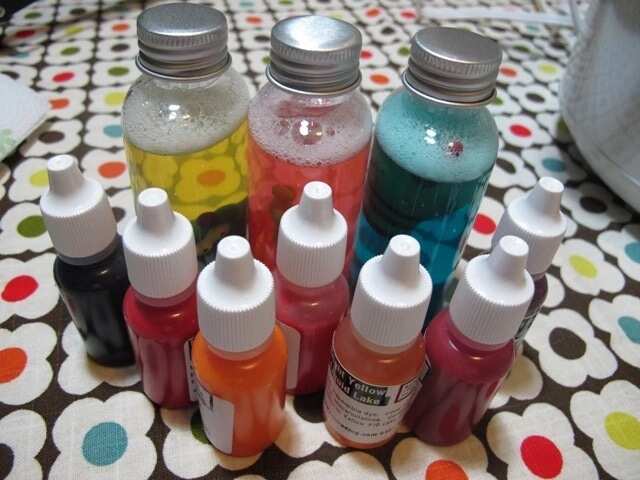 Step 12. It is time to add some color to your liquid soap. Use natural food color and make it pink, green, yellow, red, blue or any other color.
Step 13. If you wish you homemade soap to get a special aroma, you can add the oils you love the most and achieve the necessary fragrance strength.
Step 14. Add glycerine to your paste. This ingredient can moistureze your skin and make your soap nice and gentle, pleasant to human body. Carefully mix 2 tablespoons of this product with your paste to achieve the right smoothness.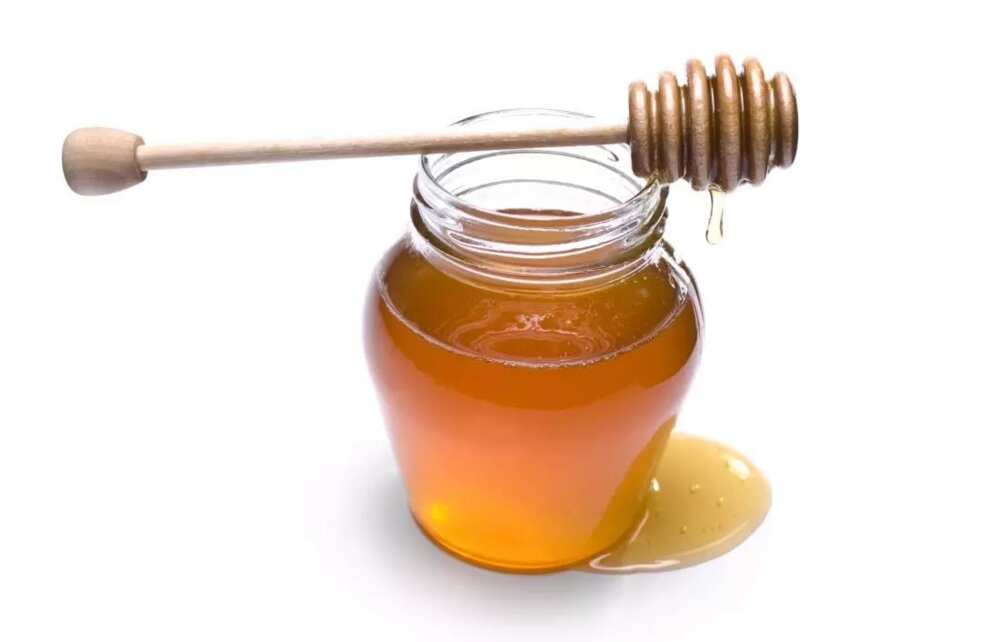 Step 15. Add a little bit of pure honey because it would be useful for your skin too. Honey can also add a pleasant smell to the final product.
Step 16. You can optionally add several drops of lavender, tea tree oil and other natural oils for better smell and other useful elements into your homemade liquid soap paste for bathing and washing your hands, body, and even hair.
Step 17. Place the liquid soap (once it has cooled down) into bottles using the funnel. Cap the bottles and store.
Please Note! Do not use any coloring ingredients if they have any chemicals in them. This might be dangerous for your skin or lead to allergic reactions. Work with natural ingredients only.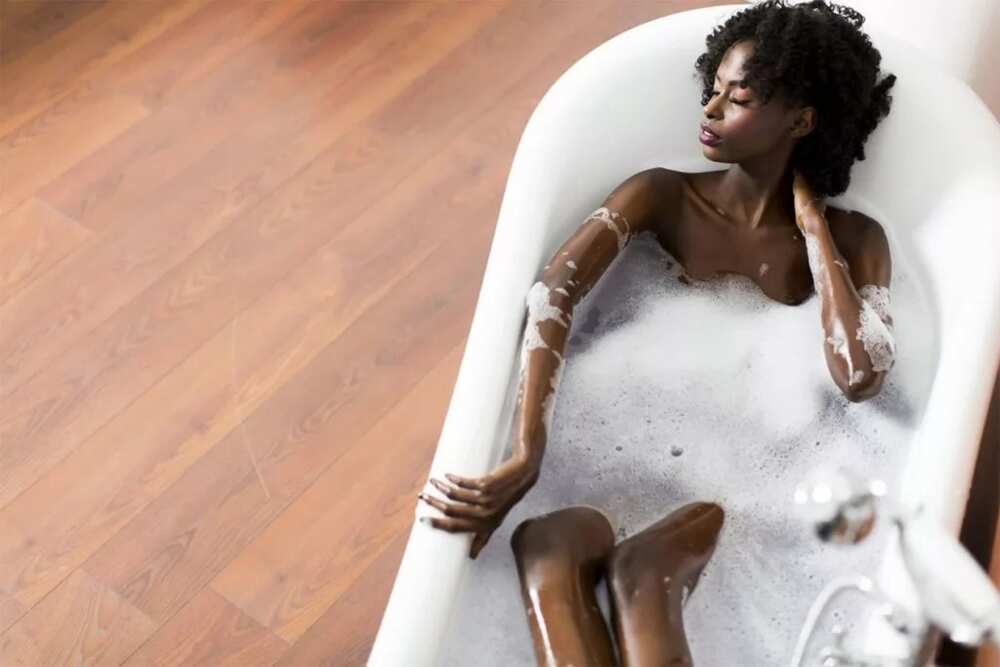 Now that you have learned how to make liquid soap at home, you can start practicing your skills in Nigeria and make impressive homemade gifts for your friends, use your amazing product for bathing and even start your own business.
READ ALSO: How to make liquid soap for dishwashing?
Source: Legit.ng