Best hairstyles with Brazilian wool
Nigerian hairstyles with Brazilian wool are a perfect choice for those women who neither want to relax their hair for fashionable silky looks nor have a desire to wear their hair natural and spend plenty of time and means on the care and styling. Just take a look at these amazing styles and try one on your hair!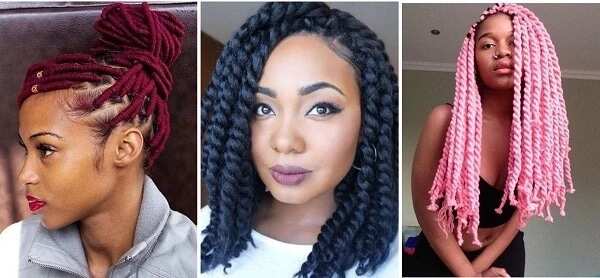 Wool hairstyles for ladies
Wool yarn is a perfect extension if you don't want to wear synthetic or natural hair for certain reasons. Hairstyles with interwoven wool are trendy, bright and very colorful compared to the ones that use hair extensions. You can be as creative as you wish using brightly colored wool yarn and combining it with your own hair.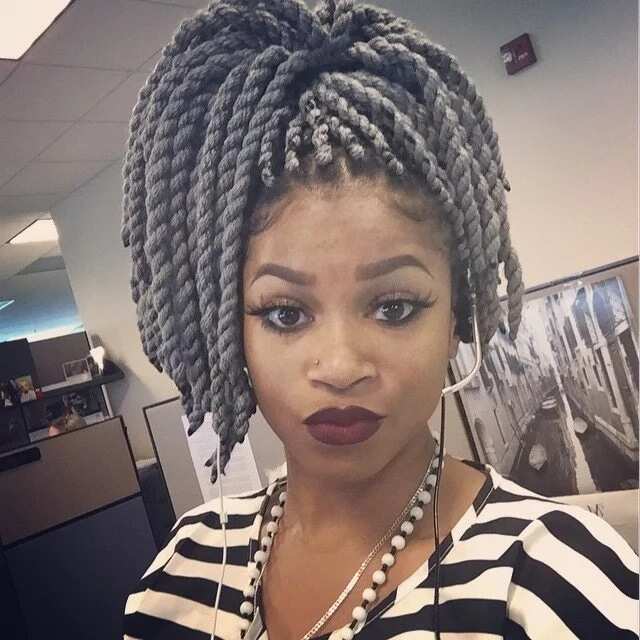 READ ALSO: Nigerian weavon hairstyles 2018
Adding woolen yarn to your hair can help you choose from really numerous variations and styles. You are not limited with anything and can have braids of any length. Besides that, such a hairstyle is said to have protective abilities. In case your hair is damaged or if you want it to grow longer and stay protected while growing, Brazilian wool can help you.
Who should choose hairstyles with Brazilian wool?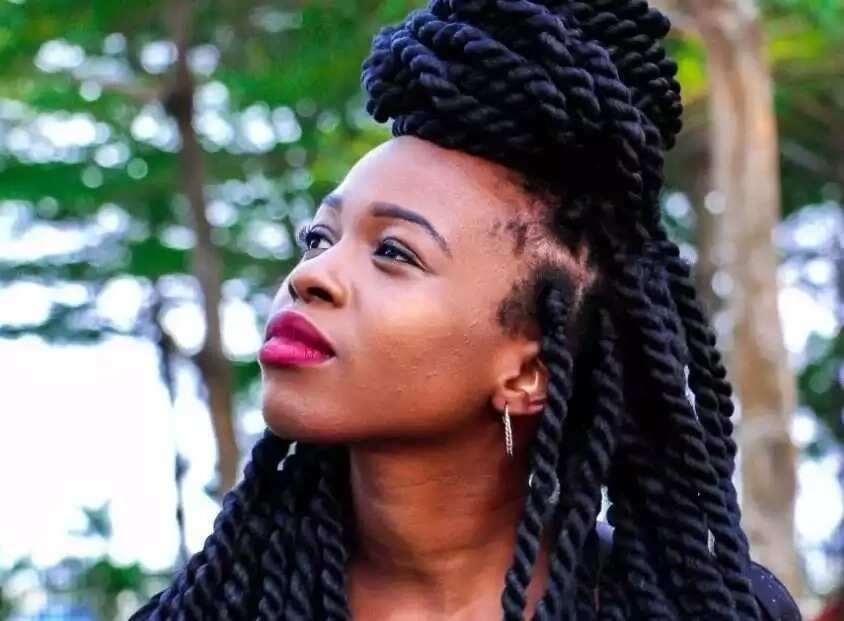 One of the main drawbacks of hairstyles with extensions is the weight the extensions add to the natural hair, the strain on the wearer's scalp and damage to hair follicles, and headaches, which happen thereafter. Brazilian wool has n such side effects because it is very light. It causes no to very little strain on the scalp and hair of the wearer so even fine and fragile hair can easily bear the weight.
Besides that, Brazilian wool is a natural material. Unlike synthetic fibers that are often used as hair extensions, it's utterly soft and causes no itching of the scalp and other parts of skin that touch it. Depending on the style, the wool can preserve your damaged hair from the impact of the environment and further ruination.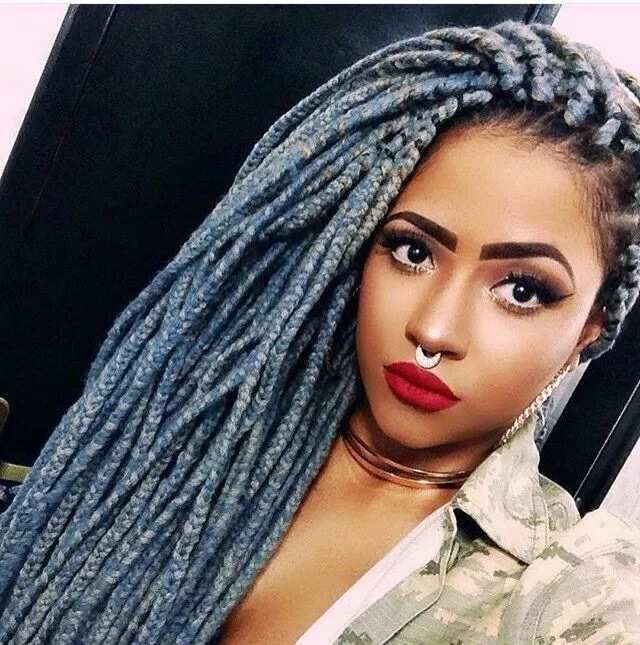 Finally, this wool is quite cheap compared to other hair extension options and if you take only one pack, which weighs about 200g, it will be enough to create about 70 braids. While the average number of braids is about 200, it's a perfect economy, isn't it! Some N500 will be enough to get you a lasting, creative and very lovely hairstyle. You can make them long and short, wear braids or twists. You can make crochet braids or Havana twists, or whatever else you want.
Now, let's take a look at some interesting hairdos that can be created with the help of colored yarn and the ways you can style them for the most fashionable effect.
Some trendy Brazilian wool hairstyles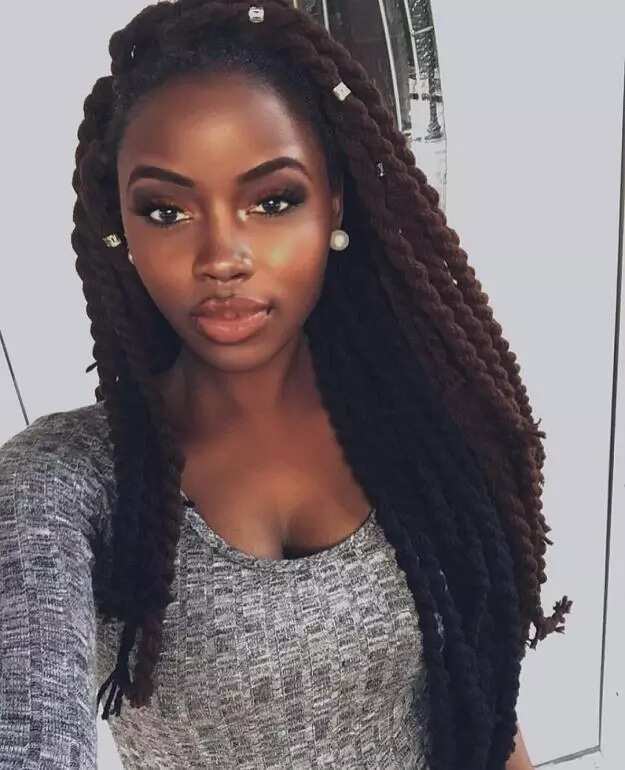 Twists are one of the most popular hairstyles with yarn. They are done quicker than braids and create less tension on hair follicles. However, they last for a shorter while, only about a couple of months and then it's necessary to redo them to return neatness. Still, this is a popular hairdo and many women choose twists when they decide to wear Brazilian yarn.
These twists are done in two colors – black and brown. The ones that are closer to the face are brown. They are lighter than black ones and compliment the skin tone in a lovely way. Since the twists are quite dark, they may require some illumination. Several shiny metal pieces will do the job perfectly. You'll see how your eyes will shine due to these decorations. Also, add some bright earrings.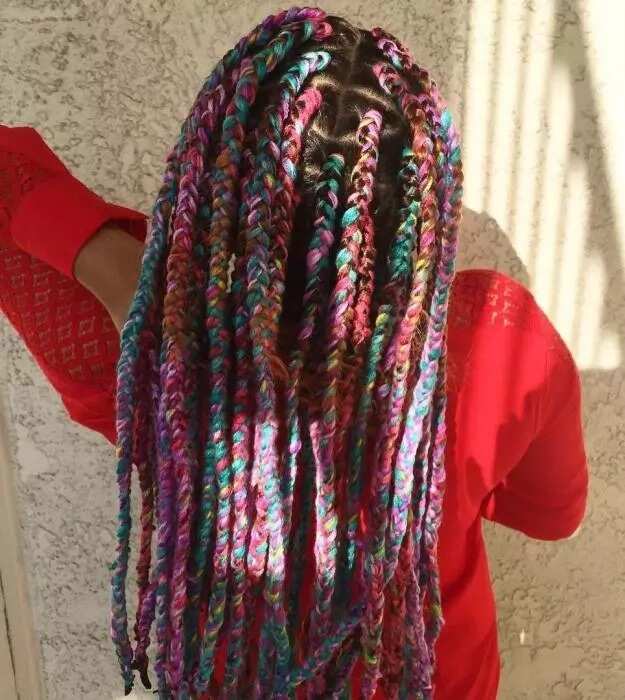 Classic braids with colorful yarn
Quite often it happens that women add only one color to their natural hair. Why not to add some more colors? Pink, light blue, pale yellow or, instead, bright hues are a perfect idea for such braids. Many colors mixed into a mélange look great in long braids. Of course, it's not a style for everyone but if the colorful style is for you, throw away all the doubts and rock the multi-colored braids.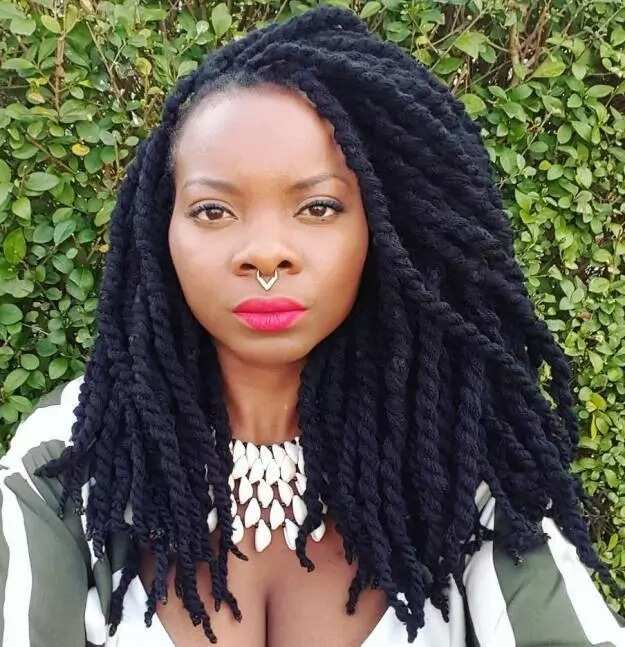 These simple twists still look great. Having a great mane of voluminous and thick twists will make you look really chic. If you part them in the middle of your head, your face will look somewhat more round. In case you make a side parting, your face will look visually narrower.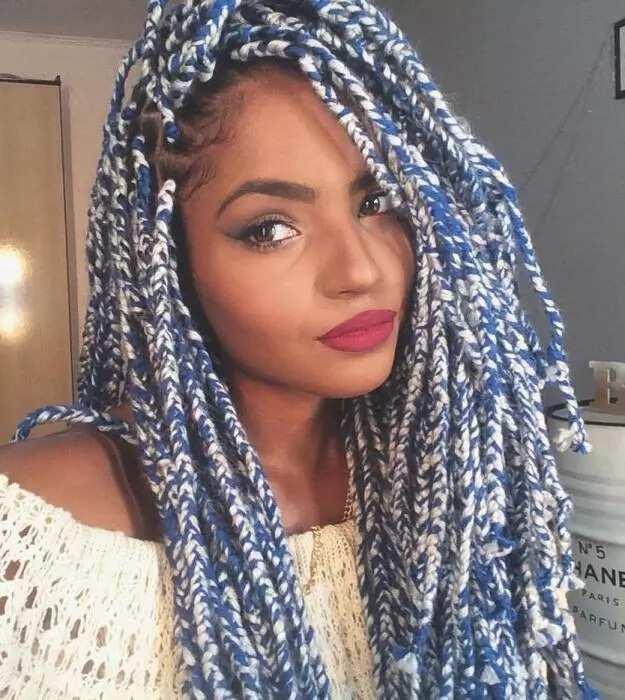 Want something refreshing in the middle of the heat? Here it is, a wonderful combination that looks like ocean waves and white foam together.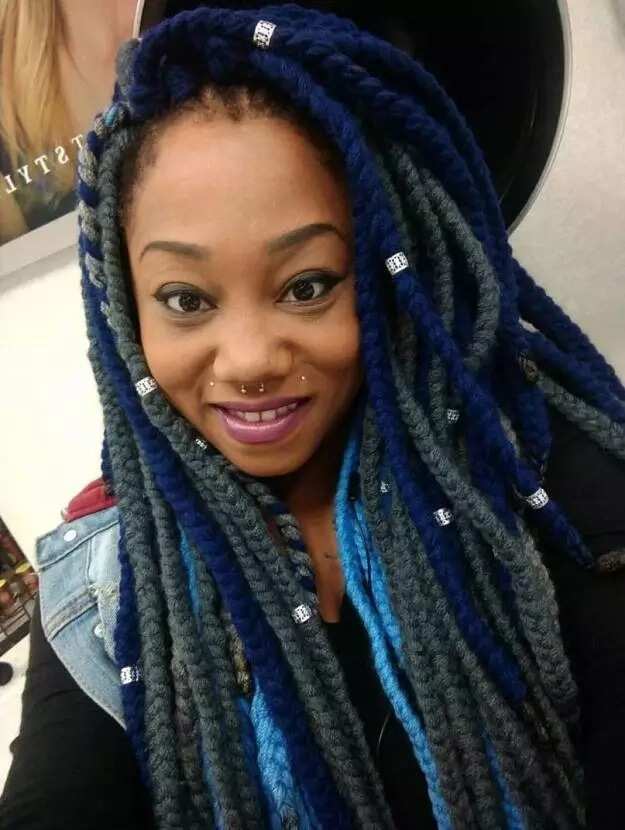 Just choose two hues of a bright color (for example, blue) and add some neutrality (like gray). You will receive a great combination and a very stylish effect. Such a mixture of colors looks equally good on a walk with friends and in an office environment. If you will want some bright accents, just fix metal decorations here and there. It will be a stunning effect!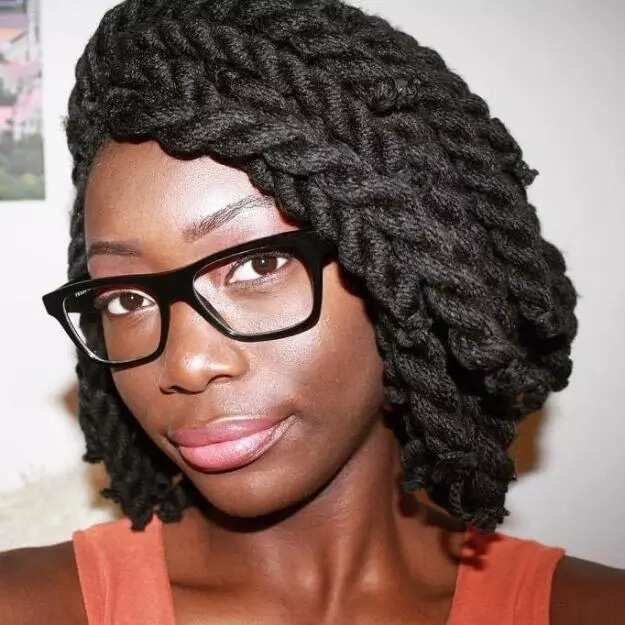 These are called Jumbo twists and they are super big compared to regular ones. They are soft and voluminous and look great if they are short. Such a hairdo matches faces with prominent features best of all. If you have big bright eyes or plump lips, this is what you need from the point of view of the style.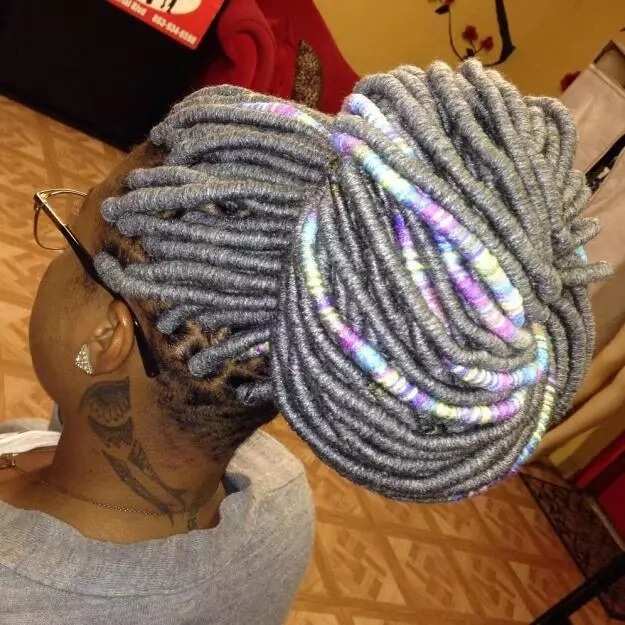 READ ALSO: Crochet braids with expressions - Best designs
Dreads or faux locks are another option for those who decide to wear yarn on their hair. Such hairstyles are extremely versatile, you can combine any colors and create a huge number of strands on your head. Just look at this silver-gray bun decorated with bright and shining pastel-colored strands! It's a lovely style that will definitely attract all eyes to your hairdo.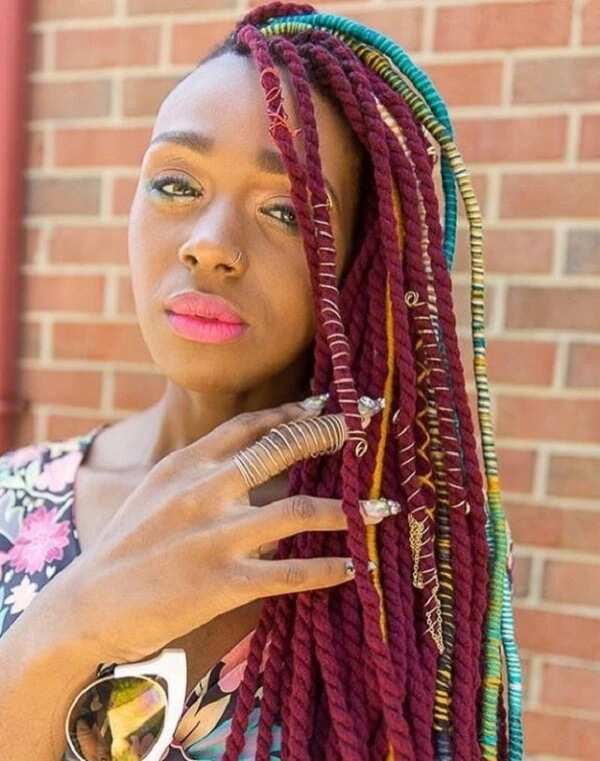 Twists mixed with faux locks
Having colored twists is not everything you can do on your head. It's also possible to add several strands of different colors for diversity and brightness. To create a really funky style, add some decorations like metal spirals, small chains and so on.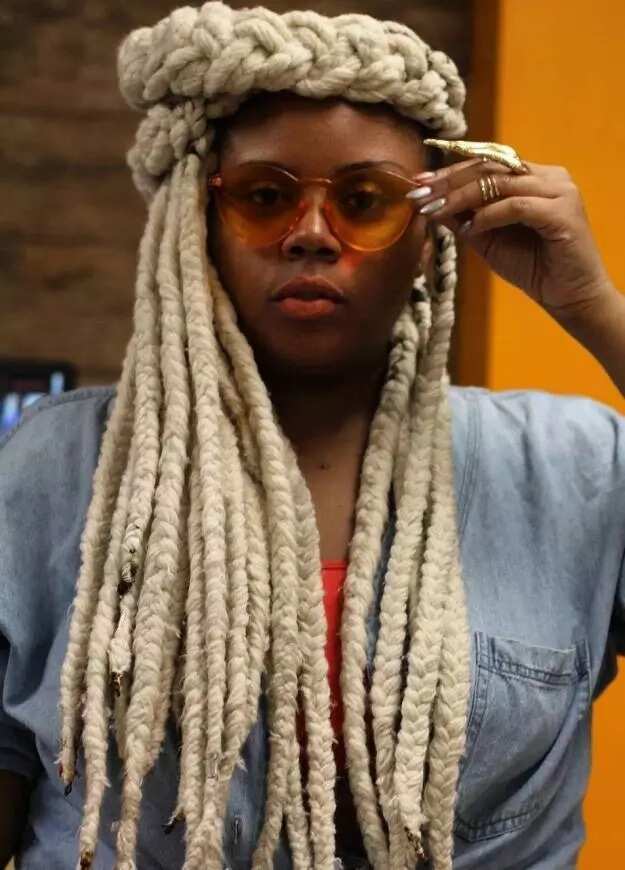 Yarn braids done into a crown
This is one of the possible variations of a braided hairdo when a part of the braids are gathered into a bigger braid and styled around the hear like a crown. This is an unusual and very attractive hairstyle that will definitely turn heads. Prepare for a lot of attention if you wear such a crown!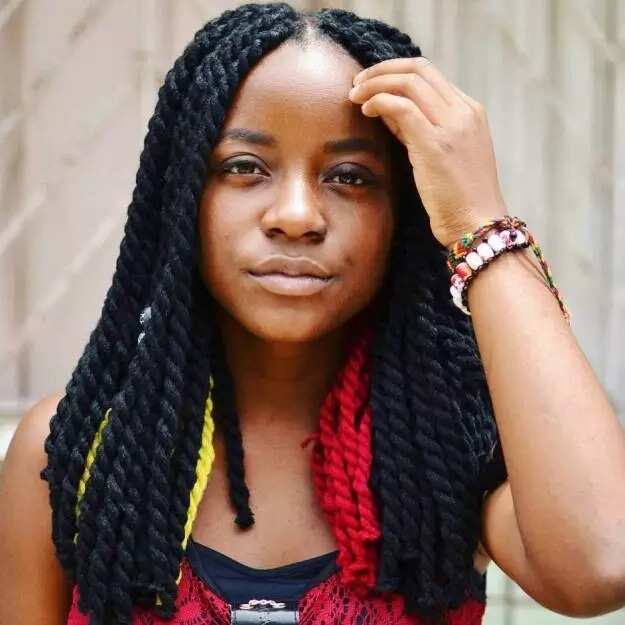 Have several twists or braids, whichever you choose for your hairstyle in bright colors and hide them under the rest of the hair. They will peek out from time to time, surprising everybody around you. Besides that, such a hairstyle is definitely able to improve your mood with its brightness and the play of contrasts.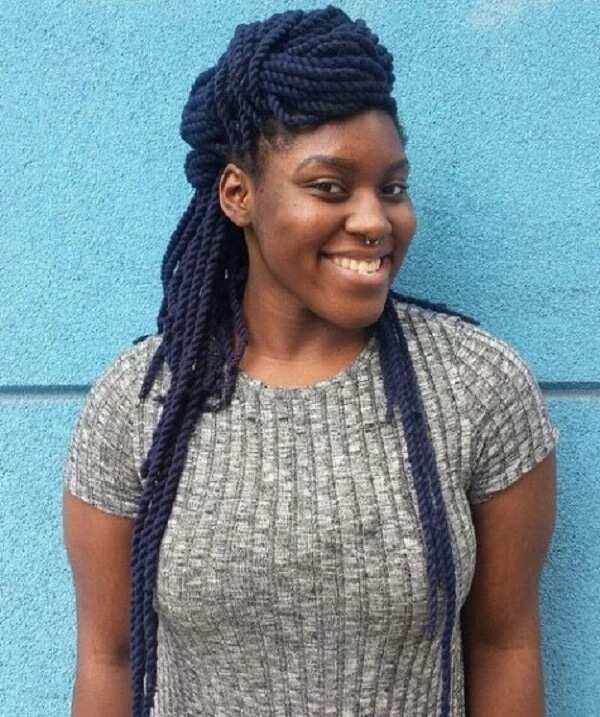 Layered twists look very interesting and attract a lot of attention. The shortest ones can be really short and not even reach the shoulders while the longest ones will reach the waist or even lower. Such locks look great in some half up-do, in which a part of both the long and short ones is done upwards and the rest are left hanging freely.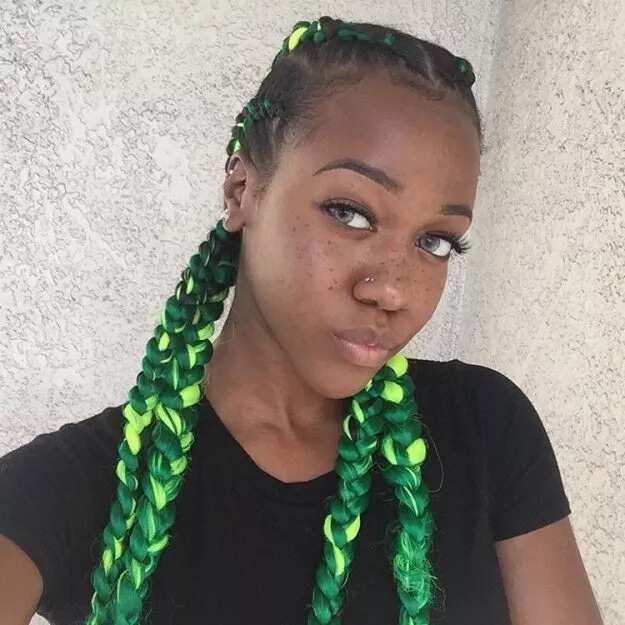 These ones are very interesting and comfortable to wear. The natural hair is done in several braids, which are later enlarged with the help of bright yarn.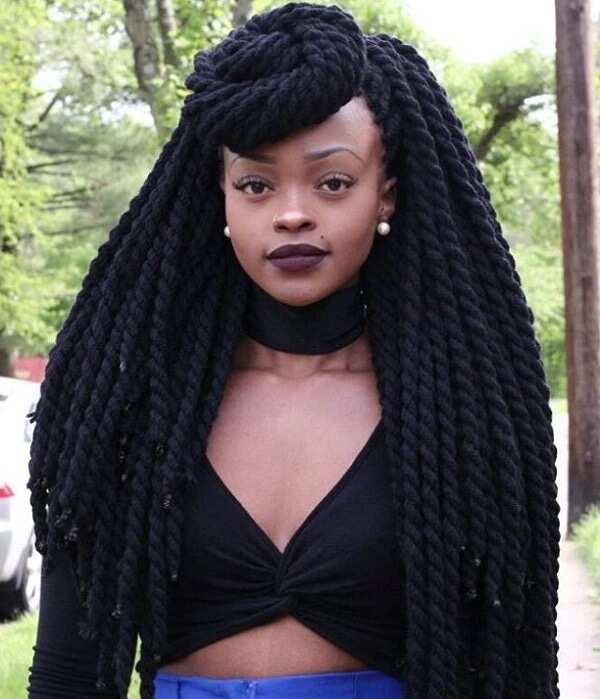 This is one of the most luxurious hairdos, which you can do with yarn. Thick and very long, such twists are able to give any woman the look of a queen. They can be simple and black but even in this case they will look great and stylish. Of course, if you wish, you are free to add any color but it's not even necessary.
Now, on the example of these 13 lovely Brazilian wool hairstyles, you know everything you need to know about stylish, pretty and functional protective hairstyles with wool.
READ ALSO: Nigerian hairstyles for kids
Source: Legit.ng