Igala traditional attires and dressing styles that are popular in 2023
Did you know the Igala people are also known as Igara? This predominantly Muslim community is known for its conservative mode of dressing. The Igala traditional attire features colourful stripes that make it look more vibrant and appealing.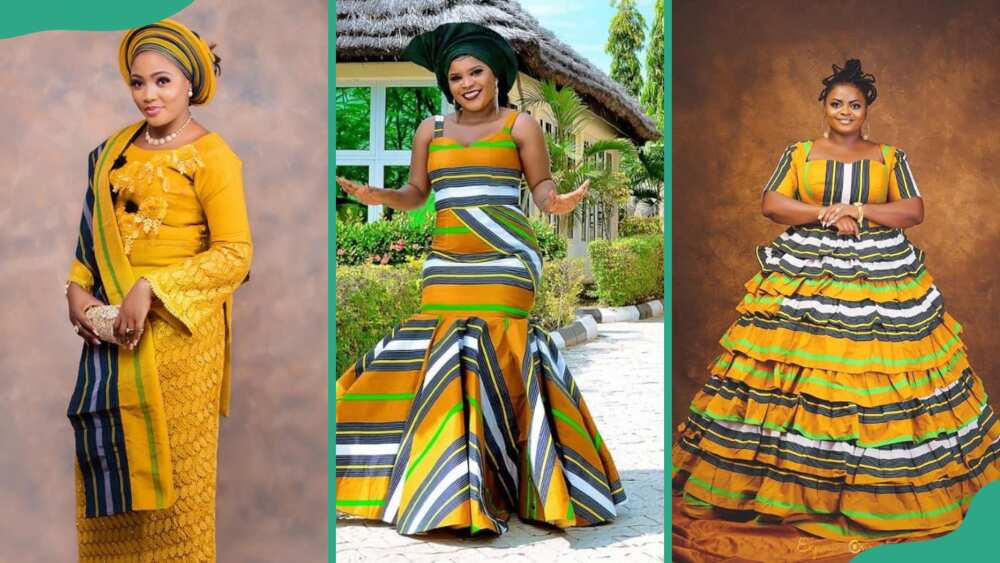 Nigeria is an ethnically diverse country that boasts of over 224 million people spread across over 250 ethnic groups, with about 520 languages. Igala people are one of the ethnic groups, and the Igala traditional attire is commonly known as the Igala Achi or Igala Ankara.
Igala traditional attire
The Igala tribe is one of the five primary ethnic groups in Kogi State in northcentral Nigeria. The other four are Okun, Ebira, Bassa, and Nge.
The Yoruba derivative of Igala is antelope. It is believed that there were plenty of antelopes during the migration of the Igala people into the land in the earlier years, hence the name. The community has multiple dialects, including Ebu, Ibaji, Dekina, Ogugu, Idah, and Ankpa.
Traditional Igala society was politically organised as a kingdom. Kings were divine, and the main source of livelihood was agriculture. Today, most people from this community are Muslim.
This community's traditional attire is distinguished by colourful stripes. Traditionally, yellow and black stripes were used. Today, other colours have been incorporated. Below is a look at pictures of Igala traditional attires and dressing styles.
Ruffles ruffles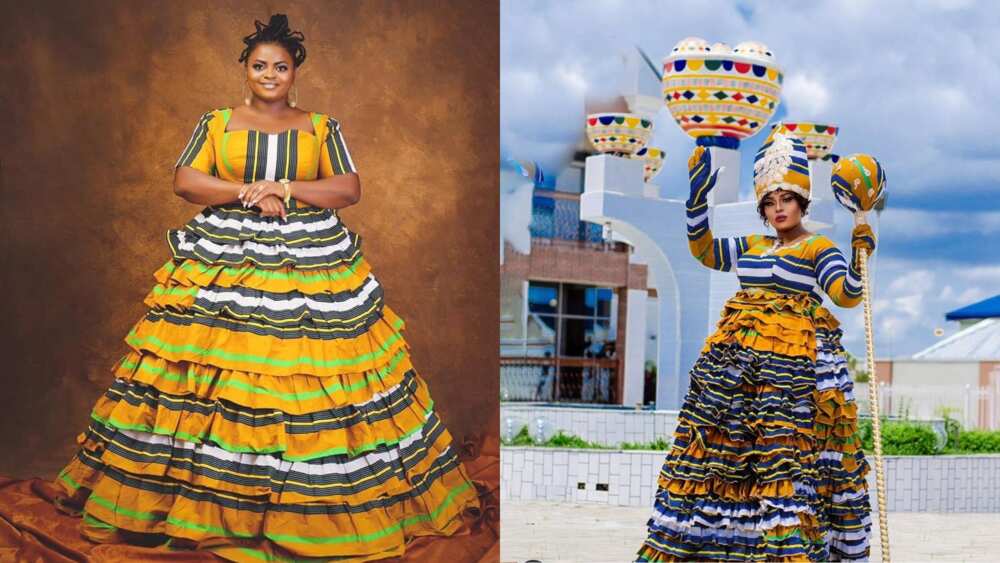 Igala traditional attire features the colour black. In this community, black symbolises the richness of Igala-land. It is associated with crude oil, minerals, and the land's fertility. People from this community believe that the colour brings prosperity and wealth. The ruffles in the designs above feature black.
Peplum design
The Igala traditional attire for a female features long dresses or skirts with yellow or black stripes. You will find yellow in all Igala outfits. This colour symbolises the community's hospitality and represents richness and prosperity. The peplum style above is ideal for hiding a thicker middle. It also gives the illusion of a smaller waist.
Iro and Buba style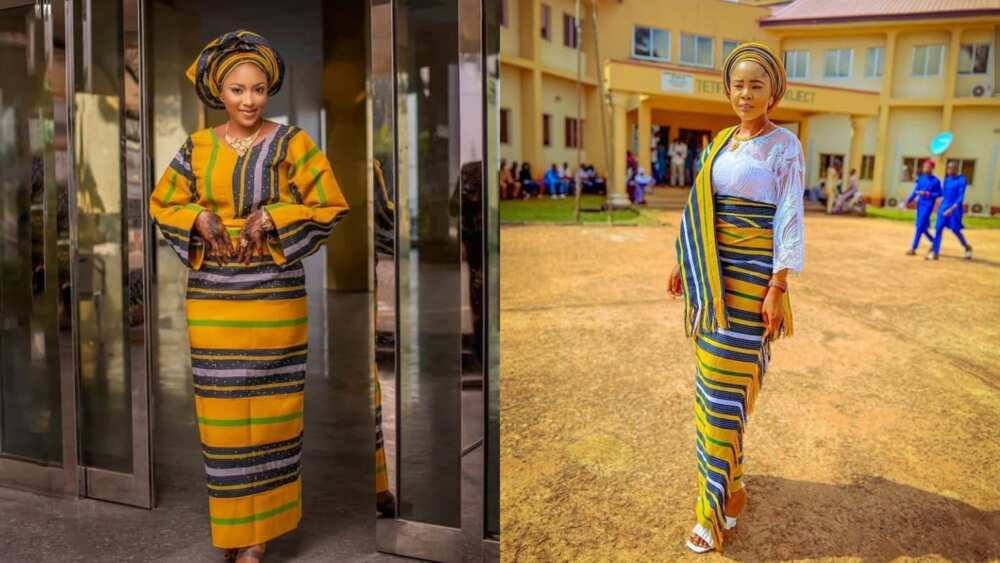 The Iro is a wrapper made with African print tied around the waist while the Buba is a long-sleeved blouse. Iro and Buba is typically worn by Yoruba people. In modern society, the outfit is quite fashionable, and the Igla people have adopted it. The designs above are lovely, aren't they?
Short skater dress
Besides Kogi State, Iglaa people can also be found in Benue, Nassarawa, Adamawa, Enugu, Delta, Anambra, and Edo States. Young women from this community have modernised the outfits from this community. Short and midi skater dresses using the community's signature stripes are pretty common.
Short bodycon designs
If you have a keen eye, you may have noticed green features in multiple outfits from this community. Green is another traditional colour in the Igala community. It symbolises peace, harmony, fruitfulness of the land, and fertility. Young ladies from liberal Igala families can rock short bodycon outfits.
Igala Ankara abaya
An abaya is a robe-like dress. It covers the whole body except the head, feet, and hands and is pretty common among female Muslims. Conservative women can incorporate their community's stripes with other Ankara prints in their abayas.
Mermaid dresses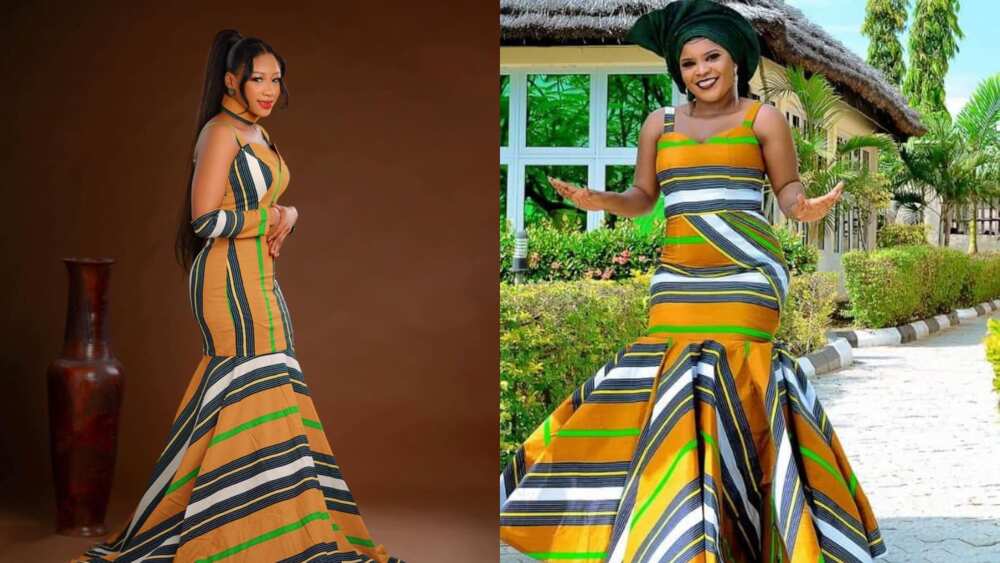 A striped mermaid-style dress makes the perfect Igala traditional wedding attire in modern times. This design hugs the chest and waist and creates an hourglass figure. What bride wouldn't want to show their best selves on their wedding day?
Ruffly mermaid
If the normal mermaid dress design does not cut it for you, and you want something over the top for your big day, you can choose the ruffled mermaid design. Notice how the striped fabric is on the lower bottom of the mermaid?
Igala Achi with corded lace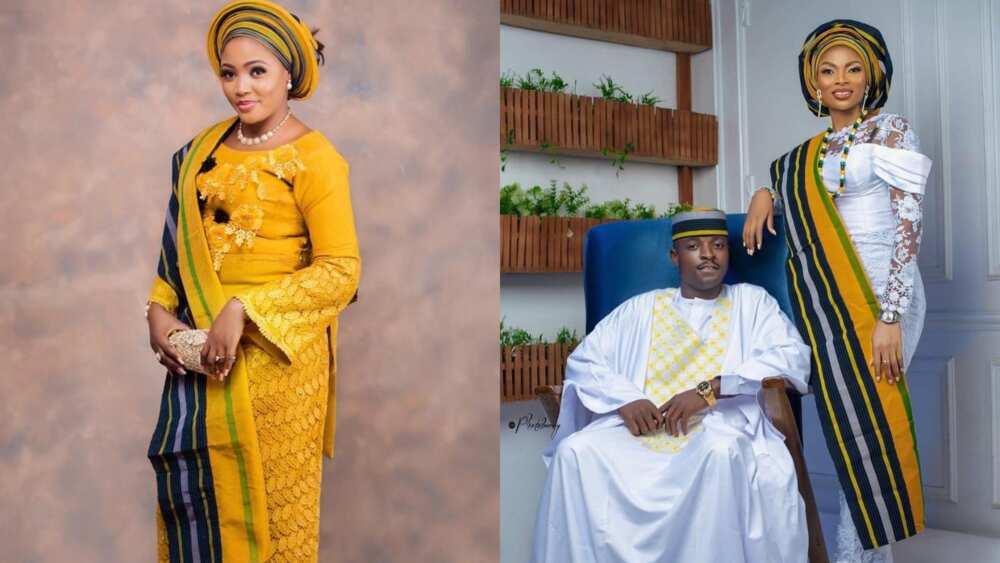 Corded lace fabric is an elegant type of textured lace outlined with heavier threads. Many women, especially from affluent backgrounds, wear this fabric to important social events. Adding a striped scarf and gele to the outfit makes it elegant and classy.
African goddess
Are you looking for a show-stopper dress? If so, embrace the goddess inside you with this design. The trail is elegant, and the design of the upper bodice is unique.
Black-themed Igala attire
The Igala traditional attire for a male must have the community's stripes, a striped hat or fila, and a scarf, which is usually hung around the neck. During traditional wedding functions, the bride and groom typically wear matching outfits. A modern man can wear a black agbada and fila featuring the community's colours in stripes.
Navy blue goodness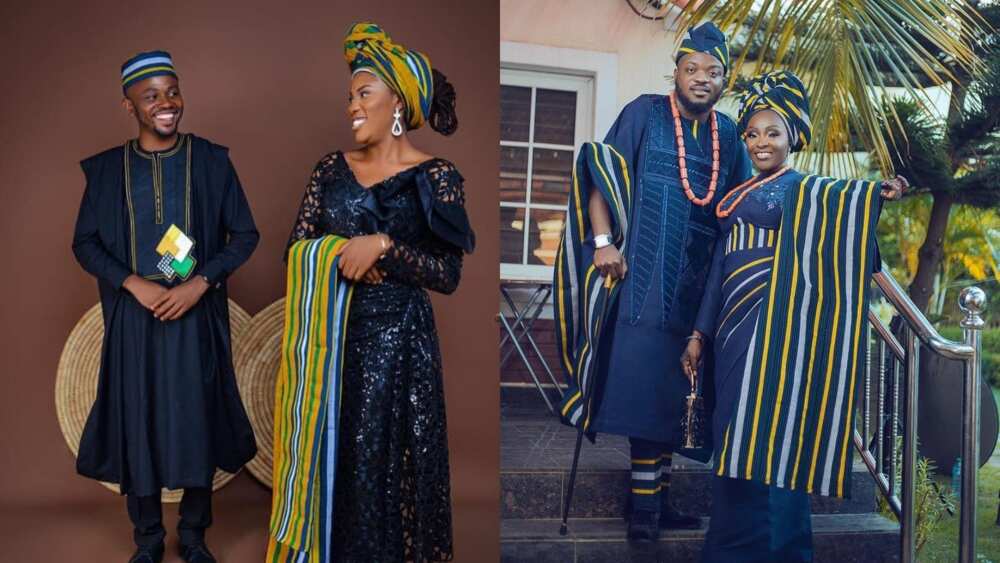 More young couples are incorporating their favourite colours into traditional outfits from their communities. Navy blue has become a common colour in Igala traditional marriage attire. Sometimes, people replace black with this colour.
Scarves and beads
If you choose to rock contemporary white outfits as a couple to a social event, you can add a touch of your Igala culture using scarves. The man can hang his on his neck, while the lady can drape it over one shoulder. The couple's headgear can also feature the community's striped fabric.
Elegant kiddie designs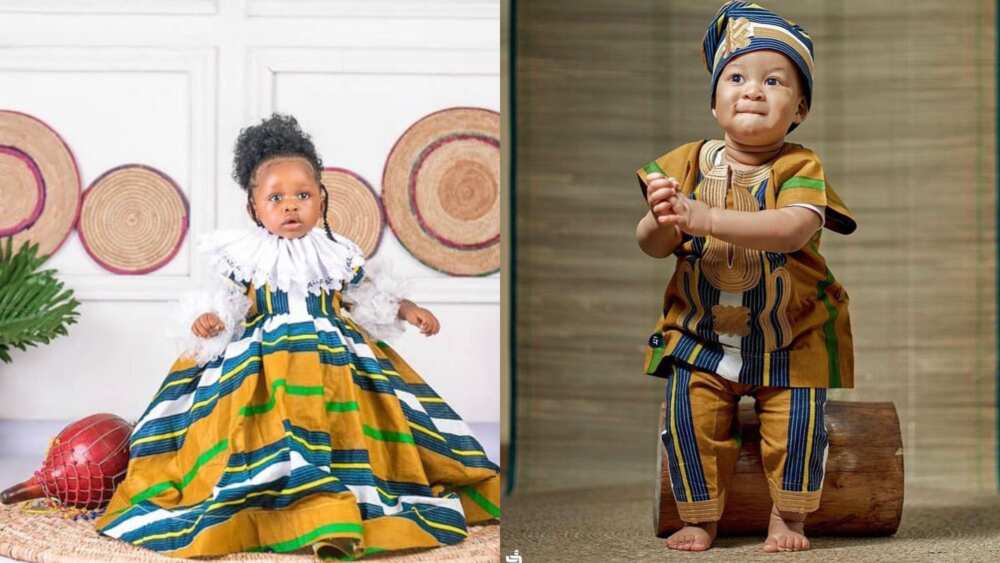 Little kids can rock outfits from their communities. Ensure the design you choose is functional for a child. It should also be cute and gentle.
Striped couple
If you are looking for unique Igala traditional marriage attire, the look above is for you. The bride and groom can rocked full striped outfits. The gent's striped agbada is pretty unique.
Is there a name for Igala traditional attire?
Igala traditional attire is commonly known as the Igala Achi or Igala Ankara. It features striped fabric. The community's primary colours are black, yellow, and green. Other colours can also be incorporated in the outfit.
In which Nigerian state do most Igala people live?
People from this community are predominantly found in Kogi State. Some may also be found in Benue, Nassarawa, Adamawa, Enugu, Delta, Anambra, and Edo States.
What are the origins of the Igala tribe?
The Igala kingdom was founded by Abutu-Eje in the 16th century. It was ruled by nine high officials called the Igala Mela, who were custodians of the sacred Earth shrine.
What is the history of Igala culture?
Igáláà was a pre-colonial West African state that was situated in the Middle Belt or north-central part of Nigeria. It was established in the 16th century Abutu-Eje and was headed by nine high-ranking officials.
The Igala traditional attire is colourful and elegant. It features black, yellow, and sometimes green stripes. The colours symbolise unity, harmony, hospitality, fertility, and wealth.
Legit.ng recently published trendy Adire styles for men. The fashion industry is continuously evolving, with different styles popping up to fit all genders, ages, and preferences.
One fashion trend that has become quite popular is the Adire styles for men. The Adire technique allows fashionistas to create intricate patterns on their favourite fabrics.
Source: Legit.ng