Kareem Waris artwork: 11-year-old Nigerian artist is gaining international attention
It is no secret that Nigeria is full of talented artists, most of whom have not been discovered yet. However, a young boy by the name of Kareem Waris is not one of them anymore. Find out more about a young and talented Nigerian upcoming artist whose works have captured the hearts of thousands of people all across the world.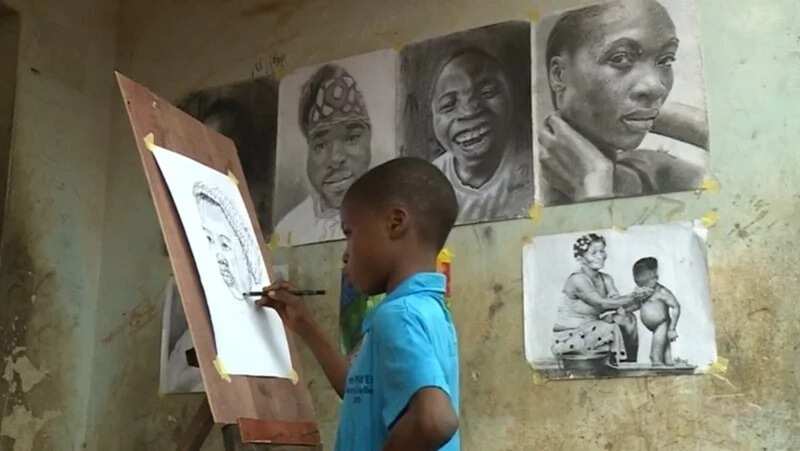 The inspiring life story of Nigeria upcoming artist
Kareem Waris Olamilekan, who is also known as Waspa, the bitty artist, is an incredible Nigerian artist, and he is only 11 years old. The art work you see above is of his own making. Yes, it took us some time too to come to terms with how talented he is.
The young artist was born on March 14, 2007. He started drawing when he was only six years old, and he drew comics and cartoons. The talent was apparent in his art, so when Kareem and his family moved to Iyana Ipaja, Lagos State two years after, he decided to pursue this hobby seriously.
At one point, Waris met a boy who turned out to be an apprentice at the Ayowole Academy of Arts, and he became interested in becoming one himself. The young prodigy showed his work to Adeniyi Adewole, the man who ran the school, and he was so impressed that he let Kareem join the academy and learn more about art.
These days, Kareem, or rather Waspa, is a student at the Oke-Odo Junior High School, and he continues perfecting his craft. While the artist usually works in the style of hyperrealism and uses pencils and pens as his tools, he sometimes exchanges them for paints and crayons as he works with face painting, murals on houses and his art school homework. His main inspirations are Arinze Stanley and Michelangelo.
When he just began drawing, Waspa admitted that he had not always had the means to support his passion. His family was not at all wealthy, so it was sometimes hard for him to get the necessary materials for his drawings.
Now, however, the boy is coming up in this world. His drawings of famous Nigerian politicians have gotten recognition from the politicians themselves, and not that long ago, Kareem was invited by the Managing Director of Ecobank to draw the President of France Emmanuel Macron.
In just two hours, he drew a striking portrait of the French President at the New Africa Shrine. The man from the picture seemed very impressed with Waspa's talent, and he congratulated the young man in person and via his Twitter.
The word about Nigeria's youngest artist in the genre of hyperrealism has spread far, and people all over the world have learned of this young talent. The story of Waspa was mentioned on CNN, broadcast on CGTN Africa and even on the BBC News, so the boy is finally getting the recognition he deserves.
Moreover, he is now taking commissions, so if you want to help him out and get some insanely amazing art from it, call him at 09090879307 or 09096971196. To check out his drawings, you can go to his Instagram page (@waspa_art), where his audience has almost reached 40 thousand, and marvel at the beauty of his works.
Top works from Waspa, the bitty artist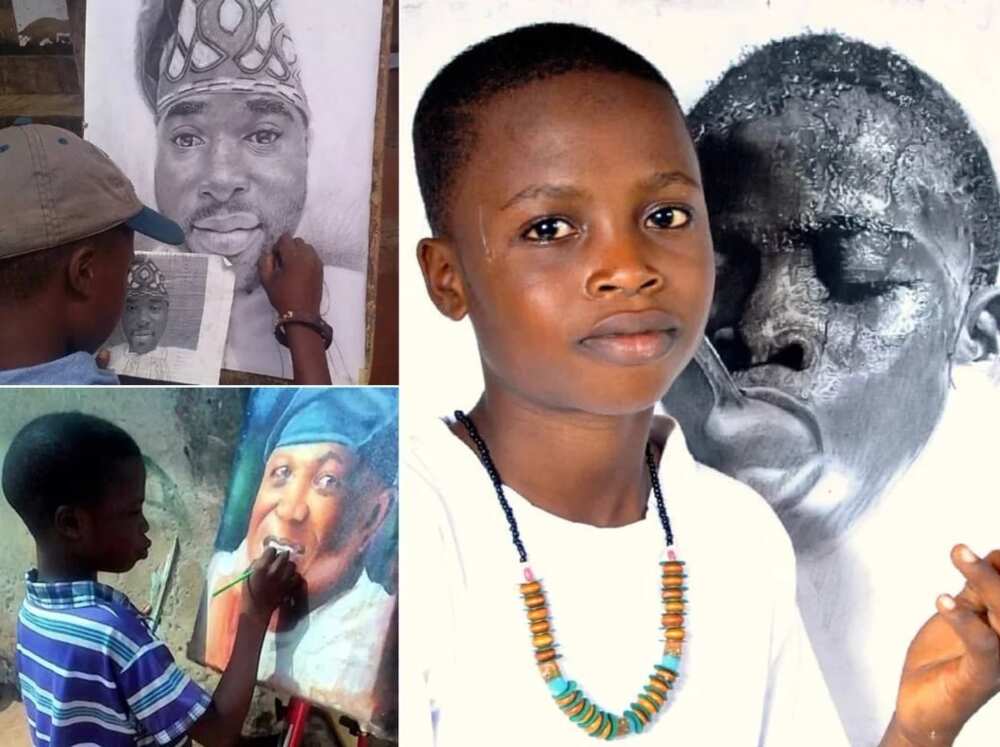 READ ALSO: How to draw eye with pencil? - Guide to a perfect picture
Speaking of his works, if you do not want to go through all of Kareem's posts on Instagram (even though there are not that many), here are his best drawings he has ever posted on his page.
Here is an adorable self-portrait, where he seems to be having the time of his life. It is interesting to note that the artist was only ten when he made this.
This is a quick sketch (!) of Temmy Balogun, a writer and creator of temmybalogun.com. We cannot help but wonder how the artist has managed to achieve this perfection in a limited amount of time and how it could have looked if he had a few more hours.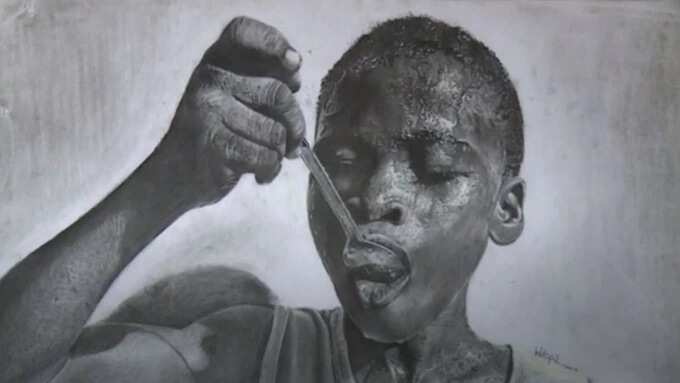 Last, but certainly not least is the most famous work of Kareem's, and it is his 'Daily Bread'. With this painting, he wants to show how hard it is for some people to get some food to put on the table, thus the boy in the picture is sweating and crying while eating his meal.
As you can see, our Waspa is a unique individual whose talent greatly surpasses even those older than him by decades. But right now, let's enjoy the beauty Kareem has already brought into this world.
READ ALSO: Youngest professor in the world
Source: Legit.ng