Preparations in top gear as Nigerian Air Force counts down to 54th anniversary
- The activities for this year's Nigerian Air Force (NAF) day celebration 2018 has made known
- The NAF is marking its 54th anniversary this year in Kaduna state
- The historic event is scheduled to take place at the Nigerian Air Force Base, Kaduna from Friday, May 4 to Saturday, May 5
Activities for this year's Nigerian Air Force (NAF) day celebration 2018 are in top gear as all is set for the historic event.
The historic event is scheduled to take place at the Nigerian Air Force Base, Kaduna from Friday, May 4 to Saturday, May 5.
Briefing journalists earlier today, Monday, April 30, the chairman of the organising committee, Air Vice Marshal Charles Ohwo, said the theme of this year's celebration is "Enhancing Nigerian Air Force Operational Capability for Timely Employment of Air Power in Response to Contemporary Security Challenges."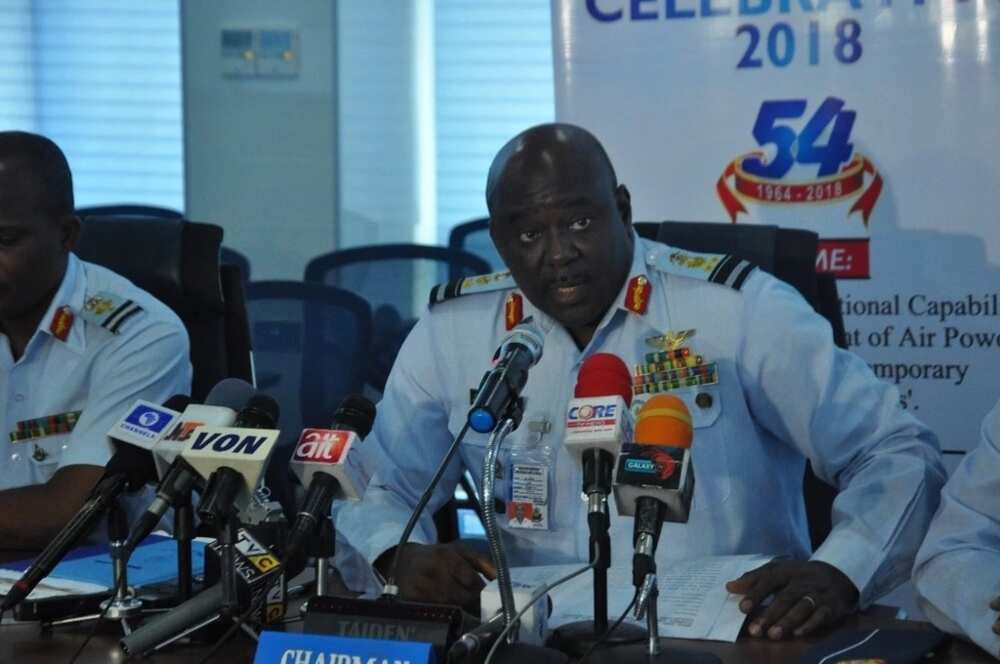 READ ALSO: NAF graduates 146 senior Non-Commissioned Officers from leadership and management course
According to him, the various exploit and successes recorded by the Nigerian Air Force both within and outside the country, informed the theme of this year's celebration.
"Series of activities have been earmarked for this year's celebration. These include: Juma'at prayers - 27, Interdenominational Church service - 29, it historical photo gallery/ static/R&D display, introduction of engineers wing, renewal of MoU with some of our R&D partners, gala night, ceremonial parade and aerial.
"During the occasion, some attack helicopters would also be commissioned while erstwhile colours of training command would be retired.
"The new colours would be presented to the newly established Air Training Command and Ground Training Command by the President and Commander-in-Chief of the Armed Forces, President Muhammadu Buhari," he said.
Other activities lined up for the celebration includes medical outreach programme aimed at giving back to the society especially those who are not opportune to access such medical facilities.
The historical photo gallery statics/R&D display, introduction of engineers wing/renewal of MoU with the R&D institutes, as well as the gala night will hold on Friday, May 4, while ceremonial parade incorporating the presentation of colours, commissioning of attack helicopters and aerial display, hold on Saturday, May 5.
READ ALSO: President Buhari commissions NAF Reference Hospital in Bauchi
Meanwhile, a special Juma'at prayer was held on Friday, April 27, at the NAF Mosque in Abuja, as part of activities earmarked to commemorate the 54th anniversary celebration of the force.
The Juma'at prayer is the first in the series of activities lined up for this year's NAF day celebration.
Nigerian Air Force wings 2 Liberian and 12 Nigerian pilots in Abuja | Legit.ng TV
Source: Legit.ng