- President Muhammadu Buhari said he was unaware that police IG did not stay in Benue state as he directed
- He called on farmers and herdsmen to learn to live together in peace
- The state governor, Samuel Ortom, urged that exercise cat race be upgraded into an operation
President Muhammadu Buhari has reportedly said he was unaware that inspector-general of police, Ibrahim Idris failed to carry out his order when the latter was asked to go to Benue state following killings by suspected herdsmen.
Tribune reports that President Buhari made this comment when he paid a condolence visit to the state.
President Buhari said he did the right thing by asking Idris to go to the state "but did not know that he (IG) did not stay in the state."
READ ALSO: Fayose has acquired Niger Republic passport, plans to flee after tenure - Ojudu raises serious allegation (video)
The president dismissed report that he had abandoned Benue people saying: "I have friends here in the state, there is no way I can deliberately overlook what is happening here and other parts of the country.
"Let me appeal to our people in the state to apply more restraints, the relationship between farmers and herders will continue, it behoves on us to keep encouraging ourselves to continue to live together peacefully."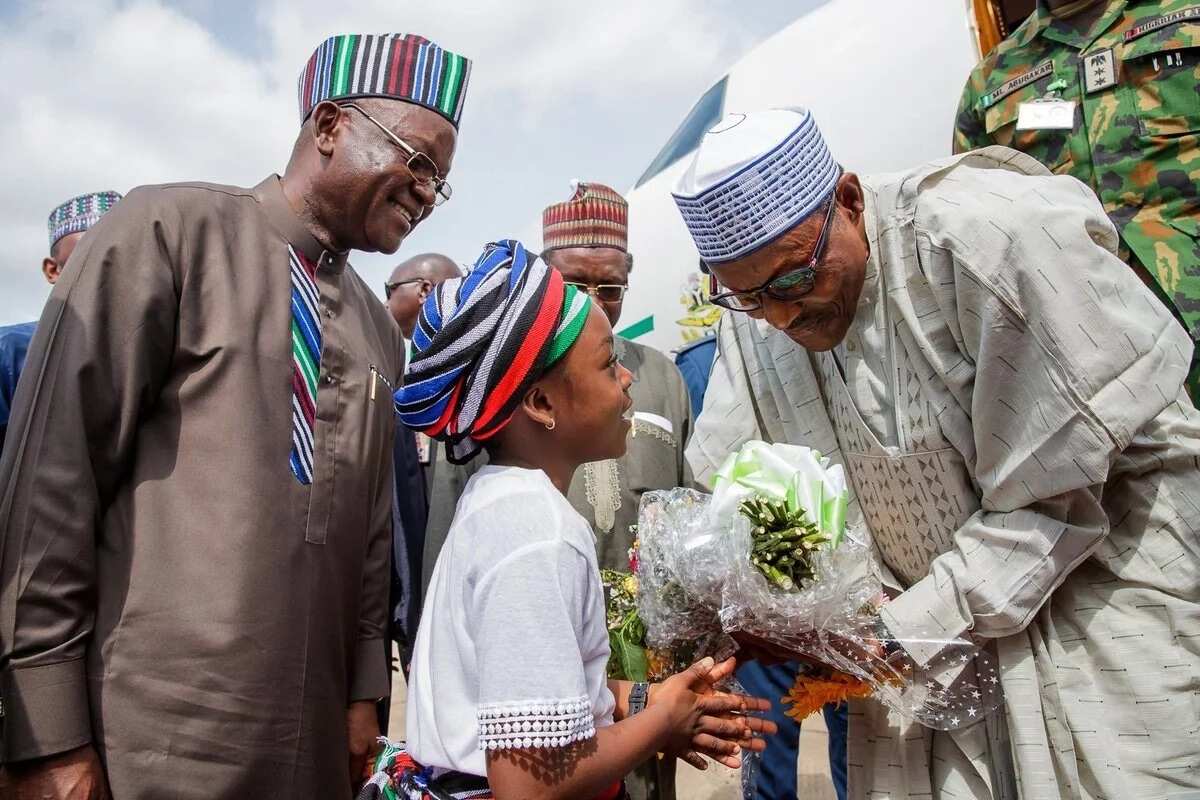 The president also noted that in spite of the situation of the country, some people were still unsympathetic. He said: "When we came into office, the price of crude went down and production was cut to one million barrel per day. I went to CBN there was no money, I asked why they said we bought food and fuel. I didn't believe them then and now too."
Governor Samuel Ortom in his remark said the exercise cat race should be upgraded into an operation and also denied that the state had militia.
He said: "Sixty-five more people have been killed after the mass burial of 73 persons, also 26 more were killed in Okpokwu with over 5000 displaced in Mbatoho community. As of now, one hundred and seventy thousand persons, 170,000 people live in displaced camps across the state. 60 percent of IDPs are school children who should be in school by now.
"Yesterday, two police officers were killed in Guma, our appeal is that federal government should compensate the people who were displaced.
"Ghana is the one that is known to own a militia and has been declared wanted with a ransom of N50 million placed on him.
"We hope the Ayem akpatuma can be upgraded from exercise to operation because the herdsmen have taken over the villages and our food have become feeds for their cattle. If Ayem is upgraded, they will also help in tracking down Ghana."
Wantaregh Paul Unongo who is a former minister of power and steel in his remark called on President Buhari to support the anti-grazing bill.
He said: "This is not a monopoly of Benue to treats a, Zamfara, Kaduna, plateau and other parts of the north from those who voted massively for you. The pictures we thought were just propaganda until it happened in Benue. When you were on a visit to Taraba that you were coming to Benue, these people went to Okpokwu and killed over 30 people. I personally believe that it was an act of God that you were chosen to be our leader this time.
"I know you were shot in the Biafran war and a Tiv man backed you and took you out of that place. The people of Benue are resolute about you, please, don't disappoint them. Degrade the herdsmen phenomenal. The landmass of your country is not increasing, the population is. If you don't do something now, you will discover that you will end up having a terrorist country far beyond your dream.
"Our governor is not your enemy but is under threat. He is very competent and loyal to you. The law was not made to antagonize you. How can somebody with Fulani blood be the leader of Tiv people? Your son, Ortom is misunderstood by some of your security aids especially the police IGP. He is under threat."
PAY ATTENTION: Install our latest app for Android, read best news on Nigeria's #1 news app
Meanwhile, criticisms trailed the inscription on a signpost installed by the Christian Association of Nigeria (CAN) at the grave site of those killed in violent attacks on communities in Benue state between January 1 and 2.
'Burial site for 73 victims of Fulani herdsmen massacre' in Guma and Logo local government areas was inscribed in white and brown block letters on a metal board with isolated green background, Premium Times reports.
Legit.ng gathered that the signpost was installed at the mass grave along Achusa road, Makurdi, the state capital.
Victims of Herdsmen killing buried in Benue state - on Legit.ng TV
Source: Legit.ng