- Rapid Response Squad (RRS) operatives of the Lagos State Police Command in have arrested suspects who specialize in stealing cable wires
- The arrests were made possible through the combined teams from the electricity board and RRS
- The suspects had been stealing cables in burrows all over Lagos right from the moment contractors began laying out the wires
Operatives of Rapid Response Squad of the Lagos State Police Command in separate incidents arrested suspects over the theft of cable wires.
Legit.ng gathered that one of the most sought after government infrastructure by thieves is the Light-Up Lagos cables.
These are network of cables powering the Light-Up Lagos Project, a laudable project of Governor Akinwunmi Ambode.
READ ALSO: IPOB threatens Anambra residents ahead of November 18 guber polls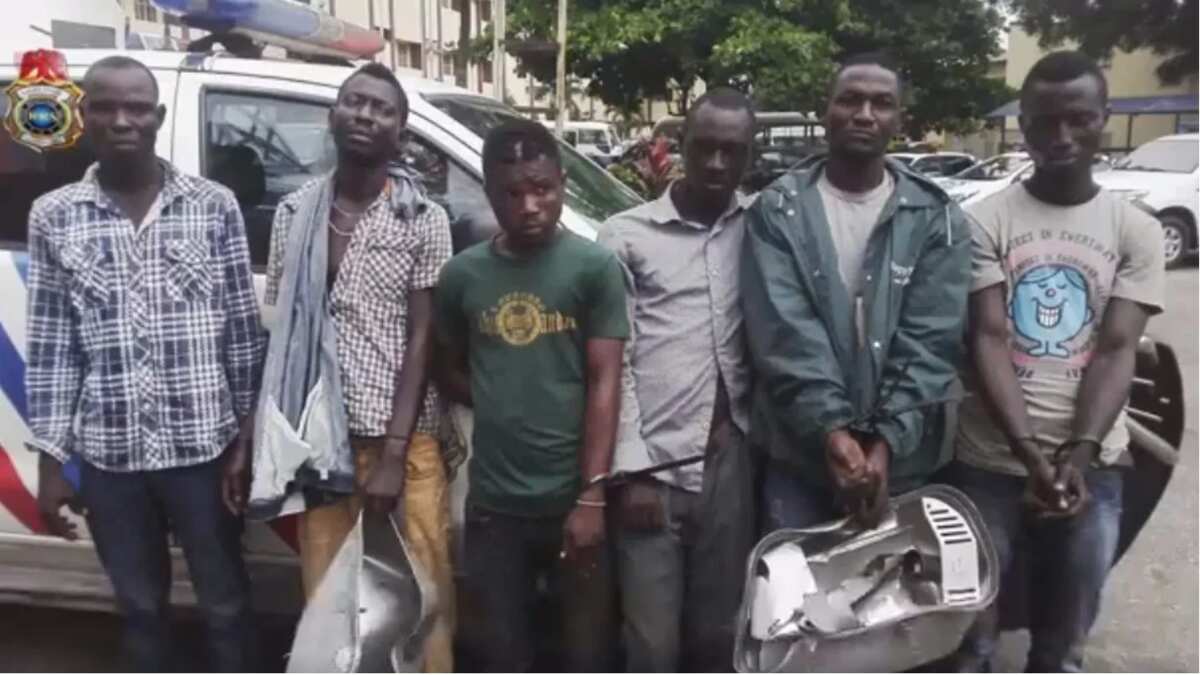 Right from the moment contractors began laying out the cables in burrows all over Lagos, cable thieves had started counting their blessings.
Before the commissioning of the projects at the outskirts of Lagos just after Agbado-Ijaiye, by the Governor, contractors handling the projects in Ogudu, Ojota, have been battling with cable thieves, who for selfish reasons were bent on depriving member of public the benefits of the project.
Several times, the cables in Ogudu before Ketu Alapere and Shogunle, Oshodi had to be replaced as a result of theft.
It was at this juncture that His Excellency, Governor Akinwunmi Ambode, directed operatives of Rapid Response Squad to complement the efforts of Lagos State Electricity Board in protecting the infrastructure.
Night after night, the combine teams of men from Electricity Board and Rapid Response Squad prowl the cable lines and there have been arrest after arrest.
In emphasizing the importance of protecting this cardinal infrastructure, the Commander RRS, ACP Olatunji Disu, repeatedly mandated officers at every morning parade ground to pay special attention to Light-Up Lagos cable both at day and at night.
The first breakthrough was the arrest of Lucky Udeagwu, 29, from Delta. He was arrested with 35 meter long armoured cable of the Light-Up Lagos project in Ogudu. Lucky was not unlucky as his two accomplices escaped.
Then came the arrest of Obaji Christopher, 23, from Benue State. He was caught red-handed by RRS operatives who were on routine surveillance of Ojota loop, inward Ketu-Alapere Road at about 11:20 a.m. while pulling out the cable from the ground.
Obaji, who explained to interrogators that he just got to Lagos two weeks ago, was seen with an accomplice still at large digging up the armored cable with hoe and removing its silver protector before he was arrested.
Other significant arrests were Pius Ojoka, 30, from Kogi State. He was arrested early in the morning on the median of the Third Mainland Bridge while trying to cut cables.
Bayo Agboola, a cart pusher, was arrested on Oba Akran, Ikeja at 3:30 a.m. recently with an armoured saw and two sets of cutting pliers trying to cut a cable from an unlit lamp post.
Same week Abubakar Usman, 27, from Jigawa State, was also arrested on Oba Akran, Ikeja at 4:00 a.m. almost at the same spot Agboola was arrested the previous day.
Usman, who was also arrested with a hand-saw and two pieces of cut cables measuring up to 2 meters each, said "I bought them from a friend minutes before I was arrested."
Apart from all these aforementioned suspects, there were several other arrest by the operatives mostly at night.
There were equally those who stole in group. As if competing amongst themselves and trying to outdo one another, they stole cables, lamp holders, and other appliances meant to support the Light-Up Lagos Project in CMS.
Those arrested suspects include: Tunde Alaba, 29, Saheed Ismail, 27, Deji Afolorunso, 26, Sunday Obasanmi, 27, Jelili Abodunrin, 32, and Taofeek Oyedele, 28.
Save for these seemingly limitless arrests, Rapid Response Squad also assisted in foiling several cable thefts. Many instances, the cables would have been pulled out ready to be cut before RRS men step in.
The list of those arrested is endless. They all tried to undermine the efforts of the State Government for quick bucks.
Some of the suspects disclosed to interrogators that apart from selling the cable as a whole, they also remove, peel it and sell its copper, which are used in the production of earrings.
All the suspects were either transferred to SARS, SCID for further investigation and Lagos Taskforce for prosecution.
PAY ATTENTION: Read the news on Nigeria's #1 news app
According to an earlier report by Legit.ng, a suspected human trafficker, Martha Edea, has been arrested by operatives of the Rapid Response Squad of the Lagos State Police Command, while attempting to transport two teenage girls through Lagos to Abidjan in Ivory Coast for commercial s*x work.
Edea, 30, had reportedly traveled with the girls from Benin City, Edo state, before being nabbed in Lagos.
She stated that she herself had been introduced to the s*x trade after being trafficked to Ivory Coast by one Mariam.
Is the Nigerian police your friend? - on Legit.ng.
Source: Legit.ng