We won't declare Nnamdi Kanu wanted -DHQ
- The disappearance of Mazi Nnamdi Kanu is still somewhat a mystery
- The Indigenous People of Biafra (IPOB) leader has not been seen in public after a Nigerian Military raid in his country home in Abia state
- The Defence Headquarters however said it is not interested in declaring the IPOB leader wanted
The Defence Headquarters has said that it has no business declaring IPOB leader, Nnamdi Kanu, wanted.
This was made known by the director, defence information, Major General John Enenche at a press briefing with journalists on Friday, September 29.
Enenche also informed journalists present at the briefing that Kanu was not in military custody and so they couldn't be held accountable for him.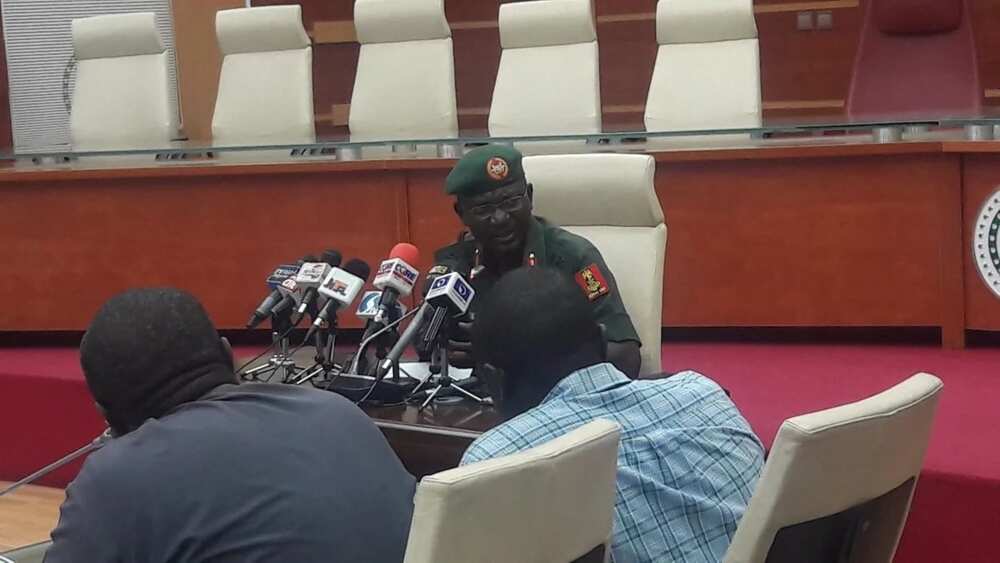 READ ALSO: British Government seeks Nnamdi Kanu's whereabouts from FG
His words: "Kanu is not in the custody of the military. It is not the responsibility of the DHQ to declare him wanted.
"If the court says that if he does not show up for hearing, it will hold the military responsible, (then) let us wait till that time.
"The military never raided Kanu's house. I watched the whole operation live on that day. Even I don't have any right to stop you while passing on a public route.
"I saw that the Biafran Security Service and the Biafran National Guards mounted roadblocks, and the soldiers came out peacefully and said, 'Boys, let us pass'. But the Biafrans attempted to collect their guns. Nobody went to Kanu's house or raided him or took him away."
He also clarified that the military was not involved in the proscription of IPOB.
"The statement of the DHQ on IPOB's activities is not opposed to what the army chief came out to say. Did we say IPOB was proscribed? No. But some people had a mindset and were in a hurry to attack the military.
"The military did not proscribe IPOB; due process was followed before the proscription. What the military did was to diagnose the security elements and warn of consequences. The military also knows the law," he said.
Enenche also said that the military deployment in states all over the country was to complement the efforts of other security agencies.
"It is the military that can tell you the signs and symptoms of a security element. Other countries passed through what we are passing through before they got to their present developed state," he added.
Meanwhile, a magistrates' court sitting in Abia state on Wednesday, September 27, remanded 14 members of IPOB in Aba Federal Prison.
They are: Anthony Nnamani (20 years), Chima Chukwumere (22 years), Kingsley Sunday (21 years), Michael Onyedikachi(26 years), Eze Okereke (25 years), Christian Sylvester (45 years), Etim Effiong Ade (22 years) and Emmanuel Onwukwe( 29 years).
Others are Ndubuisi Ukoha (29 years), Ogbonna Nwaji (24 years), Salvation Stephen (22 years), Chizoba Nwosu (21 years), Ejike Elom (21 years) and Kelechi Anusie (26 years).
They were arraigned on eight count of conspiracy, murder, arson, unlawful association, unlawful assembly, stealing with other two charges dealing on burning of the Ariaria Divisional Police Headquarters building and the cars at the premises.
READ ALSO: Igbos in Oyo state okays IPOB proscription
Watch Legit.ng TV video of Nnamdi Kanu's father talking about the activities of his son as IPOB's leader:
Source: Legit.ng