Emir of Katsina endorses Peace Corps, asks President Buhari to assent to bill
- The Peace Corps of Nigeria continues to get good accolades from prominent Nigerians
- The latest eminent Nigerian to endorse the PCN is the Emir of Katsina and chairman, Katsina State Council of Emirates, His Royal Highness Alhaji (Dr.) Abdulmumini Kabir Usman
- The royal father urged President Muhammadu Buhari to assent to the Peace Corps bill
The Emir of Katsina and chairman, Katsina State Council of Emirates, His Royal Highness Alhaji (Dr.) Abdulmumini Kabir Usman, has described the Peace Corps of Nigeria (PCN) as agent of peace, unity and national integration.
The royal father stated that Nigeria was in dire need of organisations such as Peace Corps, at a time the nation was sliding into deep crises as a result of insecurity, hate speeches, chauvinism, agitations, amongst others.
The respected traditional ruler made the comments when he received the national officers of PCN and commandants from the 7 states of the northwest region on Thursday, September 28.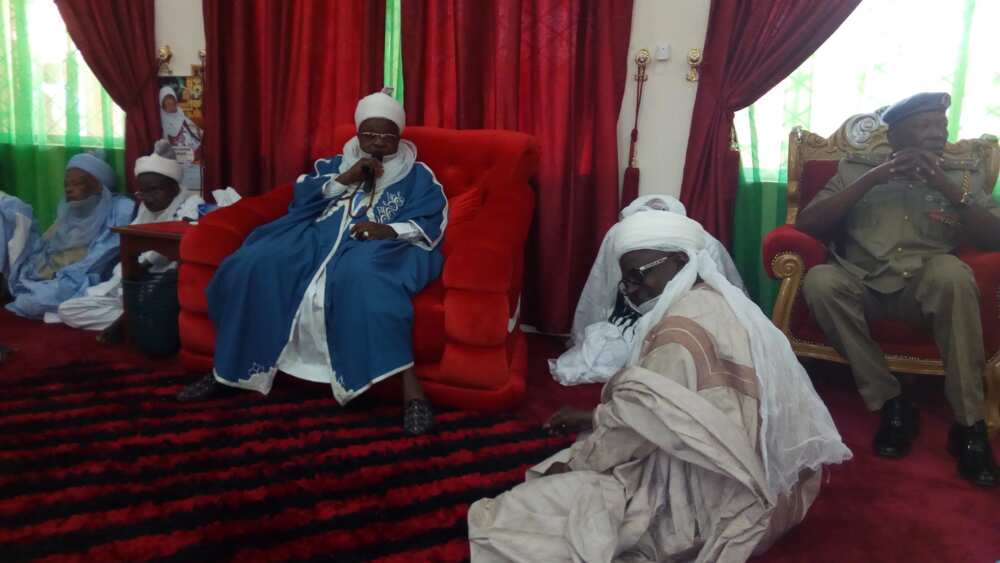 READ ALSO: Presidency commends House of Reps for its stance on Nigeria's unity
His words: "Religious and tribal sentiments are the greatest enemies of this country. Until we learn how to tolerate each other, no matter the tribe or religion, we would not get it right in this country."
He said other states should learn from Katsina state, where the indigenes live happily with non - indigenes and Igbo and Yoruba having critical positions in the Emirates.
"We should be one. We live side by side, we sit down side by side to eat and drink together here. Hausa, Igbo, Yoruba, Berom, we should remain united. Igbos and Yorubas are my brothers and sisters, I will use my last blood to fight for one Nigeria," he added.
On the Nigerian Peace Corps Bill which was recently passed by the National Assembly, the Emir pledged the total support of the Emirates in Council, urging the president to quickly assent to the Bill, to help empower the teeming youth and curtail social vices in the society.
Earlier in his address, the national commandant of the Corps, Dr Dickson Akoh, lauded the traditional ruler for championing the course of peace and mutual integration among the indigenes and the dwellers.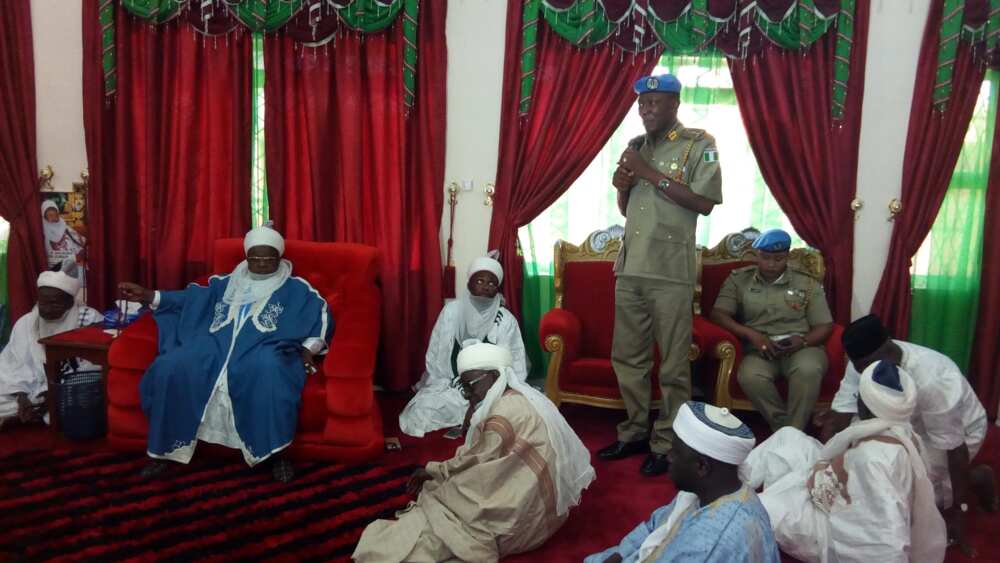 While pledging total support of the Peace Corps Officers to the programmes of the Emirates that would further enhance peace and unity in the state, Akoh also appealed for the support of the traditional council and royal blessings for the speedy assent of the bill, which will soon be transmitted to the presidency by the National Assembly.
The National Assembly had recently passed a Bill for an Act to establish the Nigerian Peace Corps, to give legal backing to the existing Peace Corps of Nigeria, under the leadership of Akoh.
Recently, Nigerian youths across the 36 states of the federation and the Federal Capital Territory, congregated in Abuja, where the unity and peaceful coexistence among the Nigeria people was unequivocally addressed.
The event, which had the theme 'Together for Peace: Respect, safety and dignity for all', was organised at the instance of the Peace Corps of Nigeria.
The minister of youth and sports development, Barrister Solomon Dalung, in his address, charged Nigerian youths to be ambassadors and soldiers of peace in whatever they do.
READ ALSO: Communal clashes: Ogobia/Ondo communities agree to ceasefire in Benue
Watch Vice President Yemi Osinbajo lecture Nigerians on the need to live in peace always on Legit.ng TV:
Source: Legit.ng