How to register for OTP online
One-time passwords are becoming an everyday part of our lives with each passing year. Nowadays, the majority of online shopping is accompanied by the use of a Safetoken. After each transaction you make, you get an OTP. But what if you're still new to the world of online shopping? No need to worry, this article will teach you how to register for OTP in a few easy steps!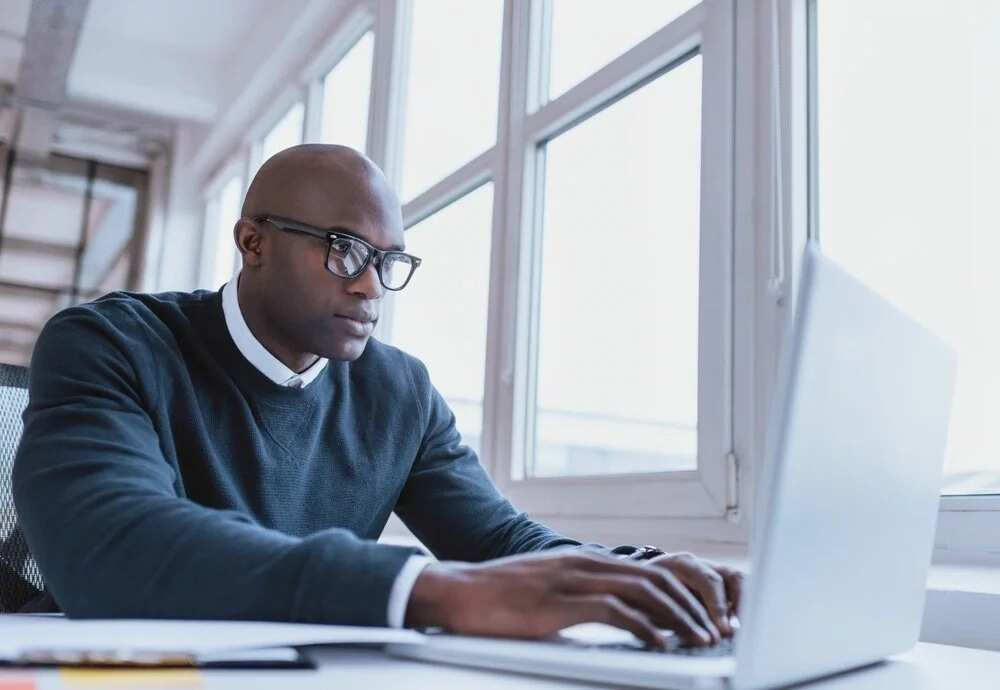 In this article, you will find the following information:
Methods on how to register for OTP
Online OTP Registration in Nigeria
How to get OTP code
Go ahead and learn everything you need from our comprehensive guide.
1. Methods on how to register for OTP
One-Time Passwords are created by the Safetoken service. Their purpose is to make sure that any transactions that are doing through your bank account are done by you and no one else. Thus, if anyone finds out your card number or PIN, they won't be able to purchase something online. Why? Because they won't know the 6-8 digit combination that will be sent to you. In other words, an OTP is another layer of protection for your funds.
For some, the idea of a One-Time Password may seem like extra work that's not worth it. But we live in the era when someone is always after your money. An online payment that is not protected by OTP is NOT completely safe, and we highly advise you not to do any shopping without this feature.
Before we begin explaining the OTP registration process, we should mention that in a lot of cases, a credit card is automatically tied to a certain phone number and doesn't need additional registration. So if you've been receiving OTPs without ever going through the steps that we'll list below, it's because VISA or MasterCard have already taken care of this for you.
However, if you've tried using your card to buy something on any of the 20 webpay services in Nigeria and the payment didn't go through, you need to sign up for OTP.
You have three main ways of how to register for the One-Time Password Service:
You can activate this feature by going to your bank.
When ordering a card, ask the staff to register it for Safetoken. Once done, the bank will automatically send you OTP whenever you make purchases on the web.
You can activate it manually using an ATM.
If you received your ATM card a while ago, you can't make use of the first option. Don't worry, all you have to do is to follow the easy steps in the guide below: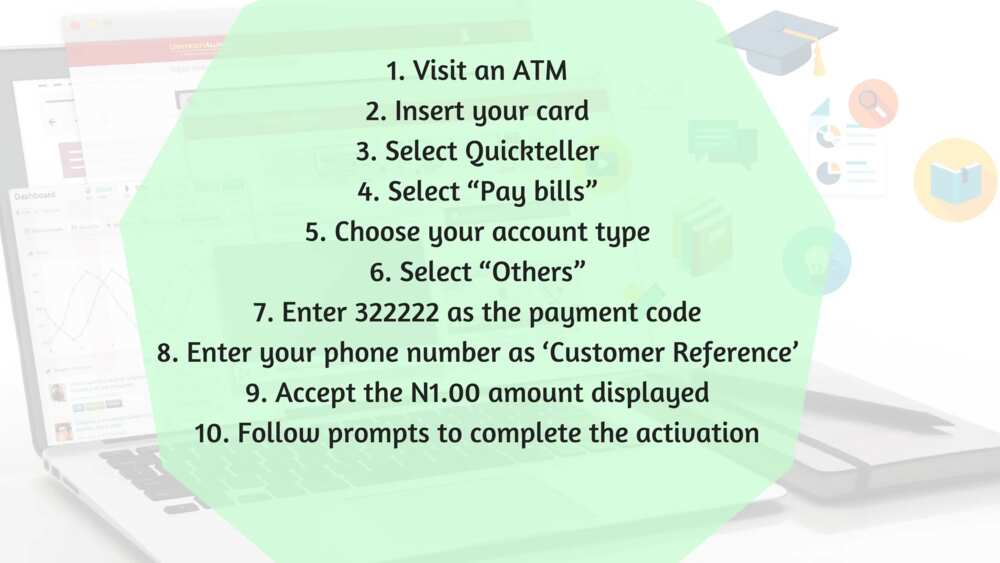 Important: You will be charged N101 and not just 1. The one hundred Naira is the fee for using this service.
You can activate the OTP on your phone by using the Quickteller App.
If you have the Quickteller application installed on your mobile phone, you can use it for the activation. Upon the completion of the registration process, you can click the "Get Safetoken" button each time you need to create an OTP for a purchase.
Important: While handy, this method has the disadvantage of only allowing you to make transactions of up to N200 at a time.
2. Online OTP Registration in Nigeria

READ ALSO: How to open Ecobank online banking?
People who like to do their shopping online tend to prefer registration online as well. Below you'll find step by step instructions on how to register for OTP online.
Visit the Quickteller website and click the register button The "Sign Up" form will pop up.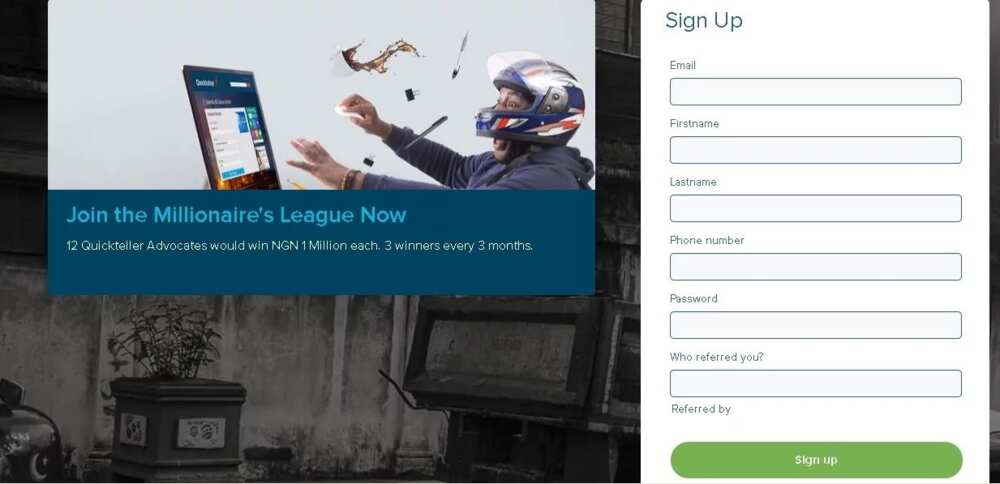 Fill out all the necessary information and be sure to double-check it. Click the "Sign up" button. Now go to your email and open a letter that should look like this.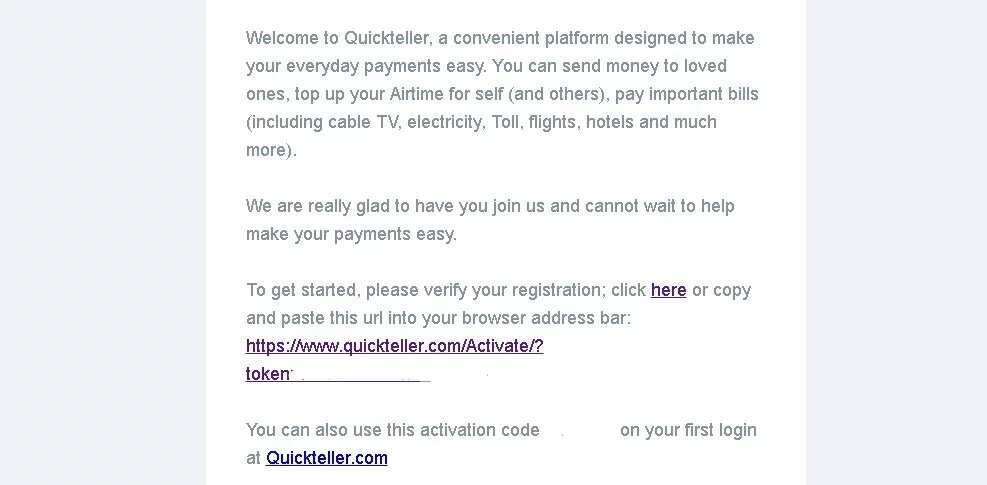 Press the highlighted link or copy the activation code manually. You'll receive a message about the successful activation.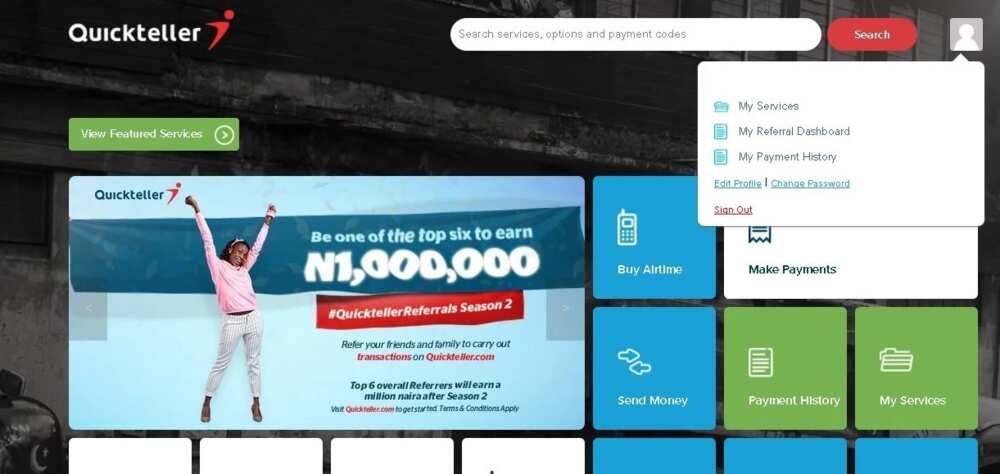 Congratulations! You are now registered to get OTP via Quickteller!
Important: Your bank will also need to validate your registration. To save time, contact your bank and ask them to do the validation process after you have registered on the Quickteller website.
3. How to get OTP code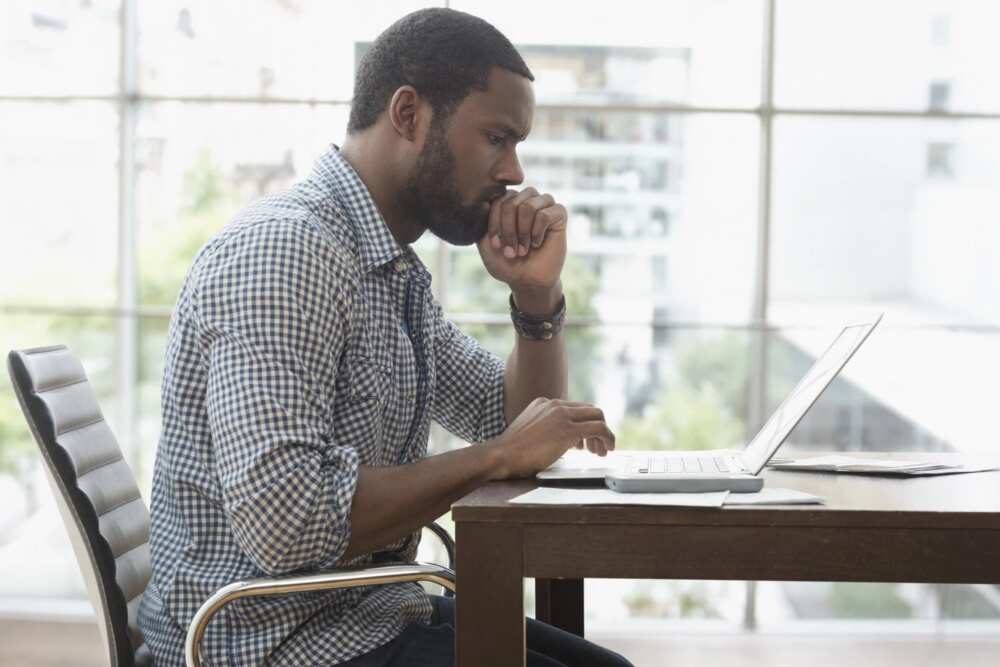 Once you are registered to receive OTP and have activated this service, the most common scenario is when you receive One-Time Passwords on your phone in the form of text messages.
Important: OTP can be attached to only one phone number at a time. So if you're using multiple phones, be sure to have the correct one on your person every time you make a transaction.
In case you have any problems with this method, there are three other ways at your disposal:
1. You can get OTP code by using the Quickteller App.
After launching the application, press the "Generate Safetoken" button. Choose the card you need and a few seconds later you'll have your OTP code.
2. You can send a USSD code by inputting the "*322*0#" combination into your phone.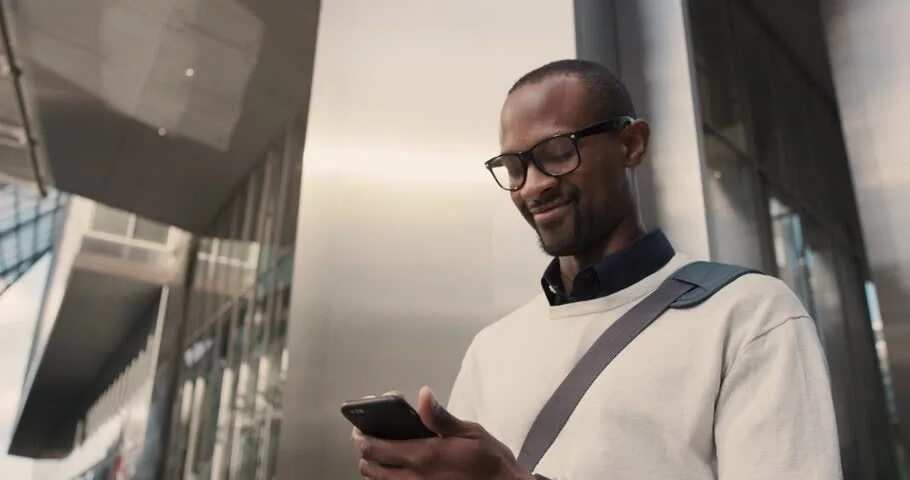 Once you've sent the USSD code, it will show you all the cards you have attached to this number. Choose the bank you need and copy the created OTP code.
Important: There's a fee attached to this method in the sum of your regular USSD rate.
3. You can receive all your OTP on your email.
When you activate the OTP service by your bank, you can ask them to only send the One-Time password to your email.
Friendly Reminder: Be sure not to share your ATM card number, PIN code or mobile phone with anyone. This is the only way to secure your account information.
Now you know both how to register for OTP service and how to get One-Time Password codes. If you know anyone that could benefit from learning this information, share this article with them!
READ ALSO: How to register for UBA internet banking?
Source: Legit.ng