Operation Python Dance II: Army releases dedicated public cell phone numbers
- The Nigerian military is continuing with its occupation in the southeast region
- The army has however committed to being open and engaging members of the public
- The military released its contact numbers to residents in the region for easy interaction and feedback
The Nigerian military has released its contact numbers for Nigerians residing in areas where the Operation Python Dance II will take place.
The exercise which is scheduled to start fully from September 15 to October 14 in Abia, Anambra, Cross River, Ebonyi, Enugu and Imo states is also known as Exercise Egwu Eke II.
In a statement sent to Legit.ng by the deputy director, army public relations, 82 Division, Colonel Sagir Musa, stated that the action was prompted by the military's willingness to carry members of the public along in its operations.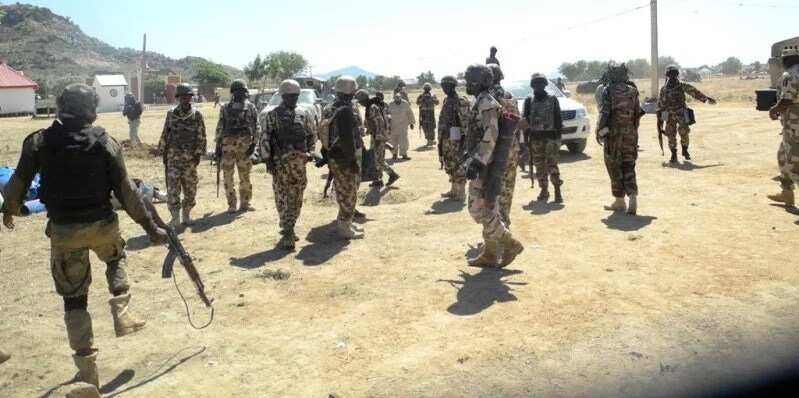 READ ALSO: Why President Buhari sent soldiers to my house - Nnamdi Kanu
Gmail and email addresses, Facebook and Twitter accounts have been created for the exercise. The addresses are; Exercise EGWU EKE II as follows:
Email address: egwueke2@gmail.com
Facebook account's name is Egwu Eke II and you can search it through this URL; https://www.facebook.com/egwu.ekeii.9
The twitter handle is @egwueke2
Similarly, in addition to the Nigerian army information and call centre telephone number 193 (Using all Networks toll free) and human right desk number 08160134303, the under listed cellphones numbers are also hereby provided as dedicated public telephone numbers to members of the public who might have reason to pass credible information or reasonable complains to various Commanders of Exercise EGWU EKE 11;
1. Sector 1 (Abia state) commander - 08023445961/07065013133.
2. Sector 2 (Imo state) commander – 07030803546.
3. Sector 3 (Enugu state) commander – 08023634672.
4. Sector 4 (Anambra state) commander – 07037055354.
5. Sector 5 (Ebonyi state) commander - 07039833547/08180605871.
6. Sector 6 (Cross River State) commander – 08033865572.
The first phase of the Operation Python Dance started on November 27, 2016 and ended on December 27, 2016.
Meanwhile, Legit.ng recently released 14 safety measures that residents of the southeast are expected to adhere to as the Nigerian military carries out the Operation Python Dance II in the region.
READ ALSO: United Nations interested in Operation Phyton Dance II - Moses Siasia
Watch Legit.ng TV interview with IPOB leader, Nnamdi Kanu's lawyer about the military invasion:
Source: Legit.ng