Corp member nearly gets killed in a bid to get movie role (photos)
A married corp member identified as Patience Bula has been allegedly assaulted by a man who claimed to be a movie producer.
The corp member who is currently serving at a radio station in Makurdi was invited to show up at a movie rehearsal to be picked for a role.
At the rehearsal, the lady was introduced to one Adams Marvin who is the manager in charge of shooting the movie.
According to Facebook user Ukan Kurugh, Marvin called Bula to pay him a visit because some of the actors had to be cut from the movie due to production cost.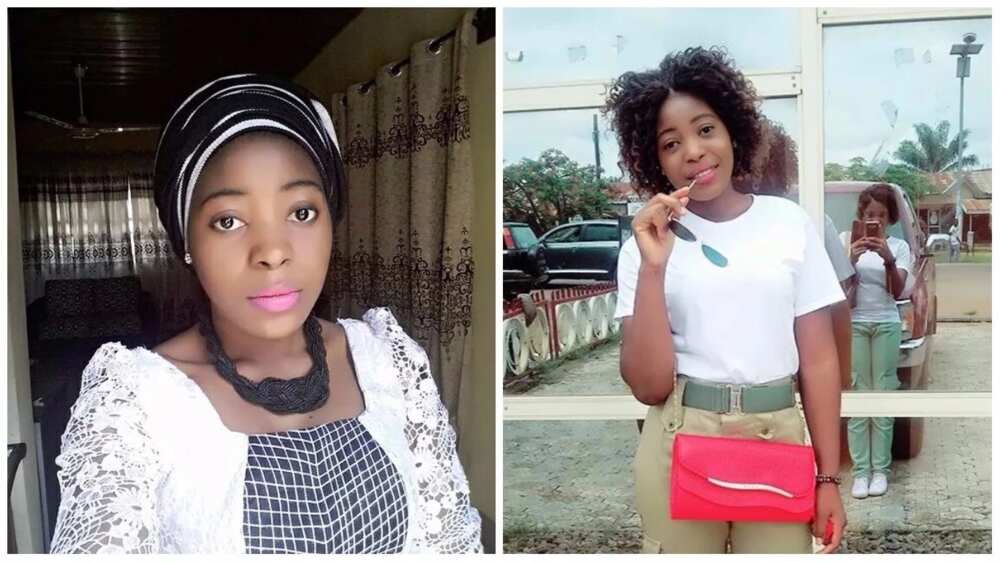 READ ALSO: Man narrates how his bank account was emptied when scammers stole his smartphone
On getting there, Marvin allegedly convinced her to follow him into a room where he claimed the others were.
Kurugh explained that Marvin allegedly took up a stick and started to strangle the lady with it but she forced herself away from him.
The Facebook user noted that the man started to beat her on the chest with the stick when he could not strangle her with it. She fainted and woke up in a pool of blood.
After Bula woke up she received help from sympathizers when she crawled out of the room.
According to Kurugh, the man who was surprised to see her alive after he showed up claimed to the people around that they are dating and she became that while they were making loving.
The youths within the area dragged the culprit to the police station where he was locked up.
Read full story below:
"The painful experience of this beautiful new wife must be told. She was caught in between the claws of death, perhaps for ritual purposes or for something else, one should wonder. I have urged the world over and those who believe in the cause of justice to show up at the Police A Division Wadata-Makurdi this morning by 9am for the perseverance on the cause of right. I would tell those who would care to read.
Mrs. Patience Bula who is a graduate of Mass Communication and a corp member currently serving at Radio Benue Makurdi was invited by a friend Precious also fellow corper after their CDS to show up at a movie rehearsal she was taking part in and to perhaps also pick a simple role. A thing she succumbed to after some persuasion. There she was introduced to one Adams Marvin who was the one managing the shooting of the movie and was subsequently attached a simple role and handed the scripts.
Subsequently, she was asked to bring the script as it contained some roles of other artists, a thing she did voluntarily at the Eunice Resort Centre, venue of the rehearsal where she had been offered the role.
On Sunday, 10th September, 2017 the said Marvins called Patience that, there was need to cut down participating actors in the movie to save cost, hence the production team was short of finance. He therefore urged Patience to meet him at Hope Clinic, Wadata, where other actors and actresses were waiting to be shortlisted. On getting at the clinic, Patience saw no one and Marvins appeared minutes later to tell her that, all the people were gathered in a house down the street opposite the hospital. Not convinced enough thou, she decided to make the walk down into a compound and then into a supposed room where there was no one.
He urged her to sit and then told her that, there was a scramble for roles and so she should pray that she would not be thrown out. In the process, he also sat on same bed and bent backwards as if in a bid to pick something and next she experienced was a stick held at either ends across her neck in front in a bid to strangle her. She started struggling and screaming for help which didn't come. It became a scramble that lasted minutes. She was determined not to die like a chicken and struggled until the stick was loosed. Rather, he used the stick to hit her chest and wipe her back until she became unconscious hence she had become weak. Only to wake minutes later with fumes on her mouth in a pool of blood alone in the room. She crawled to the door step where a boy came over to help her to lie on the corridor.
The scene attracted sympathizers and some of the compound neighbour's who had earlier failed to turn up, perhaps fearing the nature of the maverick Marvin in question. It was in the midst of all this that Marvin showed up, perhaps believing she must have been dead. Surprised to see her awake, he started claiming it she was her girlfriend who came and in the process of love-making started convulsing. It was so unbelievable and a youth leader who showed up helped recover her phone from the said room that had by now been switched off though initially fully charged. All this had taken place about 2:30pm and Patience husband was later reached who showed up and almost shed tears for what his wife had went through.
The youth within the area dragged the culprit to the police station where he is under lock and key. Patience was first taken to a clinic that asked for consultation of N17,000 and so they left for FMC Makurdi where doctors where on strike and so she was taken to the FMC Apir, where she underwent series of tests and some are yet to be done. On a visit to the police station yesterday, husband to Patience, Mike Bula lamented that, the police at the station were treating the recidivist, who already has a plethora of cases against him was all smiles and claiming that he knows his way. There was no sign of remorse as he is reputed to have a smooth rapport with the policemen in the said A division station, Wadata, Makurdi.
PAY ATTENTION: Get all the latest gossips on NAIJ Gossip App
Fellow Nigerians, humanitarian, activists, feminist, gender activists, groups and organizations please let's ensure justice for this sister of ours against this monster-killer.
We must stand up against evil with a voice.
Let us all show up this morning by 9am at A Division Police Station, Wadata-Market, Makurdi to protest and seek the immediate transfer of the case to police headquarters where fairness will be guaranteed. Let lawyers and human rights and gender activists do the needful. We must make the world a better place."
Watch the Legit.ng TV video below to see what Nigerians said after being asked if some free N30m will change their lifestyle:
Source: Legit.ng