Boko Haram kills seven in fierce attack on IDP camp
- Islamist group, Boko Haram has continued its attack on soft targets in Borno state
- The group launched a Rocket-Propelled Grenade (RPG) into an Internally Displaced Persons (IDP) camp on Friday, September 8
- The IDP camp is home to 80,000 people in the state
Seven people have been reported killed on Friday, September 8 after Islamist group, Boko Haram launched an attack on soft targets in n IDP camp in Borno state.
Reports monitored by Legit.ng indicates that the attack took place in Ngala, a community close to the Cameroon border.
A civilian militia member, Umar Kachalla, said the attackers were in two pick-up trucks when they fired the RPG at the camp, which is reportedly home to some 80,000 people.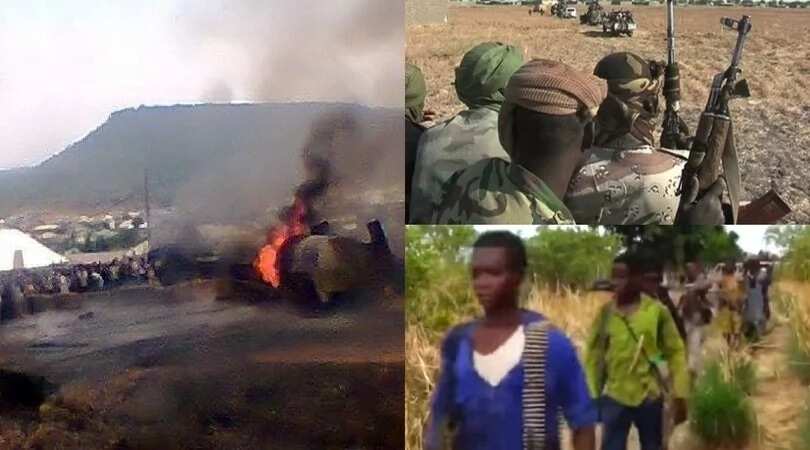 "They (Boko Haram) fired an RPG into the camp from behind the fire fence, killing seven people and injuring several others," Kachalla said.
The attack was said to have been followed by sustained gunfire as the jihadists drove away into the darkness.
An eye-witness, Abubakar Yusuf corroborated Kachalla's account, but added that: "the casualties were relatively minimal because most people had retired for the night."
The inhabitants of the camp are said to be mostly Nigerian refugees from Cameroon, who fled the fighting in the francophone country.
The incident is coming barely a week after Boko Haram insurgents attacked and killed 18 people at the IDP camp in Banki town, Bama local government area of Borno state on Thursday, August 30.
According to reports, the terrorists sneaked into the IDP camp and murdered at least 18 youths at about 11 pm and forcefully took away many others, including young girls and women.
READ ALSO: An Atheist's Response to Abubakar Shekau's latest video - by Humanist Mubarak Bala
Watch Boko Haram survivors recounting their ordeals on Legit.ng TV:
Source: Legit.ng