Lai Mohammed speaks on Nnamdi Kanu's court case, says FG won't interfere in judicial process
- Nigeria's information minister, Alhaji Lai Mohammed has spoken on the court case involving Mazi Nnamdi Kanu
- Alhaji Mohammed says government won't interfere in the judicial process to influence the case
- The Indigenous Peoples of Biafra (IPOB) leader is billed to appear in court soon
The minister of information and culture, Alhaji Lai Mohammed, has promised Nigerians that the federal government has no plan to influence the court case of IPOB leader, Mazi Nnamdi Kanu.
Alhaji Mohammed stated this when he received broadcast media editors who paid him a courtesy visit in his office on Friday, September 8 in Abuja.
The minister stated that though the federal government has the right to go to court to lodge a complaint, but the power to decide on revoking the bail lies solely on the court.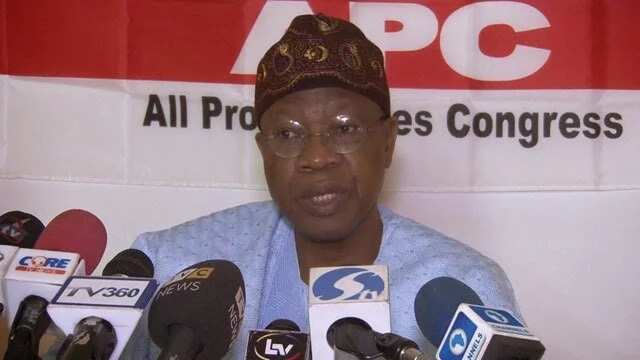 READ ALSO: The Igbos will have trouble in Biafra - Father Mbaka warns
His words: ''The matter is purely a judicial matter. Once a matter is in the court, it is for the court to say these conditions I set for you, you have respected them or not.
''We would not tele-guide the court on what to do or what not to do. As a government, we have a right to go to court and lodge a complaint that you gave a condition and the accused has obeyed or disobeyed the terms of the bail, then the decision will be left to court to decide.
''This is simple judicial overture which has no political overtone.''
The IPOB leader is billed to appear in court later this month after he was granted bail on health grounds on Tuesday, April 25.
As part of his bail conditions, Kanu was ordered never to grant any press interview pending the outcome of his trial.
The court also ordered that he should not be in a gathering of more than 10 persons at a time.
The presiding judge in the case, Justice Binta Nyako had said Kanu's bail will be revoked if any of the orders are flouted.
Kanu has repeatedly flouted the bail conditions as he has granted interviews to foreign media houses and addressed large crowds of IPOB supporters.
READ ALSO: Nnamdi Kanu's warns FG, says his son must not be re-arrested
Watch Nnamdi Kanu addressing his followers on Legit.ng TV below:
Source: Legit.ng