Musician Sean Tizzle promises to give N10 per retweet to support displaced people in Benue
Nigerian musician, Sean Tizzle, may have gotten himself into trouble in an attempt to 'help' the people of Benue state who were displaced by flood recently.
Following the flood experienced by some parts of Benue state between August 26 - 30, almost 90,000 people were said to have been displaced from their homes.
Top Nigerian musician, Sean Tizzle, decided to wade into the situation by offering help, but some people have frowned over his method of administering the help.
According to some tweets sent out by the Ondo state indigene, he promised to match every retweet he gets with Ten Naira (N10), which would go into helping victims of the flood.
READ ALSO: Buhari orders emergency response as flood renders over 100,000 homeless in Benue
Some Twitter followers called him out, asking why he didn't just go ahead to help the people without asking for retweets.
See the tweets that caused the problem below, and the reactions they provoked: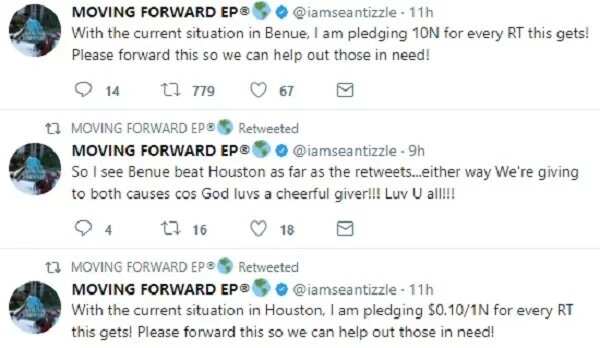 READ ALSO: Young lady strikes a pose in front of her house as flood overtakes it in Benue state (photos)
See people's reactions below: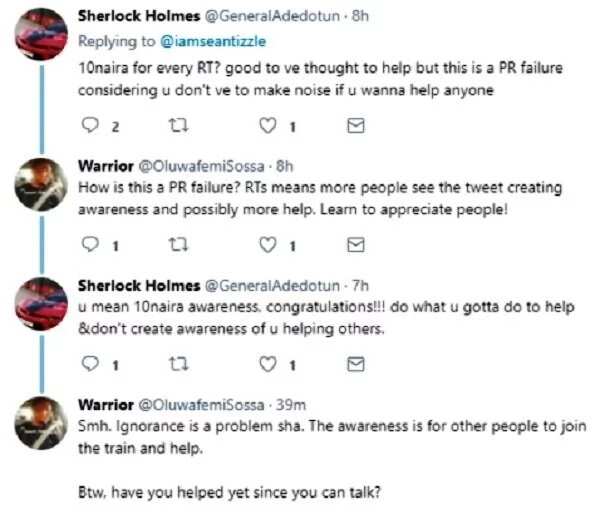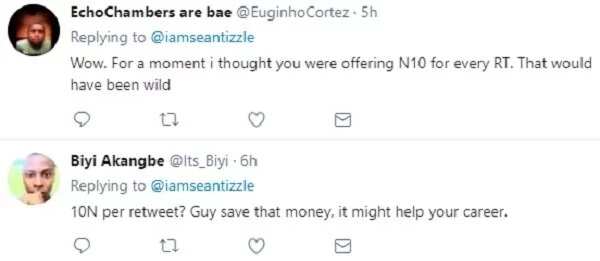 What do you think? Is there anything wrong with his method?
Meanwhile, watch this video to see victims of the Lekki flood speaking to Legit.ng TV:
Source: Legit.ng