NAIJ.com Weekly Price Check: Prices of goods soar, traders' lament low patronage as Muslims celebrate Eid-el-Kabir
- Activities at markets across the country are still business as usual with little or no difference to show that Eid-el-Kabir is here
- Checks by Legit.ng at Jos Adun market, Aduwawa Quarters, Benin-City, showed that the prices of some commodities and perishable items have soared while others are still sold at an affordable rate
- The price of food items like beans, plantain, tomatoes, chili pepper, fish and rams have increased, while the price of rice, yam, sweet potato, onion, crayfish, garri and vegetable reduced a bit
- Traders who were anticipating bumper sales as the Sallah celebration drew near, are presently counting losses as a result of the poor patronage that characterized this season
The prices of some goods have indeed soared as Muslims in the country joined their counterparts across the world to mark the 2017 Eid-el-Kabir celebration.
Eid-El-Kabir is the festival that marks the end of Hajj, the holy pilgrimage to Mecca. It is traditionally celebrated by Muslims around the world with the slaughtering of domestic animals, especially rams. Traditionally, the meat is shared with friends and relations, especially the less-privileged.
As this year's Eid-el-Kabir festival drew nearer, prices of rams have continued to soar, almost out of the reach of many Muslims. Activities at markets across the country are still business as usual with little or no difference to show that Eid-el-Kabir is here. There seems to be calm everywhere with the absence of the normal hustling and bustling which usually characterize the festive period.
All over the world, festive periods are always times to look forward to activities like shopping for new dresses, shoes, food items and other goodies. At these periods, traders usually make a lot of sales; consequently prices of goods and services witness a rise too. But the reverse is the case, because the low level for the preparation of Sallah by Muslim faithful's in Nigeria has become a worrisome issue to traders.
Findings by Legit.ng at Jos Adun market, Aduwawa Quarters, off upper mission extension road, Benin-City, showed a remarkable rise in prices of commodities especially those considered essential for Sallah celebrations such as ram, oil, tomatoes and pepper, spices and other food condiments.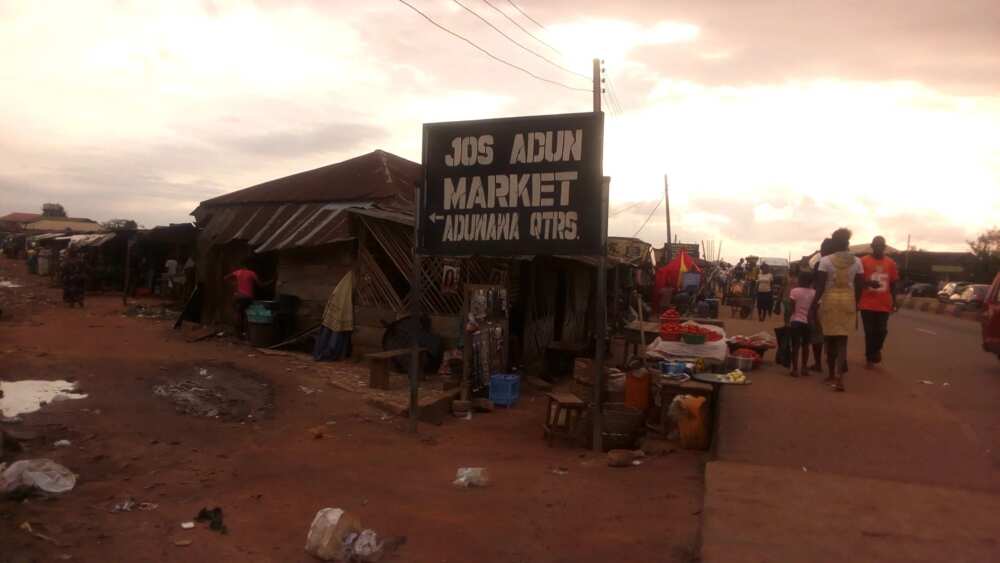 While most people complained about lack of sufficient fund to purchase food items and other necessary things, some traders lamented low patronage while others hike the prices of their goods. It was however learnt that the increment was minimal due to the purchasing power of the people in the environs.
Traders' informed that the patronage recorded was lower than expected and therefore there could not have been appreciable increase in prices of commodities.
Legit.ng observed a low turnout of people at the popular market, as traders were sad over low patronage, though; the market was a bit lively as buyers came to buy a few things.
A trader who sells fish, Mrs. Irene lamented low patronage, describing the market situation as unfortunate.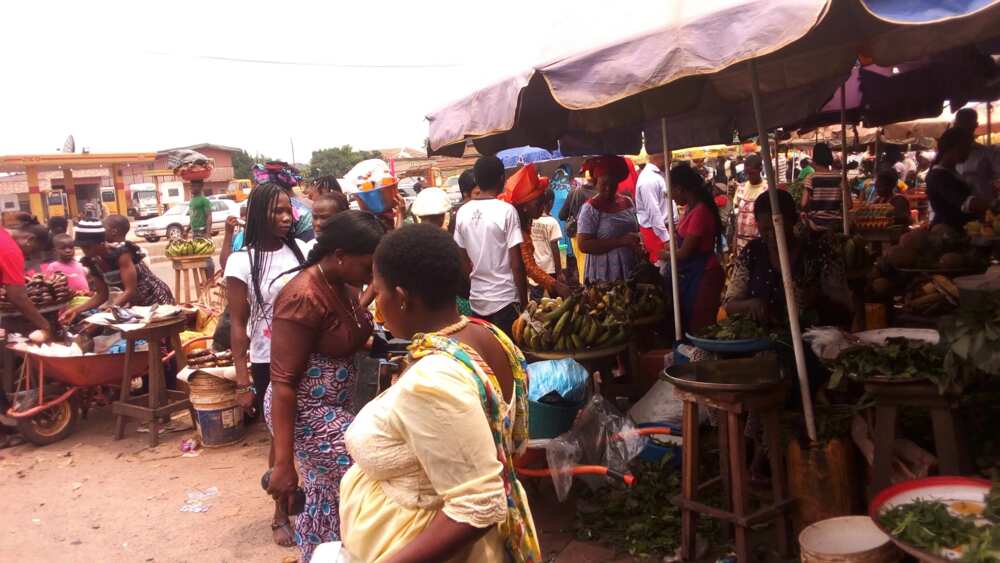 She said: "We are hoping that things would turn around at the last minute. We had envisaged this because of the state of the economy. The cost of purchasing a carton of fish is high. Right now, a carton of Titus fish goes for N18,000 while the other type known as solo cost N16,500. A carton of Kote fish cost N14,000 while that of stock fish (Panla) cost N11,700. Meanwhile, the price of these items depends on the size of the fish, the content of the carton and the market location.
"The market situation is just unfortunate. The current state of the economy has really affected our business. We hardly meet our expectations because people have not been coming to buy and those who come complained of lack of money. We make sales but not like before as expected, because if we refuse to sell the fish on time, it will result to shortage for us. At least, getting little patronage is better than none."
Onion, have become cheaper as observed in the market, but fresh tomatoes and pepper are expensive.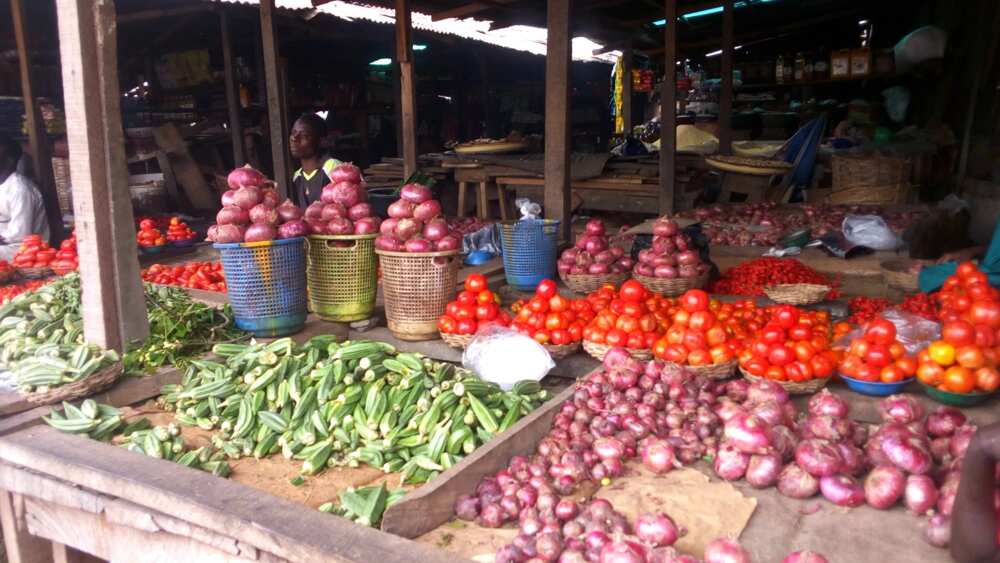 A tomato seller, Iya Habibulahi said tomatoes have soared just this week before Sallah and the availability of the produce on a particular market day, determines the cost of purchase.
"Just this week, in the market tomatoes soared. We have Hausa tomatoes and Benue tomatoes but here in the market, buyers prefer Benue tomatoes to Hausa tomatoes because it is sweet hence, it is not expensive. A basket of Benue tomatoes now cost N16,000 while Hausa tomatoes cost N12,000. As I speak with you now, the tomato that goes for N100 before now cost N200 upwards.
"For pepper, we have Bawa pepper, Shombo pepper, and chili pepper. A bag of Bawa pepper cost N4,500 while that of chili pepper is very expensive; a bag of chili pepper cost N15,000 upwards, some even sell at N17,000 and that of Shombo can be purchased from N6,000 depending on the size of the bag and the market location. Onion is very cheap. A bag of onion (old) cost N21,000 while the bag of onion (new) cost N15,000. Patronage is encouraging because whether you like it or not, you need food to survive, so we make sales," she stated.
The survey conducted by Legit.ng revealed that an average sized ram now costs almost twice the amount it was sold during last year's Sallah celebration. Ram which is a major livestock used in this festive period, have increased a bit. Though the prices vary but they are still sold at an affordable amount depending on the bargaining power of the buyer.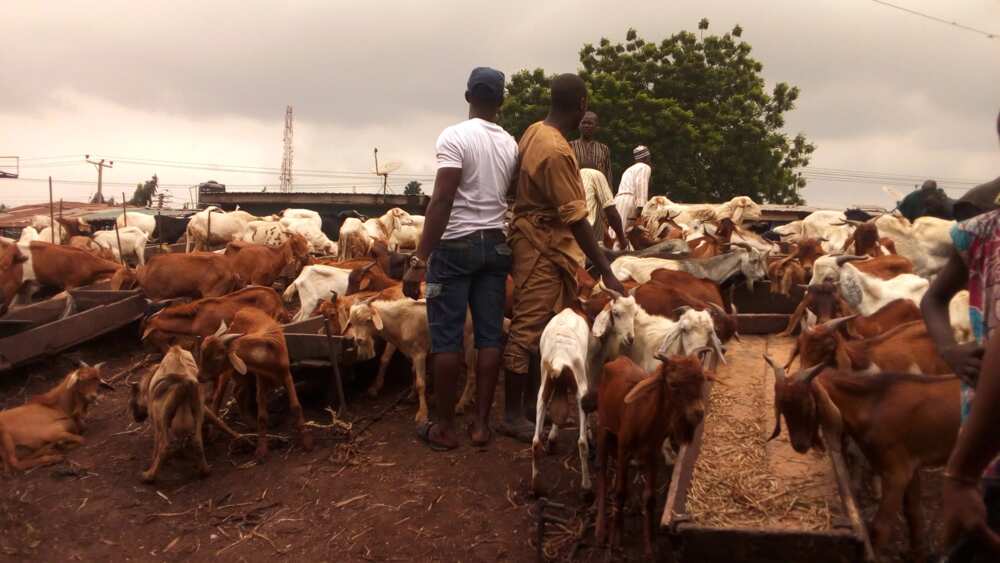 A ram dealer simply known as Alhaji Yakubu said that over the years of his involvement in the trade, he has never witnessed such a low patronage. Adding that, high cost of animal feeds and transportation from the Northern states to the market location led to the increment of the rams.
"You can purchase rams ranging from N30,000 upwards: depending on the size of the ram and the seller. Although in some markets, rams are quite expensive and some are sold at affordable amount; this is due to the cost of carriage and cost of the animal feeds. But here, small rams are sold from N35,000 and above, while the big rams ranges from N45,000 upwards. Truth is, patronage is not what we expected. Buyers, who come to patronize us, complain and purchase according to their purse and some are not buoyant enough.
"Several ram selling points have been left unattended to due to low purchasing power of the buyers. Some sellers brought in the rams all the way from the northern part of the country coupled with the increment in the cost of the animal feeds. Despite all this, a significant number of them have complained that they have not been able to make reasonable sales out of the huge number of rams they brought to sell," he informed.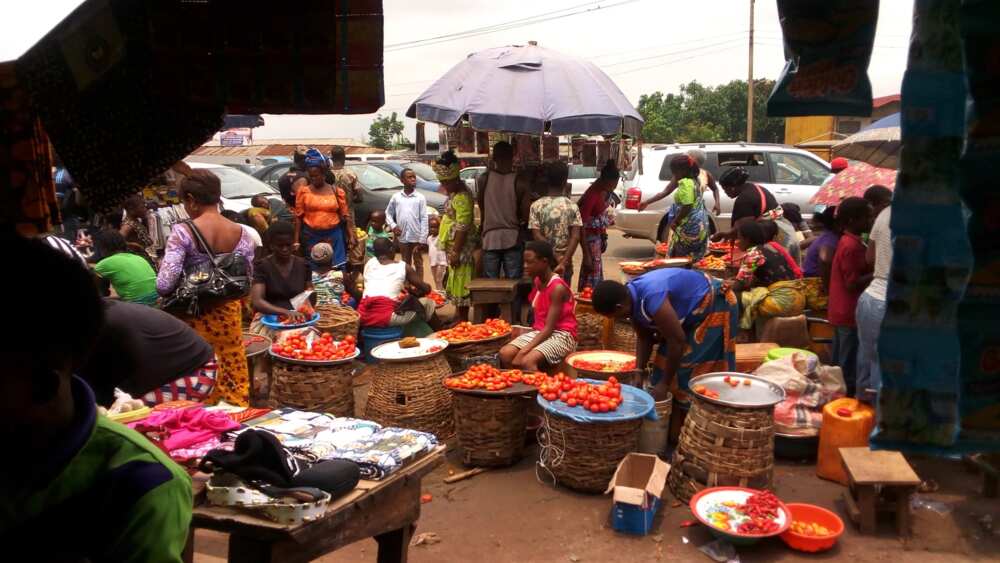 A buyer, identified as Mr Hassan who was in the market to purchase Sallah ram told our correspondent that the present economic situation was one major threat, not only to ram sellers but also to the entire chain of businesses in Nigeria.
He said: "Almost all goods in the market have increased in price. Although many would want to buy rams but cannot afford it because of the cost price. In spite of the complaint about the high cost of rams people are willing to buy but could not do so due to lack of money. Some now settled for goats, went for cow meat or decided not to slaughter any animal for the Sallah .The Federal government should do something urgently to address this situation and the suffering of the citizens of Nigeria. Since Eid–el–Kabir is a time for love and celebration, hopefully, we pray for a better economy."
At the busy market, people were seen buying and selling at a quick rate but some of the traders, especially the sellers of non-food items were sitting idle in their shops.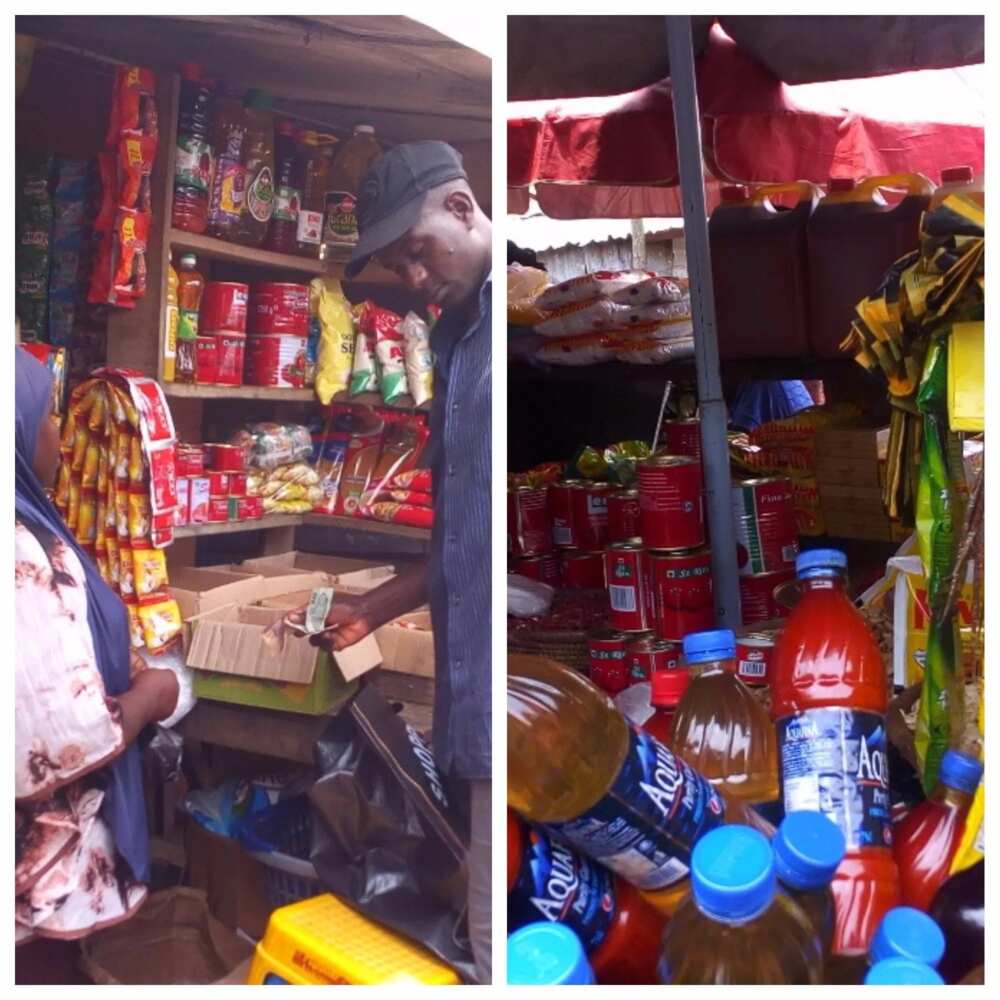 Prices of food items have not been stable for a while. Some have gone up outrageously while others are still stable.
A trader, who sells foodstuffs at the market, identified as Mr Osaigbovo, laments on low patronage, blame it on the economic crisis the country is faced with. Adding that despite governments' efforts in reviving the economy, it seems things are getting tougher by the day.
According to him, buyers come to the market, because they have to eat so as to survive, but rather than buying in large quantity as expected they complain of low income and buy in bits.
"Prices of food items have increased but for rice and garrri, the price is relatively low. A bag of rice (Aroso) that goes for N17,000 before, now goes for N15,200 and rice (Agric) cost N15,500 , but that of beans keeps rising: a bag of beans (Oloone)cost N44,000, Beans (Olotu) cost N47,000 while beans (Oloyin) cost N24,000. A bag of garri (Yellow) that cost N18,000 before, now cost N12,000 while garri (White) that cost N14,000 before, now cost N10,000.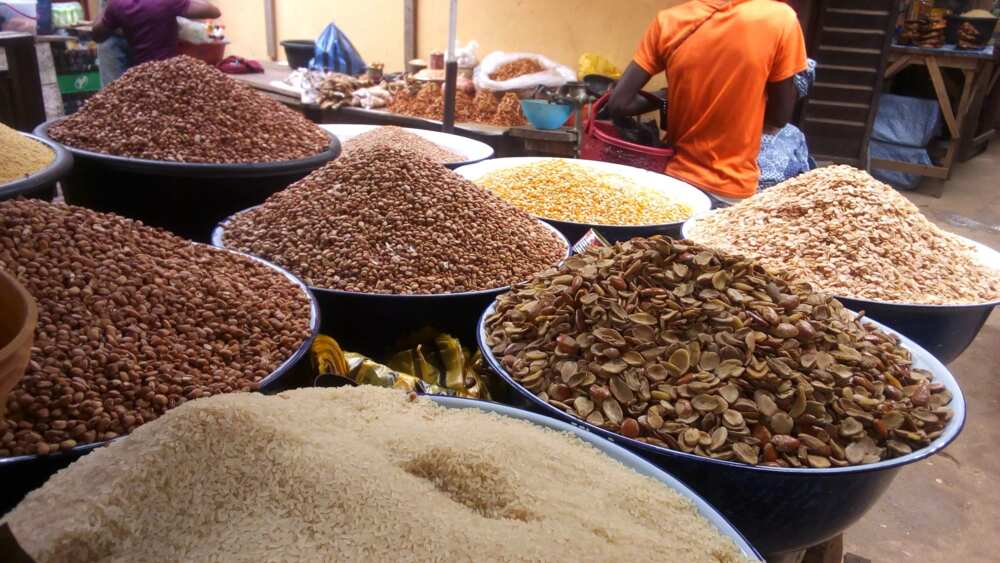 "25-litre of Kings groundnut-oil is sold at N12,000 while refill groundnut-oil cost N10,700 and 25-litre of palm-oil cost N10,200. A bag of Egusi (Machine) goes for N42,000 and Egusi (Handpeel) goes for N46,000. We have different types of Ogbono and the type determine its price. A big nylon of crayfish, goes for N26,000. A bag of Ogbono cost N68,000 upwards, depending on the type, the size of the bag and the cost of carriage.
"Market is very dull, but we are still selling to few people that come. Do not be deceived by the large crowd, only few have come to purchase items, others price and go.We hope to make good sales this week. This is just one or two days to Sallah celebration,we do not see or feel the signs through patronage despite the large crowd you are seeing now," he added.
When our correspondent visited the section of second-hand clothes, textile materials, Muslim wares (Kaftans) the situation was different. The traders who are mainly from the eastern and western part of the country were seen attending to customers in their shops while those who own stalls displayed their materials for sale at an affordable price.
A trader, Alhaja Hauwa who deals in Muslim wares said the economic situation of the country has not affected wares but rather, the cost of carriage, the quality of the material and the type of fabric led to the increase of some wares.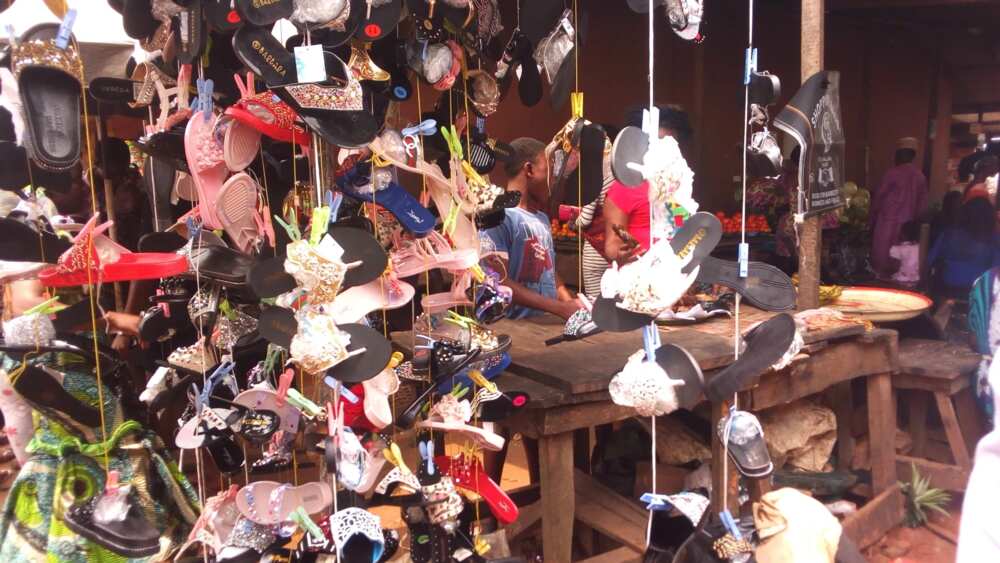 "Textile materials are not really expensive but the price varies according to the quality of the fabrics, the measurement and often times the type of fabric and brand. A quality Ankara fabric ranges from N4,000 upwards. And a quality kaftan for ladies with embellishment goes from N10,000 upwards: especially the ones that are purchased outside the country. This period, people prefer buying materials to sew with different styles and designs, rather than opt for second-hand wares. Hence, we make more sales this period.
"Sales are encouraging and patronage has increased. Customers, who have eyes for good things and know the difference between quantity and quality as well as durability, patronize us despite the economic condition we are faced with in the country," Hauwa told our correspondent.
For the plantain sellers, it was not a good show as some of them also bemoaned the increment in the cost of purchase, blaming it on low of cash in circulation and the economic condition the country is faced with.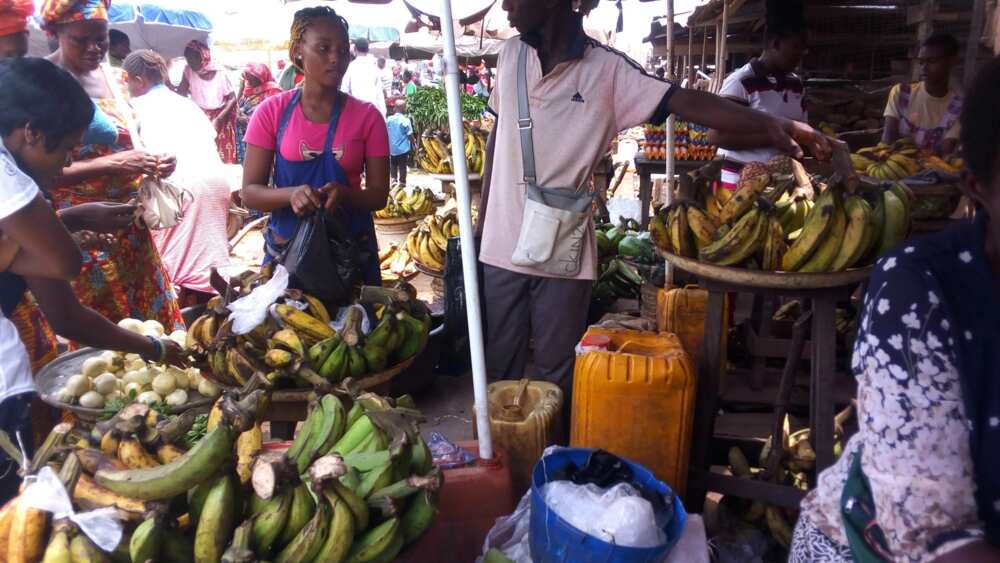 A plantain seller identified as Mummy Ivie explained that the price of plantain is not attributed to the dollar rate but rather the weather condition and the cost of transportation.
She said: "The price of plantain have not been stable this year. When it is available, it becomes cheap and when it is not available, it becomes expensive. Right now, we cannot really say this is what led to the increment in the purchase of plantain but we just know it is expensive and scarce. We buy in dozen, one dozen that goes for N6,000 before, now goes for N9,000 upwards: so, you can only get platain from N500 and above: depending on the size, the market location and the cost of purchase."
In a recent development, there has been a slight reduction in the price of yams, sweet potato and Irish potato.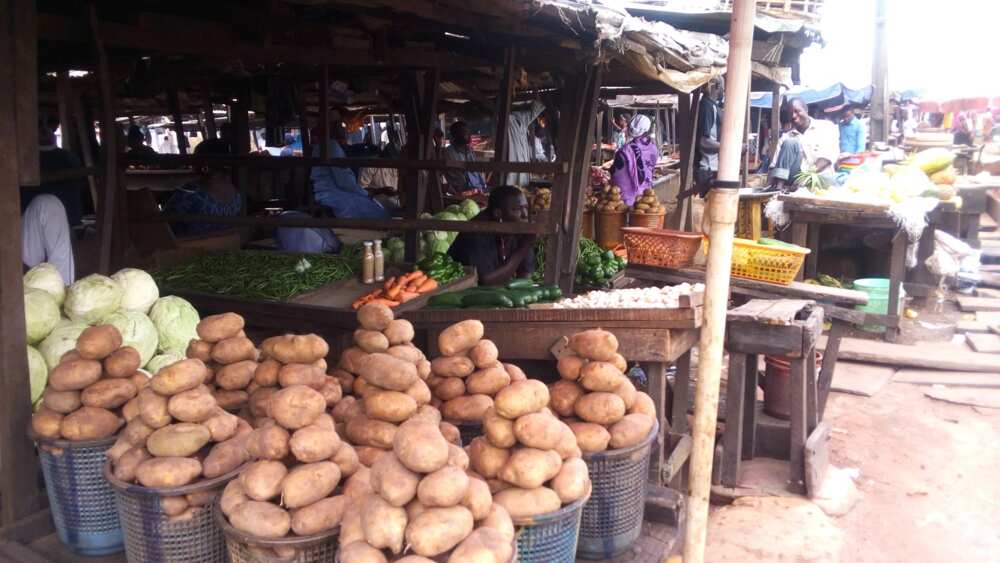 At the market, five tubers of yam (Small) that cost N2,000 before, now cost N1,600 while five tubers of yam (Big) that cost N4,000 before, now goes for N3,500. For sweet potato, the bag that goes for N15,000 before, now goes for N13,000 while a bag of Irish potato goes for N30,000 as against its old price of N35,000.
At the market, buyers' were seen bargaining for rams rather than a butchered cow or goat, while some purchased according to their financial capacity, others walked away.
A buyer, Alhaji Usman told Legit.ng why as a Muslim it was important for him to celebrate the Eid-el-kabir by buying at least a ram.
He said: "As a Muslim, it is important for you to celebrate Eid-el-Kabir with whatever resources you have. Every year, my family kills two rams: one for our friends and loved ones friends, and the other for our family. So following the tradition, I am under obligation to purchase a ram, high cost or no high cost."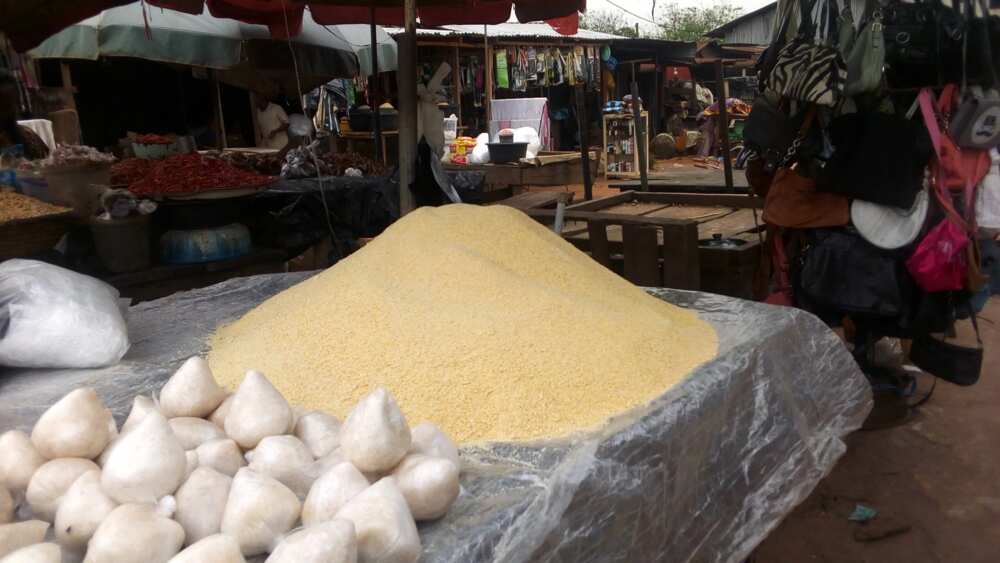 Meanwhile, buyers who pleaded anonymity are of the opinion that there is the need to celebrate irrespective of the challenges the country is faced with, as they have no option than to eat healthy and look good in festival periods or not.
Some traders who disclosed their feelings to Legit.ng, noted that despite the stability in prices of some goods, their daily sales was not encouraging, attributing it to the harsh economic situation in the country, expressing hope those prices would crash after Sallah celebration.
Legit.ng also recently visited the market to find out if rams (which is traditionally killed at Eid-el-Kabir) have become more affordable than they used to be.
Check out our finding below:
Source: Legit.ng