Nigerian man shares beautiful photos after private jet ride with Bishop Oyedepo
Moments are indeed meant to be cherished, especially the ones that inspire us to be better at what we do.
Jindu John Nwabudike, a cinematographer has posted some emotional messages about his experience on board with Bishop David Oyedepo on his private jet.
He posted a few pictures on his Instagram account with different captions.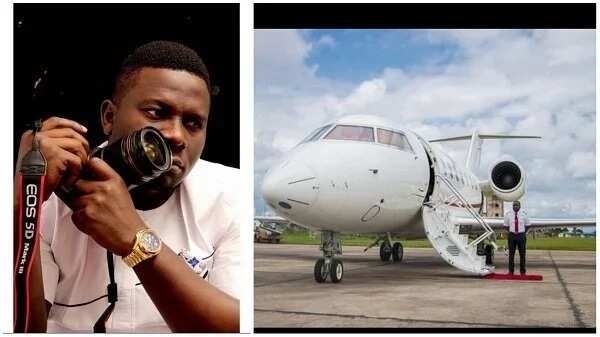 His words were:''I was honored to be on board with Bishop David Oyedepo on his PJ. I just had to freeze the memory. I am greatly inspired by this Man of God, his Wisdom, humility, wealth, and love for God, greatly motivates me. Thank you Sir for the honor. My cameras will never remain the same, after the honor to capture your memories. #MediaJinduPhotography #PicturesWorthTwoThousandWords''
READ ALSO: 6 photos that show what E-Money and Hushpuppi have in common
He also revealed that the rich lifestyle of men of God isn't exclusive to them as every believer deserves the same lifestyle and comfort.
PAY ATTENTION: Install our latest app for Android and read the best news about Nigeria
Watch Legit.ng's video as Kenny Blaq speaks on why pastors don't want some comedians to perform in their church
Source: Legit.ng