2 Nigerian men arrested for fraud in America
- 2 Nigerian men have been arrested in Oregon, United States for fraud
- The brothers were accused of obtaining more than 125,000 stolen taxpayer identities all over the world
- Prosecutor says one of the brothers bought over 91,000 of the identities from Vietnamese hacker
A Nigerian man, Emmanuel Oluwatosin Kazeem, and his younger brother, Michael Oluwasegun Kazeem have been convicted in a massive fraud scheme in the United States.
Emmanuel Kazeem was accused of obtaining more than 125,000 stolen taxpayer identities from across the Unites States.
He has been convicted in a federal court in Oregon on 19 counts of mail and wire fraud, aggravated identity theft and conspiracy to commit mail and wire fraud.
A Jury in Medford returned the verdicts, Friday, against Emmanuel Kazeem, 24, who lived most recently in Bowie, Maryland.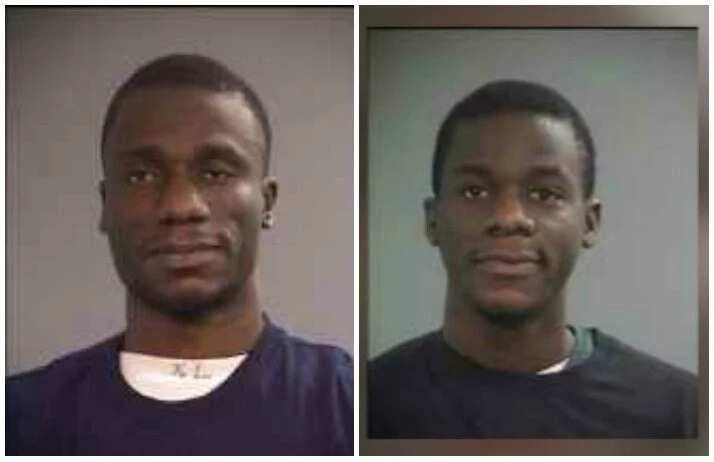 READ ALSO: Catholic Diocese of Nnewi releases names of victims of the St. Phillips Catholic Church massacre
Prosecutors say Kazeem bought over 91,000 of the identities from a Vietnamese hacker who got into a database belonging to an Oregon company called CICS Employment Services.
Most of the personal information belonged to people living in Oregon and Washington and were used to file fraudulent tax returns between 2012 and 2015.
Over 2,800 fraudulent returns were linked to Kazeem with attempted refunds in excess of $26 million and actual losses to the federal government of nearly $7 million.
IRS criminal investigators traced more than 2,000 wire transfers involving $2.1 million dollars in fraudulent tax refunds wired to Nigeria by Kazeem and his co-conspirators, prosecutors said.
Federal prosecutors couldn't reach a plea deal with his brother, Michael Oluwaseun Kazeem, 24, linked to the theft of 250,000 identities and $4.7 million in illegal tax refunds.
PAY ATTENTION: Read the news on Nigeria's #1 news app
He is being held in the Jackson County Jail in Medford.
Four other members of the gang are Oluwatobi Reuben Dehinbo, Lateef Aina Animawun, Oluwasunara Temitope Osanyinbi and Oluwamuyiwa Abolad Olawoye. They were earlier indicted by a federal grand jury in May 2015.
Meanwhile, a 56-year-old Nigerian pastor based in the United States (US) reportedly bagged 15 year-jail term after he was caught abusing two teenage girls in church.
The clergy man who was identified as Reuben Chizor is the founder of Hope Restoration Ministries and was said to have been carrying out this devious act in his church's basement.
Chizor was said to have abused two young under age girls, 12 and 14-years-old, who their names were not disclosed.
Watch Legit.ng inspirational video of a Nigerian young man making millions by selling puff puff:
Source: Legit.ng