Charly Boy leads protest to demand for Buhari's return or resignation
- Members of a civil society organization have defied rain in Abuja to protest the resignation of President Muhammadu Buhari
- The group said it's wrong for the president to continue his stay in London while Osinbajo acts on his behalf
- The protest will continue tomorrow August 8 with a sit-out at the Unity Fountain until the president either returns or resigns
The organization, Concerned Nigerians on Monday, August 7, converged at the Unity Fountain in Abuja urging the president to either resume duty or resign.
The group said it will march to the Presidential Villa to demand the resignation of the president
READ ALSO: 2 soldiers dead as army ambush Boko Haram terrorists in new operation (photos)
Adeyanju also said the protest will continue tomorrow with a sit-out at the Unity Fountain until the president either returns or resigns.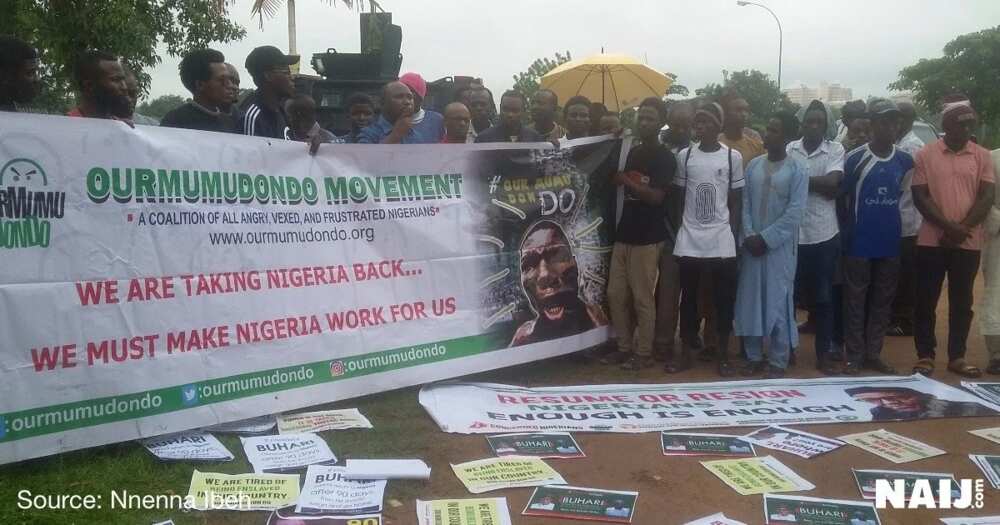 He added that the sit-out will continue daily from 9am to 10am.
"The president cannot continue to remain in London infinitum. Osinbajo cannot continue to function as an Acting President Infinitum.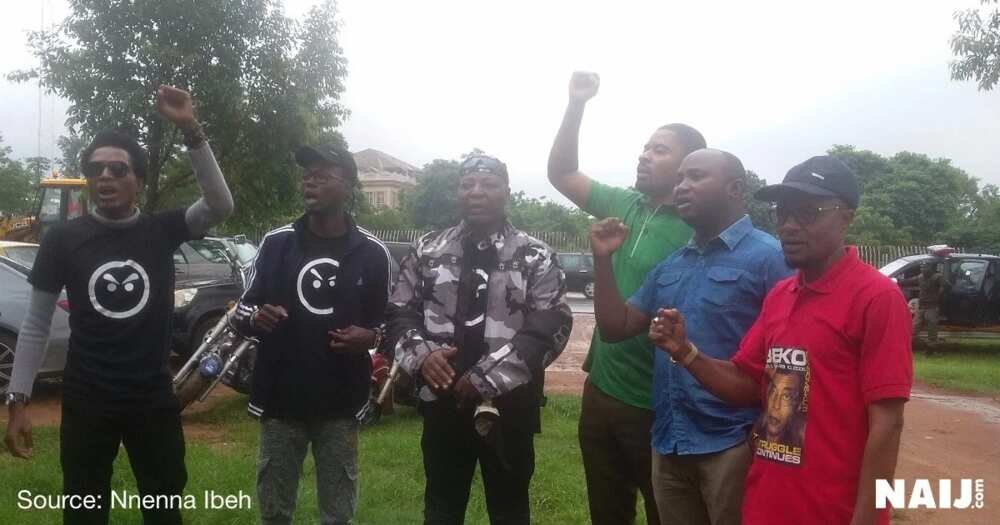 "You can imagine what happened after the Anambra attack, the Presidency issued a statement, they did not allow Osinbajo to take charge.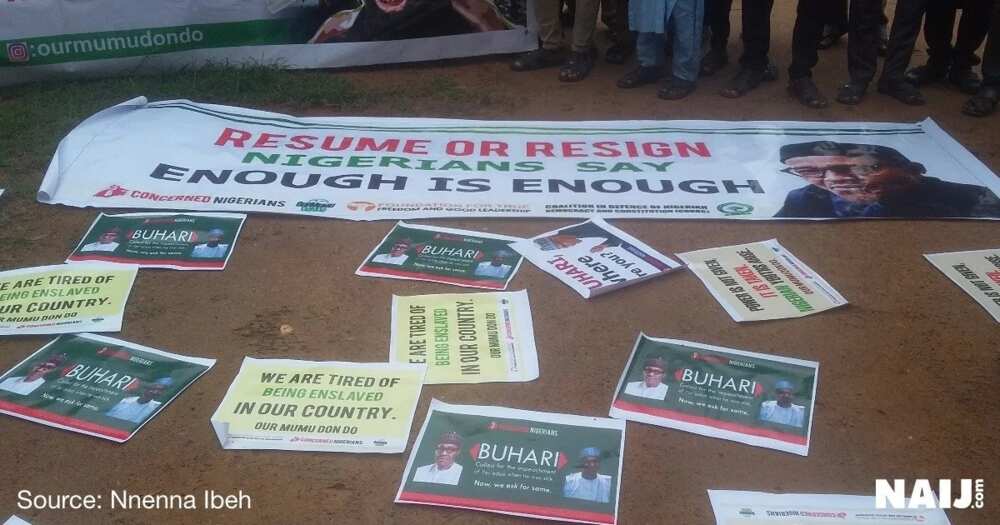 "Same with the Sallah celebration, they also released an audio in Hausa for all Nigerians. Osinbajo was not allowed to take charge.
PAY ATTENTION: Install our latest app for Android, read best news on Nigeria's #1 news app
"They are holding the country to ransom. It is not by force to remain a president. It is also time for Section 144 is activated.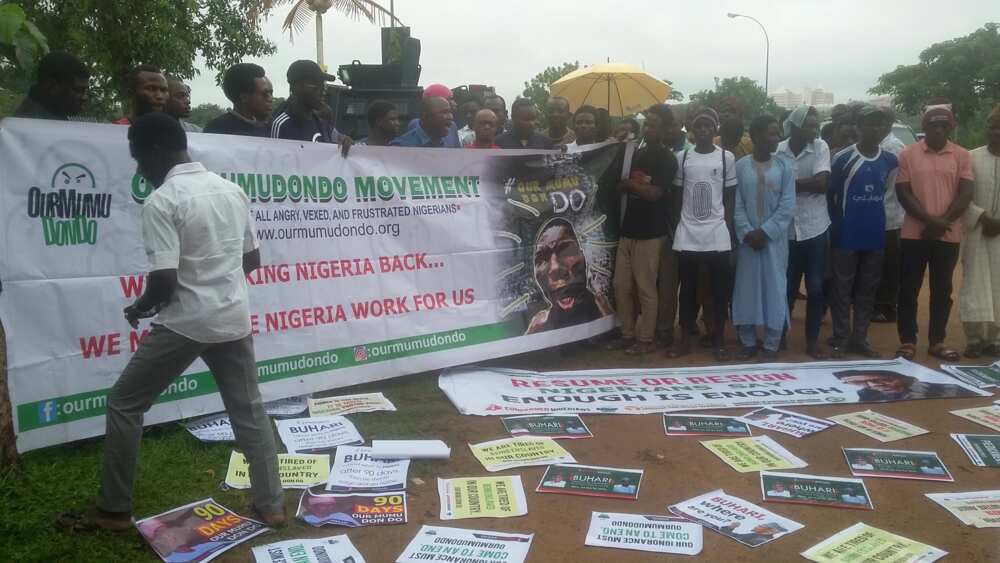 Snapping picture is not a prerequisite for fitness we must as a matter of urgency call on the president to resume or resign," Adeyanju said.
Also speaking at the protest, the leader of the group and renowned singer Charles 'Charly Boy' Oputa said: "Our Mumu Don Do."
Charly Boy added that he was at the protest to demand the resumption or resignation of the president.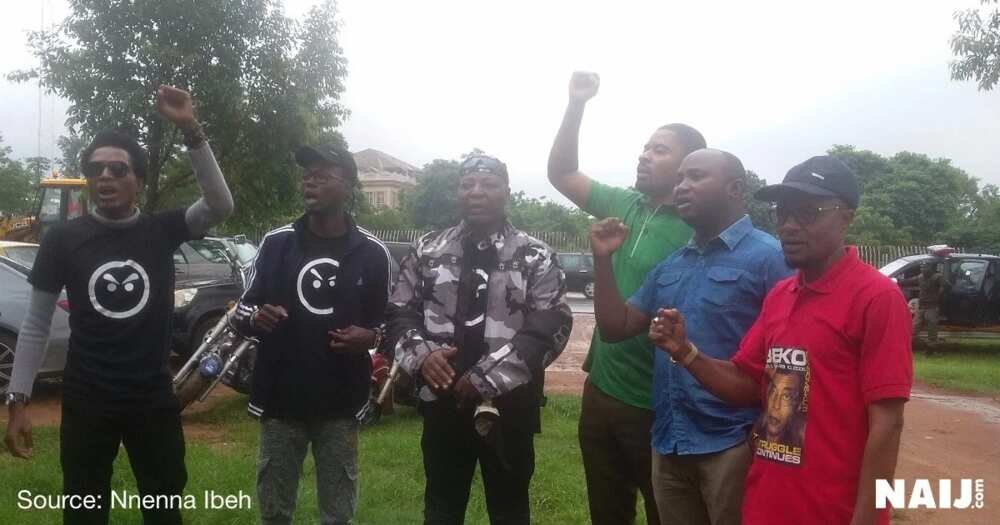 He said he was also present to support the youths who have been saddled with the responsibility of demanding accountability and transparency from Nigerian leaders.
Also present at venue include officers of the Nigeria Police Force, various police vans and horses.
Legit.ng had reported that a sit-out protests which would hold simultaneously in London and Abuja have been announced by a coalition of concerned Nigerians.
According to reports, the group will demand for the return of the president back to Nigeria, or for his resignation due to the fact that he is ill.
Watch this Legit.ng TV video asking Nigerians what President Buhari should tackle first, when he returns.
Source: Legit.ng