Parents of released Igbonla boys express worry over their behaviour
- The six students of Igbonla Model College in Epe who were abducted and released recently might be struggling with psychological issues
- The students have been in the custody of their abductors for two months
- They were released in far away Ondo state on Friday, July 28
A report by New Telegraph indicates that parents of the six students of the Lagos State Model College, who were released on Friday, July 28, have noticed that their children are exhibiting strange characters.
According to the report, the parents of the children are worried that all may not be well with their kids.
Two of the boys' fathers quoted in the report on the condition of anonymity, were said to have been worried.
PAY ATTENTION: Read the best news on Nigeria's #1 news app
One of them said: "There is something wrong with my son; but I really can't place my finger on it. We're still observing him. Medically, they are still treating them.
"There is no way the children will go to such a place without any possible ailment in them, although we give thanks to God.
"My son was a once a free child and lively, suddenly, he is withdrawn and exhibiting strange attitude. We are noticing some strange habits."
Asked if he would allow his son to return to the school, he replied: "It's in the hands of my son, not me. The decision belongs to him alone."
The second father expressed worries over his son's state of mind, disclosing that he noticed that his son was not fully back to his senses.
According to him, since his son was brought home, the boy has been exhibiting signs of fear and psychological trauma.
The man added that he noticed his son could neither jump at him nor showed any sign of being happy returning home.
His words: "He is just looking at everyone and doesn't even talk. That sad experience, I must tell you, was too much for those children and I feel sad about it. In fact, because of the situation, his mother had to take him away from the house to avoid further pressure on him."
Asked whether he would allow his son to return to the school, the man queried the reporter saying: "If you were in my shoes, would you allow your child to return to such a school? Anyway, that is not the issue for now, my prayer is that he should recover fully first, after which we can think of which school to go."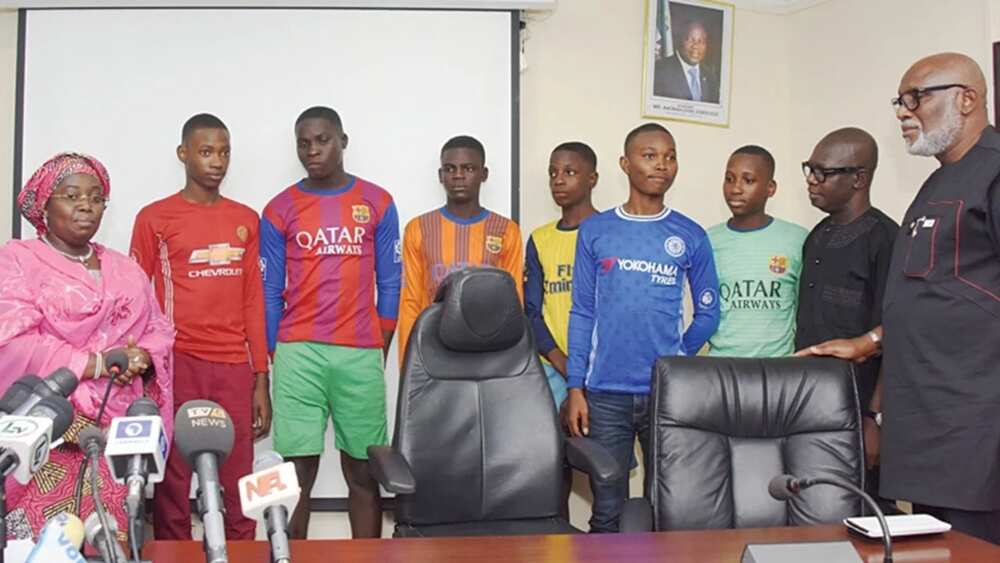 Meanwhile, the parents said security agents were monitoring them and that they had been warned not to speak with journalists.
According to them, they had also been warned not to trouble their children into revealing their encounters in the creeks or allow journalists to speak with them.
The six students were abducted on May 25, from their hostel, by suspected Niger Delta militants led by one General America.
The students spent 64 days in the enclave of the kidnappers before their eventual rescue on Friday, July 28.
The six students are Agbaosi Judah, Jonah Peter, Philips Pelumi, Adebanjo George, Yusuf Faruq and Ramon Isiaka.
In the mean time, the students might return to the Lagos State University Teaching Hospital (LASUTH) for the continuation of their comprehensive medical check-up promised by government.
"They will return to LASUTH tomorrow morning (today). They will return to the hospital. For now, they cannot talk to us on their experiences," one of the parents said.
READ ALSO: 20 kidnappers killed as Ambode moves to reinforce security in schools
The release of the boys came few days after Acting President Yemi Osinbajo promised Nigerians that they will be released alive in no time.
Watch the Legit.ng TV video report on how Nigerian youths protest made the National Assembly pass the 'Not Too Young To Run' bill.
Source: Legit.ng