29-year-old Nigerian man dies after alleged wrong diagnosis by Lagos state hospital (photo)
A 29-year-old man, who just graduated from the University of Bauchi, has just been reported dead after he was wrongly diagnosed at the Lagos State University Teaching Hospital, Ikeja, Lagos.
His parents believed that Kolawole Idowu's condition worsened after doctors at the Ikeja Medical Centre, a private facility on Allen Avenue, Ikeja examined him. Punch further reported that Idowu who just completed his NYSC in Lagos took ill few days after.
He was also said to have being born at the same hospital. His illness began after a doctor at the hospital prescribed malaria medications and eye drop but it all got out of hand when he was admitted.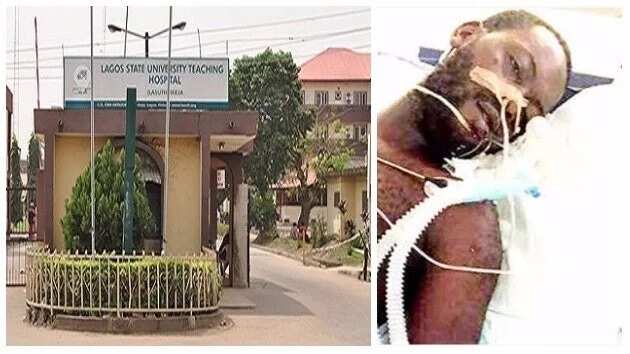 READ ALSO: You are dumb as a wall - Lawmaker Ude Ehugbo lashes at 'bleaching idiots'
After a while the deceased was said to have manifested signs of mental illness known as 'psychosis' and when they discovered he could no longer be treated he was taken to LASUTH where he was in coma at the Intensive Care Unit (ICU) before giving up the battle for life.
The brother of the deceased disclosed that while his brother was at the hospital he noticed that anytime he was given a particular injection, late Kolawole would start misbehaving but once the effect of the injection wears off he comes back to his senses.
Kunle said: "The illness started at the end of April, about a week after his youth service. I am a politician and I was running a campaign to become a councillor at that period. Kola complained that he had been having burning sensations all over his body and his eyes had been teary. I advised him to go for a lab test, but he said he would go to our family hospital. He went to the hospital where he was given an eye drop, which he started reacting adversely to. He went back to the medical centre and he was told that he had malaria. The doctor prescribed a malaria drug for him. However, he started reacting negatively again to the drug. That was when the doctor said he was having fits of delirium and showing signs of dementia. He was always coming home each time he realised that they were not treating him well. But my grandparents would take him back and he would obey so that he would not look like a disobedient child. The injection was killing him. That day, they asked the house help to lock the door. Because I could not sit down and watch him take another injection, I broke the door and left the house."
PAY ATTENTION: Get all the latest gossips on NAIJ Gossip App
However this led to Kunle's arrest and detention for a day. The young man added that his brother's health deteriorated afterwards and was taken to the psychiatric ward of LASUTH for 10 days. He was transferred to the ICU afterwards and died two months after.
Reacting to the death of Idowu, the Chief Medical Director of LASUTH Prof Adewale Oke disclosed that the deceased was treated by specialists. The hospital's psychiatrist consultant Dr Atilola Olayinka revealed that he was the first to come in contact with the deceased.
A professor of neurology at the hospital Prof Yemi Ogun also disclosed that no one can ascertain what really killed Idowu but revealed that he had inflammation of the brain.
Sad!
Watch Legit.ng video below:
Source: Legit.ng