See latest trending photo of Nnamdi Kanu and wife
- A photo of leader of the Indigenous People of Biafra Nnamdi Kanu and his wife is currently trending on social media
- Nnamdi Kanu could be seen sitting on a chair decorated with green and white in the photo
- Some commentators claim the decoration was a sign of his respect for the Nigerian flag
Nnamdi Kanu, leader of the Indegenous People of Biafra is a fiery agitator who has consistently called for the break-up of Nigeria, citing marginalization of the Igbo people in the scheme of things in Nigeria as one of his reasons.
READ ALSO: Obasanjo calls for end to bloodshed, sacrifices in Nigeria
Nnamdi Kanu, who until his incarceration and subsequent release was the director of Radio Biafra, a propaganda media platform which operates from London was however seen in a trending photo online sitting elegantly on a a chair decorated with Nigerian flag.
A critical analysis of the decoration as symbolic of colour of Nigerian flag by Legit.ng however was not conclusive.
However, the mere resemblance of the decoration to that of colour of Nigerian flag has set tongues wagging on social media.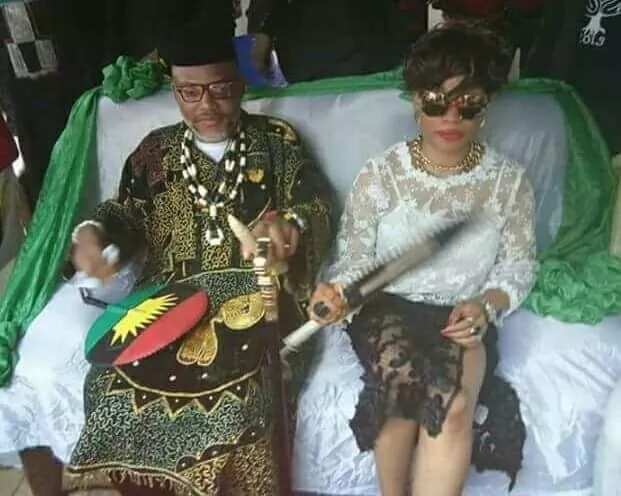 Legit.ng had reported that some Nigerian policemen were seen posing for photograph with the IPOB leader. This action sparrked diverse views from the public, given the attitude of Nnamdi Kanu.
PAY ATTENTION: Read the news on Nigeria's #1 news app
Recently, as reported by Legit.ng, the IPOB leader courted controversy by lambasting National leader of the All Progressives Congress (APC), Bola Ahmed Tinubu.
Nnamdi Kanu was alleged that to has called the respected National leader a man without integrity and honour.
He said: "There was once agitation for a national sovereign conference. If you listen to Bola Ahmed Tinubu today, you won't know that Bola Ahmed Tinubu was a leading figure asking for sovereign national conference. Once they get into power, they forget because they are not principled.
"They have no honour, unfortunately, integrity. They tell one thing in the morning and another in the evening. "Anybody asking you to support one Nigeria doesn't love you. If you read history, no one will like to be called one Nigeria.
Watch this exclusive interview with Nnamdi Kanu:
Source: Legit.ng