Borno approves N50 million for building trenches around University of Maiduguri
- The Borno state government has approved N50 million for digging of trenches around the University of Maiduguri
- The new project will help avert terrorists' attack on the institution
- The trenches, state government said, will also go round the 27 kilometre radius of the University of Maiduguri
The governor of Borno state Kashim Shettima has approved N50 million for the digging of trenches and sand building sands hills around the University of Maiduguri.
The aim of the new project, a Borno state official said, it to prevent further attacks on the institution by Boko Haram terrorists.
A statement by the Borno state governor's spokesperson Isa Gusau said the trench would go round the university's 27 kilometre radius.
READ ALSO: Fayose reveals shocking things about Buhari's health, where he is being kept (Video)
"Governor Shettima announced that he was releasing the fifty million naira not only to fund the digging exercise but also to support payment of allowances to special guards drawn from local vigilantes who are to work with the military in policing porous areas," Gasau said.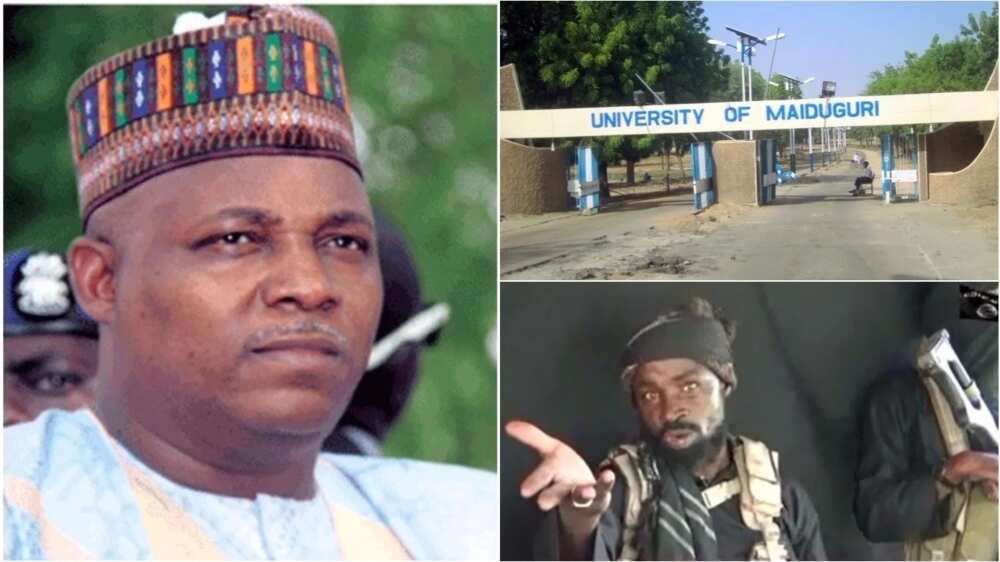 "The trenches are being designed to make it impossible for insurgents to drive into the university and also create difficulty for insurgents to cross on foot while the military will take advantage of being at the top to neutralise insurgents.
READ ALSO: JUST IN: Election tribunal sacks PDP Senator
"Even though the University is a Federal institution, it was also part of Borno Government's responsibility to intervene in securing lives and preventing the desire of insurgents to force the close down of the school," he added.
Legit.ng had reported how three suiicide bombers attacked the institution on Sunday, June 25.
The attackers, the police said, killed themselves and a security guard in the university.
Since the beginning of the year, Boko Haram terrorists have attack the University of Maiduguri several times killing many including students and a professor of Veterinary medicine.
PAY ATTENTION: Read the news on Nigeria's #1 news app
Also, the acting vice chancellor of the institution Aliyu Shugaba had commended the state governor for his intervention process within the school.
The institution also made a request of N2.8 billion to the Nigerian government to enable it fund the raising of a perimeter fence around the university of Maiduguri.
You can watch this Legit.ng video of Nigerian Air Force operations:
Source: Legit.ng