Biafra tension: General IBB makes very powerful statement about Nigeria
- General Ibrahim Badamosi Babangida has reacted to the agitations around Nigeria
- The former military head-of-state says Nigeria is due for restructuring
- Ohaneze, Afenifere have reacted to former leader's statement
Former Head of State, Gen Ibrahim Babangida has said the time to restructure Nigeria has come.
The former military president made the assertion on Monday, June 26, during prayers to mark his 75th birthday celebration at the Hilltop in Minna, Niger state.
IBB launched an appeal to Nigerians to draw back from further campaign of hate the like of which he said led to the 30 month civil war.
According to Vanguard, the former military president said that there was little discord among Nigerians of different social classes. He urged Nigerians to synergise their different potentials towards building a great nation.
Regarding the restructuring of Nigeria, Babangida called for the devolution of more powers from the federal level to the states.
IBB urged Nigerians to embrace the creation of state police.
He said the fear of state governors using state police to run amok was not as strong as the greater benefit that creating state police would do for the nation.
While passionately appealing to leaders of the different divides in the country to show more maturity by reining in the younger elements, the former military president observed that war is not a joke anyone should toy with.
General Babangida said: "Nigeria, my dear country, is not a stranger to crisis, nor is she immune to it. In a profound sense, she can be said to have been created out of crisis, a nation state that will continue to strive to subdue and transcend crises.
In over a century of its formalized colonial architecture, Nigeria has grown and made remarkable progress in the midst of crises".
The General also urged the media to be more objective in reporting events and developments in the country. He said the media plays a big role in keeping the peace of any nation, but can also be used as a tool for propaganda and chaos.
READ ALSO: Nigerians react to Kwankwaso's call to Nnamdi Kanu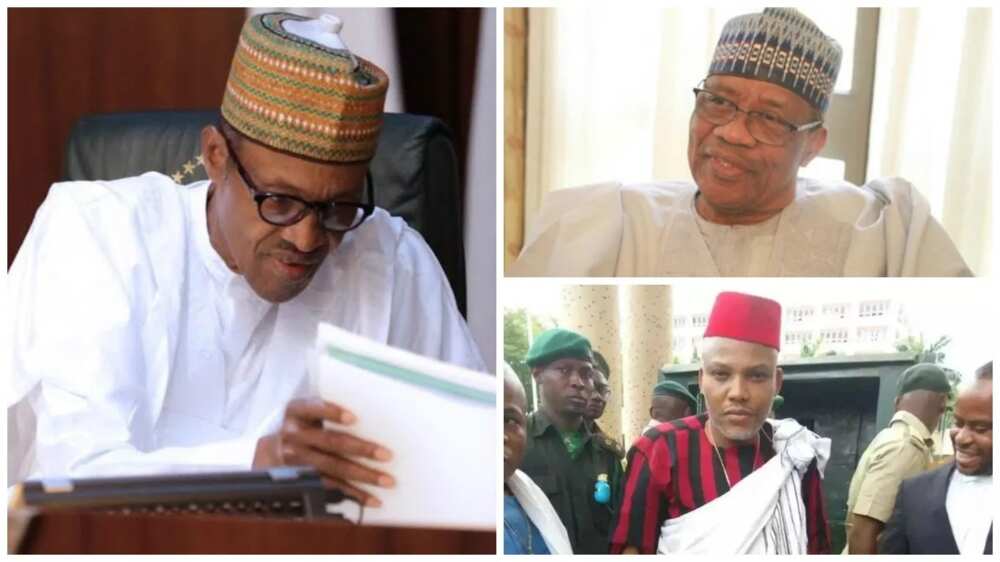 Reactions to IBB's call for restructuring Nigeria
Commenting on IBB's call for restructuring Nigeria, the President General of Ohanaeze Ndigbo, Chief John Nnia Nwodo, said the former military president is in a position to know the right prescription to Nigeria's challenges given his experience.
He said: ''A Daniel has come to judgement. With his experience in governance, General Babangida knows what needs to be done to save the country. I cannot agree with him less. Let's restructure the country immediately.''
In a similar vein, Chief Guy Ikokwu said General Babangida's call should have come earlier than now, however, he can rally his former military colleagues and supporters on the need to urgently restructure Nigeria.
His words: "IBB's reaction to the issue of Nigeria's polity and state of governance is not really new. As a leader, this should have come from him much earlier.
He should let his military colleagues and supporters understand that this matter is very serious, the country is at the precipice and requires just a push to tip over.
He should tell his supporters and followers that restructuring using the recommendations of the 2014 National Conference is the immediate starting block for saving the country".
On its part, the pan-Yoruba socio-political organisation, Afenifere says IBB's assertion is a wake up call.
The Afenifere appealed to opponents of restructuring who are throwing their weight behind the agitation.
Afenifere's national publicity secretary, Mr Yinka Odumakin said: "All those, who can see where this country is headed can tell where all these would end without restructuring, are making the right calls. We hope the powerful minority still opposed to restructuring can see reason."
Similarly, Mr Akin Osuntokun, political adviser to former President Olusegun Obasanjo said IBB's intervention was timely and would help to foster a nation-wide concensus on restructuring.
Osuntokun said: "IBB called for restructuring? Well that's great. He always had more political empathy than his peers despite his self destructive ambiguities.
My advocacy for restructuring has always been at personal cost. Given the inevitable ethno regional predicate of any Nigerian debate, personal relationships across the regional divide tend to be strained by arguments over the structural review of the status quo.
IBB's intervention will help to temper runaway sensitivities to the debate and hopefully foster Nigeria-wide consensus."
In a similar vein, Bernard Mikko, PDP spokesman, said new ideas are needed.
He said he agrees with Gen Ibrahim Babangida that a "conscious attitudinal orientation that will change the mindset of our youths and the held beliefs of the elderly" is needed.
Mikko however said he does not understand why the call by some sections of the political class for "devolution of power" to achieve autonous authority or legitimacy still exists.
Devolution is the granting of power by upper level of government to a lower one. It is synonymous with unitary state and in sharp contrast with federalism.
PAY ATTENTION: Read the news on Nigeria's #1 new app
Therefore, clear and unambiguous details of any contemplated reform or changes must be worked for robust debates, Mikko argued.
He said: "Several attempts in the United Kingdom to devolve power to sub national entities have failed, particularly the three Home Rule Bills of 1886, 1893 and 1912.
The U.K experience has not been able to resolve the problem of Northern Ireland, Wale and Scotland.
Italy and Finland have been able to "devolve powers" to local authorities because they are basically unitary states.
Any fundamental reform, change or restructuring must not be sentimental so that a profound economic and social development can be achieved".
Watch below an exclusive talk with Nnamdi Kanu on Biafra agitation:
Source: Legit.ng