Nigerian worker Okechukwu Amos killed Chinese boss Alice Xu over alleged harassment
- A casual worker has reportedly killed his 26-year-old Chinese boss
- The incident happened at a drug producing firm at Tayo Laose Close, Akinola Cole Estate, Adeniyi Jones, Ikeja, Lagos state
- The suspect identified as 28-year-old Okechukwu Amos was alleged to have sneaked into her apartment while she was sleeping and strangled her to death by covering her nose with a cloth
A worker at Green World, a drug producing firm at Tayo Laose Close, Akinola Cole Estate, Adeniyi Jones, Ikeja, Lagos state has allegedly killed his Chinese boss, Alice Xu.
READ ALSO: Evans, the notorious kidnapper takes policemen to the isolated den he keeps his victims
According to Punch, the incident happened around 8pm on Friday at the firm, which the 26-year-old Chinese woman also used as a residence.
The report said the suspect, 28-year-old Okechukwu Amos, who was a casual worker under Alice Xu sneaked into her apartment while she was sleeping and strangled her to death by covering her nose with a cloth until she suffocated.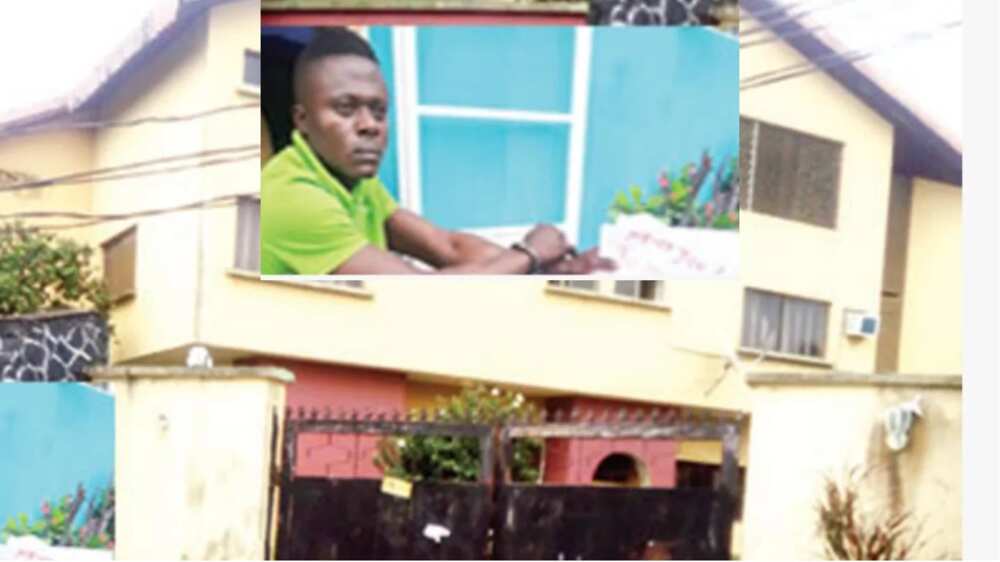 Okechukwu had been heard to have complained that his boss, Alice Xu usually harassed him, and decided to "deal with her" that day.
Amos was also said to have ransacked the apartment and allegedly stole about N800,000 and $2,000, belonging to the dead Alice.
After the dreadful act, and in efforts to escape the estate, Okechukwu was said to have disguised as a mentally-derailed person.
Unfortunately for him however, he was discovered.
According to a security guard who was a witness to the arrest, Ikechukwu actions betrayed him: "I was at the security post around 9pm that day when I saw a man half-naked. He walked towards the gate bare-footed. He was holding a pair of slippers and carrying a load wrapped with a shirt on his head.
"I initially took the man for a mad person, but after a closer look, I discovered that he is Ikechukwu (Amos). I asked him what was wrong and why he was dressed like that. He said he was angry and that he was quitting his job at the the company. I asked if the person that brought him to the company was aware, he said no.
"I volunteered to call the person, but he refused. I requested to know the content of the bag with him, he was reluctant.
PAY ATTENTION: Install our latest app for Android and read the best news about Nigeria
"That was when I became suspicious and called a policeman, who was at the gate with me. He interrogated him and forced him to open the bag. The bag contained a lot of cash. He led the policeman to the company, where we found the woman dead."
Okechukwu in his statement, according to a police source, said that he had endured frequent harassment by the woman and as a result decided to punish her.
The source said: "He was employed recently by the woman through somebody and he worked at the supply department. He alleged that the woman had been very insulting and disrespecting to him over a period of time.
"He gained access into her apartment when she had slept and tied her up. He covered her mouth and nose and the woman died because she could not breathe properly. He said he only wanted to punish her and didn't mean to kill her. Sums of N800,000 and $2,000 belonging to the woman were recovered from him."
The Lagos State Police Public Relations Officer, ASP Olarinde Famous-Cole, confirmed the incident, saying: "We have the suspect in our custody and he has made confessional statement. He has been transferred to the SCIID for further investigation."
Legit.ng had also reported that a Chinese man based in Ogun state is currently under fire after breaking the spinal cord of one of his workers with his Kung Fu kicks.
The Chinese man identified as Master Wan was reported to have kicked 27-year-old William Ekanem, a Bedmate Furniture company worker in Magboro, on his back for not allowing him to check the rice he bought on credit.
Legit.ng reported that Master Wan demanded to see the nylon bag of rice Ekanem bought from a foodstuff vendor within the premises but was challenged by the young man for not minding his business.
Watch as this sad tales of Ohuhu in this Legit.ng video:
Source: Legit.ng