I was trained to kill by cultists - 27-year-old man confesses to Lagos police
- Lagos Rapid Respond Squad arrested 27-year-old Nurudeen Kazeem
- Kazeem is reportedly a notorious robber and killer in Lagos
- He was allegedly employed by one Wilfred Ehis to rob and kill delivery men
A 27-year-old well-trained killer identified as Nurudeen Kazeem also known as Onyabo, has been arrested by the Lagos state Rapid Respond Squad during a robbery.
Onyabo is reportedly well-known and feared by the residents of LASU–Iyana Iba axis as a member of the Eiye confraternity.
According to a report by police PRO, Malik Nasir, the notorious killer was reportedly hired by another man, a 30-year-old Wilfred Ehis, to help rob and killed unsuspecting delivery men.
Ehis was arrested by the Decoy Team of Rapid Response Squad of the Lagos State Police Command sometimes in April, 2017.
READ ALSO: NNPC crashes diesel price nationwide by 42% - Spokesman
He disclosed to investigators that he contracted Onyabo because of his fearlessness during robbery operations.
According to Ehis: "The guy that was helping me to rob delivery men was always jittery at operating in crowded places.
"Sometimes, he was too shy to rob the delivery men I lured to LASU–Iyana Iba side if there are people around. He was always giving excuses, so, I contacted Nurudeen after learning that he was fearless and ruthless. And, he never disappointed. He did his work to precision."
What Ehis did was to order expensive phones online posing as Barrister Deji. His delivery areas were always around LASU–Iyana Iba side where the sellers were dispossessed of expensive phones.
Three of the victims, who reported at RRS office after being robbed said they lost between N600,000:00 to N800,000:00 worth of phones and accessories to Ehis and Nurudeen partnership.
According to them, what they ordered were very expensive phones with their accessories. "Barrister Deji ordered choice phones and accessories. The ones you don't have in your shop, you have to take on credit hoping that after sales, you pay back," one of the seller who recounted his experience at RRS Headquarters said.
They added that while they were trying to locate the delivery address via mobile phone calls to Ehis posing as Barrister Deji, two gun wielding guys would appear on okada, point guns at them, collect the orders, fire into the air and disappeared.
PAY ATTENTION: Read the news on Nigeria's #1 news app
According to Nurudeen: "I have done this three times for Cali (Ehis). I took the phones to him in his hotels, where he stayed.
"The first operation, he gave me N60,000. The second, he gave me N50,000 and the third, N45,000. The fourth one was the one I shot the police officer. I never knew he is a police officer.
"I started killing when I was initiated into Eiye Confraternity. I was trained to kill by the cult."
Onyabo, while confessing to the police stated that he shot the officer twice in the leg to avoid arrest.
He added that he was trained to kill by cult members after his initiation into Eiye Confraternity.
He said: "I have killed two people in the past. One was to complement my initiation into Eiye Confraternity.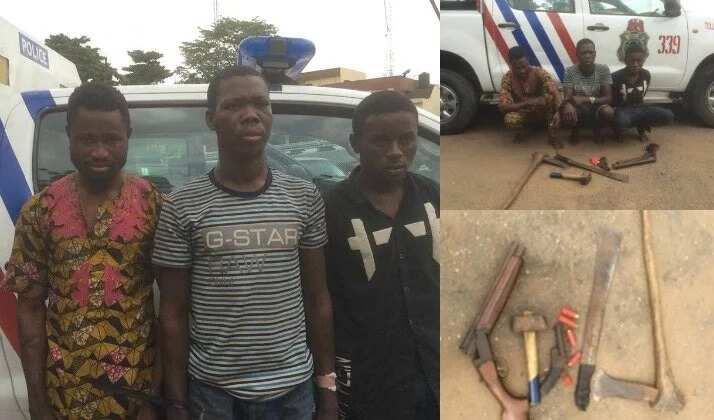 "I was led to a beer parlour in LASU-Iyana Iba axis, where I was showed a man to kill. I shot the guy there and I escaped. I killed another guy after shooting at him, I also macheted the victim who was a member of an "Aye" Confraternity in LASU/Iyana Iba area."
According to Ehis, Nurudeen sneaked into Lagos through the creeks only whenever he has operations. His house is built on an island between the border of Lagos and Ogun state.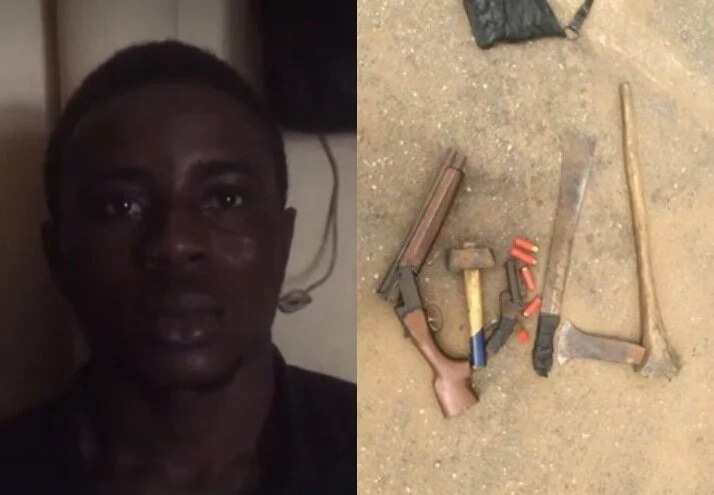 Arrested along with Nurudeen were: Yusuph Bello, 33, the gang's armourer from whom two guns, axe, hammer and machetes were recovered, and Sunday Hassan, 26, the gang's bike rider.
All the suspects have been transferred to the SARS Office in Ikeja for further investigation and prosecution.
Meanwhile, Notorious billionaire kidnapper Chukwudi Onuamadike aka Evans has on Sunday June 18, led police operatives to two houses (Dens) in Ejigbo and Igando areas in Lagos state, where he kept some of his victim for months.
Evans, as he is simply called, was reportedly arrested inside his palatial mansion in the estate by men of the Nigeria Police Force under the Inspector General of Police Intelligence Response Team led by Assistant Commissioner Abba Kyari.
Watch video of Legit.ng's visit to the house of Evans the kidnapper:
Source: Legit.ng