For lack of jobs, so many Nigerian graduates are riding commercial motorcycles
- Okada riding has been one of the growing jobs that youths easily find themselves as a last resort after years of searching for jobs
- It has been a source of livelihood for many youths including graduates from Nigerian higher institutions
- It began to gain prominence in the 1980s and youths in Nigerian communities are embracing, though some state governments are banning the business
Michael Asibeluo is a graduate of Business Administration from the Delta state polytechnic, Ozoro. When Legit.ng visited the community, five local governments away from Asaba, Michael was one of the motorcyclists, popularly called kada, in Ozoro community, headquarters of Isoko North. Asibeluo, 25, is doing well as an okada rider. Though a graduate, he told our reporter that he resorted to okada riding since there is no available job from the government circle for him.
He graduated in 2014, completed his youth service in 2016 but has remained without job. He said his spirit was high when he was to finish his youth service in Kwara state, but his spirit became dampened when he returned to find that life was not to be the way he thought while in the National Youth Service Corps (NYSC) back in Baruten area of Kwara state.
Asibeluo, who said he graduated with Upper credit from the polytechnic, said though the labour market is heavily saturated, he will get his job at the time God has planned for him. He told our reporter that he makes money that takes care of him since he hasn't married. He buys clothes for himself, pays his rent and makes necessary assistance when necessary to some of his relations.
Asibeluo is not the only graduate riding okada in the polytechnic town. Ozoro, being a polytechnic town is one of the busiest places for okada riders in Delta state. The other centre that is even bigger than Ozoro is Ughelli, the headquarters of Ughelli north council area of the state. But Ozoro is chosen because of the polytechnic sited in it. Okada riders are also the major means of transport in Ughelli town. It is also populated as other centres as Sapele, Abraka and Agbor, major towns beside Warri and Asaba, biggest cities in the oil rich state.
READ ALSO: LIST of Evans the kidnapper's 19 victims, ransom they paid
Ruona Oteri is also a graduate riding okada in Ozoro. He told our reporter that his day begins from 6.am to 9pm. He drives through Ozoro to all parts of Isokoland both Isoko North and South. And his day always ends with some good money between N3000 to N5000 daily.
For him, there is no problem in okada riding. He graduated from Ogwashi Uku polytechnic in Delta state where he studied Mass Communication in 2014. Like Asibeluo, he was also of the belief that he would get a job immediately after the youth service but that was not to be. This is because the present government of Ifeanyi Okowa in Delta state has no provision for civil service jobs for fresh graduates.
The state government, according to him, has no plan for fresh graduates. He said rather than open employment opportunity for graduates, the state government is busy creating skills jobs and giving generators and work tools for young school graduates to become entrepreneurs. Although he commended the government for such ventures, he said for him he would prefer a job that could fetch him money at the end of the month.
He told Legit.ng that the only challenge he has in okada riding is the challenge of robbers who collect their okada from them at the least expected time. He said that there have been several cases of their okada being taken from them, hence okada riders are scared of going to some places within the community, especially some areas within the polytechnic zone.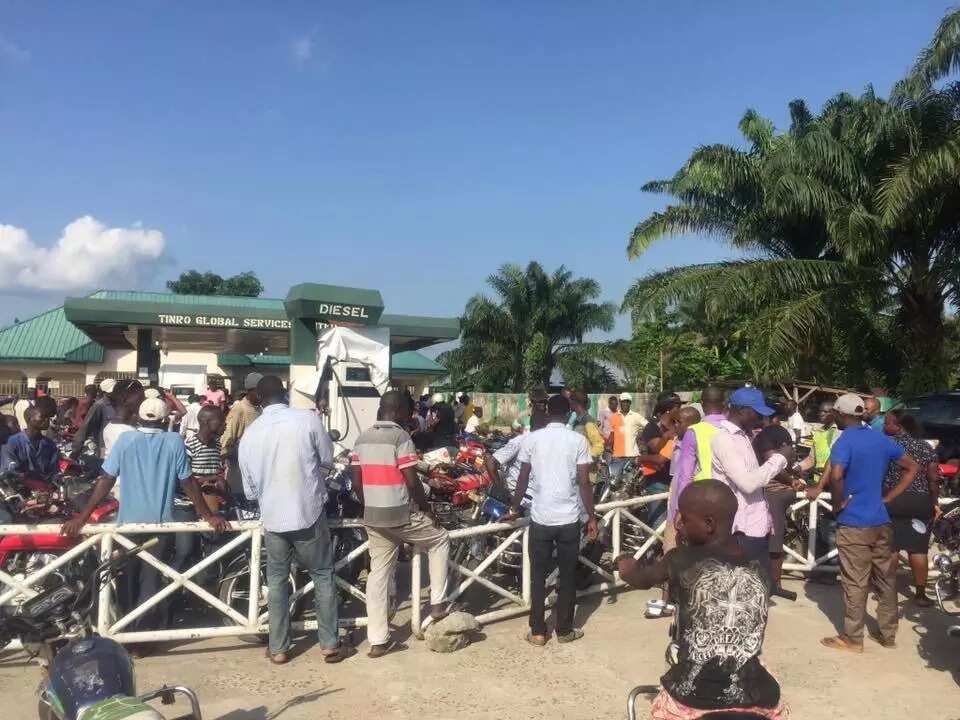 Okada riding has been one of the biggest business sustaining youths in major towns and villages in Nigeria. Youths of all ages are involved in the business of okada riding. On daily basis, youths are getting into the business and are making a living for themselves. This is so because governments across the country have been unable to provide jobs for graduates who are yearly being churned from the Nigerian higher institutions.
Okada riders appeared in the late 1980s, during an economic downturn in Nigeria. Jobless youths began to use motorcycles to earn money by transporting passengers on narrow or poorly maintained roads to faraway cities and villages. This type of transportation quickly became popular, and acceptance of it has increased steadily across the country.
Vice chairman of okada riders association in Ozoro, Comrade Emmanuel Omobuaro, has much to say about okada riding in Ozoro town. Legit.ng specifically chose this town in Delta because of the number of motorcycles in the community and the fact that it is a polytechnic town.
READ ALSO: Osinbajo delivers powerful speech to Igbo leaders
Omobuaro said the association has a total of 2700 registered okad riders in the Isoko north local government area of the state. And for the fact that Ozoro is the major town, the polytechnic town is heavily packed with okada riders.
For him, the okada riders in the town are doing very well. The members have a cooperative where they give loans to any of their members in need of money for any development purpose. He said if any of their members is interested in furthering his education, they render assistance to such a one as a union.
He said the members make money for their livelihood. Answering a question on whether his members make money, he said: "That question is even funny, can you do one work today, tomorrow and next tomorrow when you are not making money from it? As far as they remain in the business, they are making money from it.
"Some are married with children, they train themselves in school and also train their children. Yes, many of them are married. And many of them are students also, we help them and they also help themselves.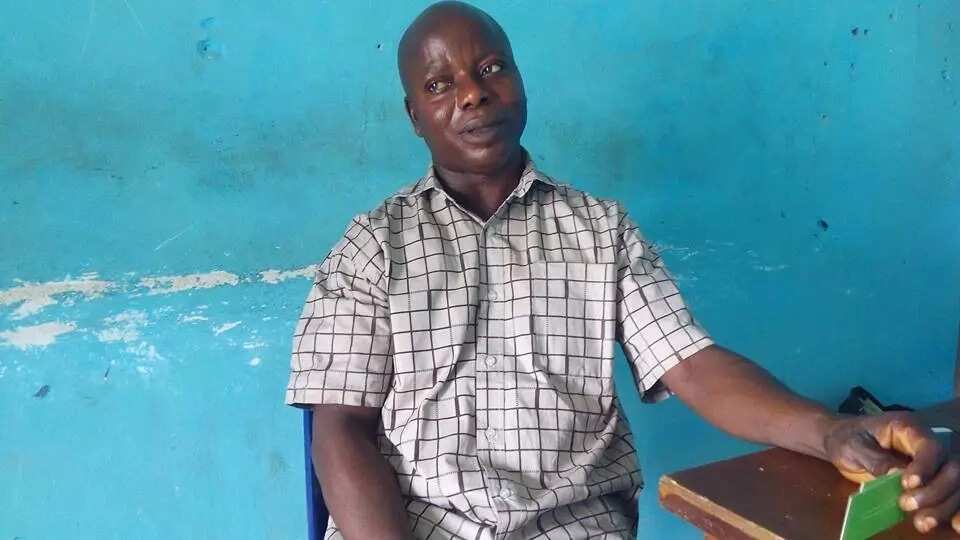 "If you take statistics of the riders, some of them are graduates, some are undergraduates, some train themselves with the money they raise from riding okada. Some are family men, they equally take care of their families from the money they make."
He said many of the graduates are riding okada because there is no job in town. "When there is no job, what would they do? Some are graduates from Delta state university, Abraka; Delta state polytechnic, Ozoro and Ogwashi Uku. They see it better than going into criminal activities to make a living."
However, he said some of them are still looking for job. He said about 30 of them were employed when President Muhammadu Buhari launched the N-Power programme last year. He said they support their families with the money they are paid from the project. He added that they support the pay from the N-Power project with some riding after closing from school as part time teachers.
He said though the members are not totally comfortable with okada riding, he said: "Okada riding is the last hope for a poor man or someone who has no helper. When there is no other hope, when you don't have a big man to fix you into any company or government work, you will fall back to okada riding."
Omobuaro told Legit.ng that okada riding is helping the town seriously. In area of transportation, there is no town service in Ozoro, okada is the only means of transport within the town. He listed various communities where the only means of transportation is okada, adding that it has made movement easy and faster for the people in the local council area.
The presence of the polytechnic has aided the growth of the okada business in the town. Omobuaro said: "With this polytechnic, any business you are doing, there is a ready market for it. The population of the polytechnic is seriously helping Ozoro to move. Ozoro was not like this before. But as soon as the polytechnic came in, the business life began to grow."
READ ALSO: Kidnapper Evans once stabbed his fiancee for refusing to marry him
But the presence of the polytechnic has a negative effect on the Ozoro community. As business life booms in the community, the rate of crime is growing in the area. There are reports of motorcycles being robbed from riders at flash point areas in the town. Legit.ng learnt that those flashpoint areas okada riders cannot go and come back with their motorcycles especially between 7 to 9pm.
However, the allegation that okada riders are aiding crime with okada riding in the town did not go down well with the motorcycle riders. To them, though there is crime in the town, it is not the handiwork of okada riders. Mr. Ajiri Atubi, another okada rider argued that from creation there was crime in society.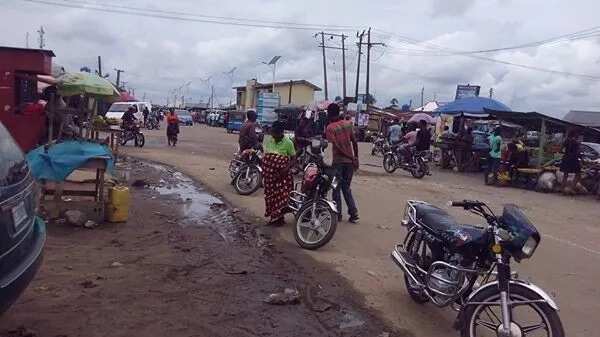 Justifying the existence of crime in the society, Atubi said anywhere there is multitude of people, there must be crime, adding that with the help of security, they are able to control the town to a great extent. "I cannot deny the fact that the poly has contributed to crime rate in the town. But that is part of society," he said.
Answering a question on okada being used for robbery, Atubi said it is not okada riders that use okada to steal. Although he agreed that that is what people say, he disagreed with the fact that okada riders use okada to steal. Rather he said from the beginning, the means of robbery on the highway is vehicles and not okada.
"No, okada does not bring crime, it is individuals. The highest criminals in this area use vehicles to rob, not motorcycles. People are not blaming vehicles for bringing crime, how will they now say it is okada that brings crime.
"Some people will collect the machine and use it to rob, they take vehicle and use it to rob. So, it is not okada riders that are using it for robbery. It is armed robbers on their own.
"If you have the spirit of armed robbery, you cannot do okada riding. So, the serious people that are doing okada are not armed robbers. Because they see armed robbery before they opted for okada riding.
"As I said earlier, okada business is the last hope of the common man. Anybody engaging in okada riding is a very humble person. He is a person that is ready to tolerate.
PAY ATTENTION: install our latest app for Android, read best news on Nigeria's #1 news app
"If not, the embarrassment that follows okada riding, if you are not God fearing, the insults and everything that follows it, you will not do it. So if anybody tagging okada riders as criminals, I disagree.
"The armed robbers are also robbing us. For the last few weeks, they have taken four motorcycles from our members. They shot one of our members and took away his machine. Those people are not okada, so okada is not causing any crime."
Omobuaro advised okada riders to plan for their future. He said okada riders should make good use of their youthful days to prepare for the raining days. His advice is not unconnected with the belief that at old age, they cannot drive okada again.
"I told them that when you are young, okada may be comfortable for you to do. But like me I'm over 50 years, I have motorcycles but for me to ride I cannot do it again, because if I ride the machine for three hours, all my body will be paining me.
"I have about four machine that I gave out to my boys they ride and settle me. So, it is good to look for alternative. Okada riding is not a life time business." He called on government to assist members to raise their standard of living. He appealed for provision of more motorcycles to aid their business and also provide security in the community to ward off robbers who attack and collect their motorcycles from them.
Meanwhile, a Nigerian war veteran has said he was 21 years when he joined the Biafran army. Watch his confession on Legit.ng TV
Source: Legit.ng