Osinbajo slams National Assembly for 'injecting' projects into 2017 budget
- A day after signing the 2017 budget, Acting President Yemi Osinbajo is raising alarm over the insertion of some projects by the National Assembly
- Osinbajo also noted that it was disappointing for the National Assembly to delay the budget till May 2017, almost half of the year
Nigeria's acting president, Yemi Osinbajo, has slammed the National Assembly accusing the legislators of injecting projects into the 2017 budget.
Osinbajo, who expressed disappointment at the National Assembly members for this alleged act of illegality, said the nation's lawmakers do not have such rights.
Legit.ng learnt that the acting president, who spoke a day after signing the budget, said the National Assembly does not also have any right to modify projects contained in an appropriation bill.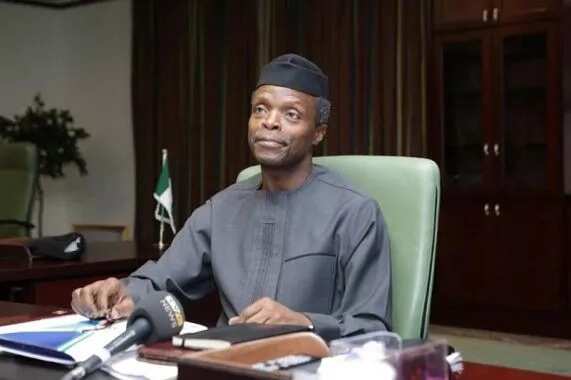 Osinbajo, who spoke at the Old Banquet Hall of the Aso Rock Presidential Villa in Abuja while flagging off the 2018 budget preparation process, wondered why the legislators had to delay the passing of the budget till almost half of the year.
"I am sure that we understand not just how to do it right, but to get it done in good time.
READ ALSO: 8 major requirements of the FG's N-Power programme
"This last budget, the president presented it last December. Despite the assurances that it will be passed in by February, it was not until May.
"As it turned out, we were quite disappointed that it spent a bit of time before it was approved. And thereafter, we had to go into negotiations with the National Assembly in order to get it right.
"Now, there are these two broad issues about who can do what. The first report is about who can do what. When you present budget to the National Assembly, it is presented as a bill, an appropriation bill.
"And secondly, do not introduce entirely new projects and all of that or modify projects. This is something that we experienced last year and this year again. It now leaves the question about who is supposed to do what," he said.
Reacting to Osinbajo's allegation, the spokesperson of the Senate, Aliyu Sabi Abdullahi, reportedly declined comment.
PAY ATTENTION: Read the news on Nigeria's #1 new app
Daily Trust however quoted a ranking member of the Senate as saying: "I don't see any reason for this, there is an agreement on the budget and that is why the issue of virement came on board. Let them vire any project they don't want to execute.
"As you know it is the constitutional right of the National Assembly to appropriate funds for the welfare and development of the country. You cannot take away this right."
Legit.ng had reported earlier in the week that Yemi Osinbajo, Nigeria's acting president, finally signed the 2017 appropriation budget into law after months of delay.
The acting president signed the bill into law in Abuja today Monday, June 12, in place of Buhari.
Present at the signing of the budget was Bukola Saraki, president of the Senate, his counterpart in the Federal House of Representatives, Yakubu Dogara and a host of others top government officials.
Watch this video of a march against bad governance in Nigeria carried out by Charles Oputa:
Source: Legit.ng