Nigerian soldiers warned again as economy bites hard
- David Ahmadu spoke with graduates of the direct short service course 23 of Nigeria Army School of infantry Jaji in Kaduna state
- Ahmadu noted that times are hard in the country but added that the federal government was working to stem the tide
The chief of training and operation of the Army headquarters, David Ahmadu, has reportedly warned soldiers against adopting desperate measures just to beat the current economic crisis in the country.
The Cable reports that Ahmadu gave the warning at the graduation regimental dinner for direct short service course 23 of Nigeria Army School of infantry Jaji in Kaduna state.
According to the report, Ahmadu noted that the economic crisis was only temporary and would soon be surmounted by the government.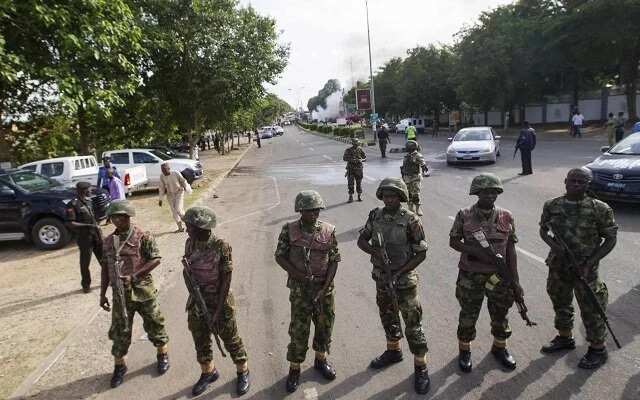 He said: "As the economic reforms progress, our country is bound to witness falling living standard for the majority of the population in the short term. The armed forces cannot be an exception.
READ ALSO: Presidency reveals why Osinbajo postponed budget signing
"Hardship occasioned by the economic reforms may drive some personnel to adopt desperate measures to sustain their livelihood.
"It is your task to identify the desperate personnel, counsel them and if it is not possible to change them, show them the way out of the system before they harm the institution."
He reminded them to be mindful of the rule of law and guide against human rights abuses.
"Your generation will find that its conduct of military operations including training will become increasingly subject to questions of human right and the rule of law," he said.
"Higher standards will now be demanded of your troops to act with greater restraint even in the face of obvious provocation.
PAY ATTENTION: Read the news on Nigeria's #1 new app
"You must learn media management skills, which will enable you exploit the growing power of the mass media rather than trying to fight it.
"You will now find, unlike before, that an obscure action of a soldier, under you could redefine the entire perception and character of your operation because the media will define it for you," he reportedly told them.
Meanwhile, Legit.ng had earlier reported that the national leader of the All Progressives Congress (APC), Asiwaju Bola Tinubu has spoken on the rumours of military coup in Nigeria.
The former Lagos state governor made the comment on Monday, May 22, at the special parliamentary session to mark Lagos at 50 celebration at the Lagos state House of Assembly.
Watch this video of the agitation for Biafra by a section of the country:
Source: Legit.ng