Army arrests 3 top Boko Haram leaders in Niger state
- Three leaders of the Boko Haram sect, have been arrested in Niger state
- The jihadists were apprehended following a raid by the Nigerian army
- The raid was carried out at a Boko Haram cell in Mokwa axis of the state
- One of the Islamist arrested is said to be the mastermind behind the kidnapping of late elder statesman, Alhaji Shettima Ali Monguno
The Nigerian Army said it raided a Boko Haram cell at Mokwa and its environs in Niger state.
According to army spokesman on Brig Gen Sani Usman, the raid which took place on Thursday, May 25, saw to the arrest of 3 leaders of the terrorist group.
The army spokesman disclosed in a statement on Friday, that the suspects are: Mustapha Muhammed (Adam Bitri), Ali Saleh and Uba Mohammed.
READ ALSO: Former governor of Enugu state attacks Senator Ekweremadu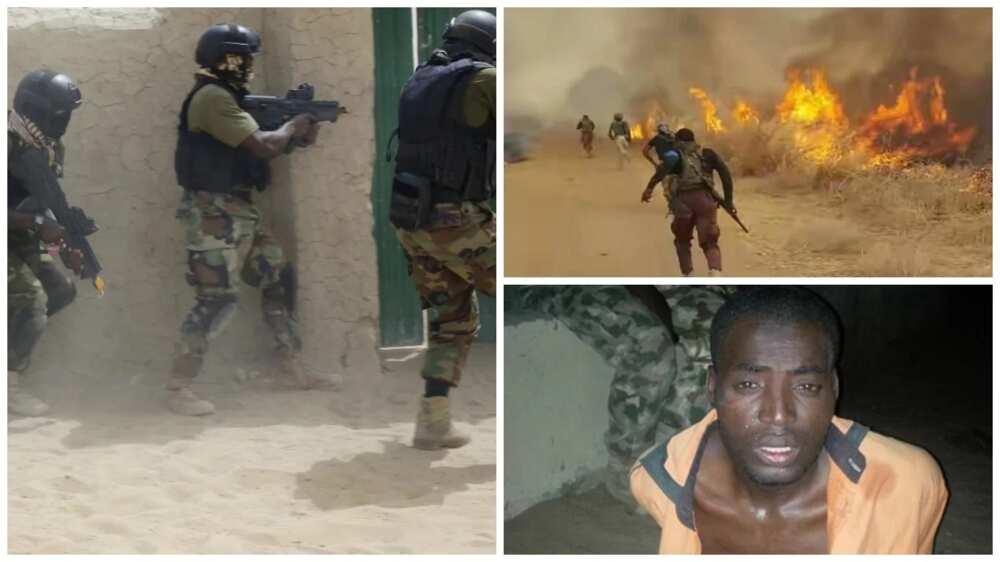 Usman said that they were picked up at their hideout at Gidan Mai village on Mokwa-Tegina road.
"Preliminary investigation has confirmed that one of the terrorists, Mustapha Muhammed (Adam Bitri), along with one Bakura (at large), was among the group of the Boko Haram terrorists that kidnapped the late elder statesman, Alhaji Shettima Ali Monguno, in Maiduguri on May 13, 2013.
"Items recovered from them include Automated Teller Machines debit cards, Voter Registration cards, National Identity Cards, various mobile telephones and bank tellers, among other items.
"The terrorists are currently being further interrogated," Usman informed.
Meanwhile, eleven farmers have been killed in Amarwa village in Konduga LGA, after Boko Haram insurgents reportedly stormed the village in search of food.
Legit.ng learnt that the village, which was about 16 kilometers away from Maiduguri metropolis was very close to Alau Dam which was heavily guarded but no help came from there during the attack.
According to a report by Nigerian Tribune, an eyewitness, who preferred to be anonymous said: "They killed eleven of our people Saturday afternoon in Amarwa village in Konduga LGA 16 kilometers away from Maiduguri metropolis.
"Nine Boko Haram insurgents drove into our village on motorcycles to unleash their wickedness. But by the time they finished their show of strength 11 of our farmers working in their farms were killed.
PAY ATTENTION: Read the news on Nigeria's #1 new app
We have informed bereaved families including Ali Umaru that lost a brother in-law.
"Those killed were said to have gone to clear their farms in preparatory for this year's farming season with the assurance from political authorities that they can really farm big time this year since the first rain has already fallen."
According to the villagers the insurgents are still visible around Kajiri village of Konduga LGA which is about two kilometers from the location of the alleged murders and eighteen kilometers from Maiduguri.
The villagers believed the insurgents might have become more emboldened by the recent exchange of their commanders for Chibok girls by the Nigerian government.
Below is a Legit.ng video in which Nigerian's react to fake news over President Buhari's health and the speculations of an imminent military takeover.
Source: Legit.ng