The young officers who started the Nigerian-Biafra war were naive - Obasanjo
- Chief Olusegun Obasanjo has labelled as naive, late Odumegwu Ojukwu's drive towards the Biafra war
- Obasanjo made the assertion at the maiden edition of the "Memory and Nation Building, Biafra: 50 Years After"
- The ex-president says the young officers who started the 1967 war were unguarded
Former president Olusegun Obasanjo has said that the officers who started the 1967 Nigerian-Biafra civil war were all naive.
Speaking at the maiden edition of the "Memory and Nation Building, Biafra: 50 Years After", the former president said the young officers who started the 1967 war were naive and never had an understanding of what they were going into.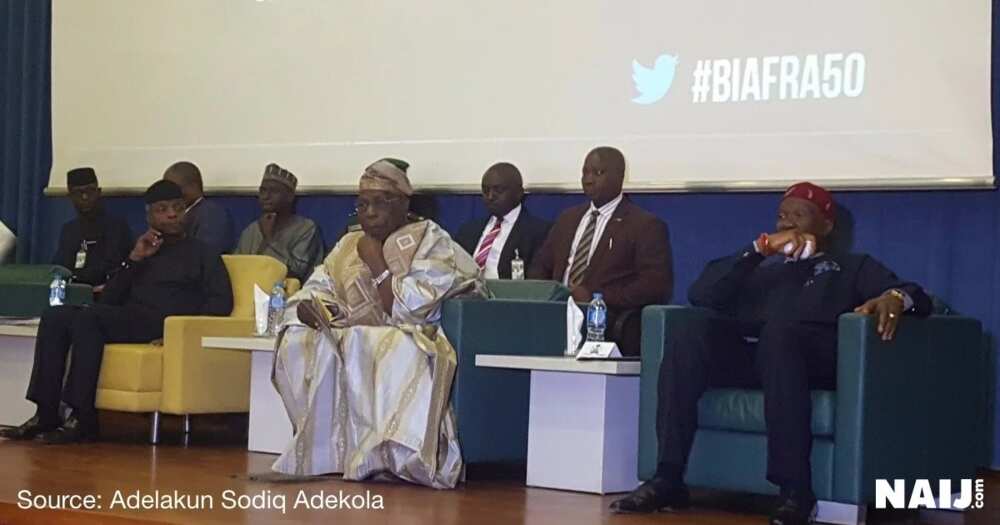 "Although there were some nationalism in some of them. And that is what has kept us where we currently are," Obasanjo said.
He further condemned remarks by some of Nigerian leaders who are bent on planting hatred in the hearts of the Nigerian populace.
"We really never had a national leader, we had three leaders at the beginning of our journey as a nation who are mindful of their regions. That is our problem. When you listen to our leaders they talk about freedom and their region but never unity," he said.
Obasanjo said all the officer who participated in the war never saw themselves as enemies.
PAY ATTENTION: Read the news on Nigeria's #1 news app
"We saw our brothers on the other side as rebels, we never called ourselves enemies. Right from the beginning of the war, reconciliation was on the federal's mind," he noted.
He said all the standard rule of engagement was observed during the civil war with the aim of reconciling with the aggrieved party.
"We had special code of conduct, foreign observers, we had people who had power to report authoritatively and power to even investigate.
"I have said it before, civil war is more difficult to fight that fight a foreign nation or exterminate.
"We wanted to preserve our nation, reconciliation was on our mind," Obasanjo added.
The Acting President Yemi Osinbajo, former president of Nigeria Olusegun Obasanjo and many others are currently seated at the Shehu Musa Yar'adua Centre in Abuja to discuss the Nigerian-Biafra civil war after 50 years.
Also seated for the debate is the president of Ohanaeze Ndigbo John Nnia-Nwodo, Pat Utomi and Dr Oby Ezekwesili.
The chairman of the occasion is the former permanent secretary for the ministry of information, education and industry, Mohammed Joda.
Speaking at the event, Innocent Chukwuma of Ford Foundation - the co-organizers with Shehu Musa Yar'adua Foundation said the event was the first of its kind.
Below is a Legit.ng video in which Nigerians react to the possibility of a military takeover in Nigeria.
Source: Legit.ng