Obasanjo's wife reveals the main reason she did not attend her son's wedding (photos)
- The wife of Chief Olusegun Obasanjo, Taiwo Obasanjo, has opened up on her absence at her son's grand wedding in Lagos
- The wife of the former president missed out on her first and only son's wedding ceremony because of the dust she raised towards the son's wedding
The wedding solemnization between former president Olusegun Obasanjo's son and his beau, Tope Adebutu, was held on Saturday, May 13. Interestingly, the mother of the groom, Taiwo Obasanjo, who had fought wildly for the wedding not to take place was absent.
Taiwo who is hale and hearty deliberately missed out on the wedding as her efforts to stop the wedding from taking place proved abortive.
Legit.ng gathered that the mother of the groom did not take part in the wedding ceremony as she said the former president and his new in-laws had evil plans they wanted to launch that day.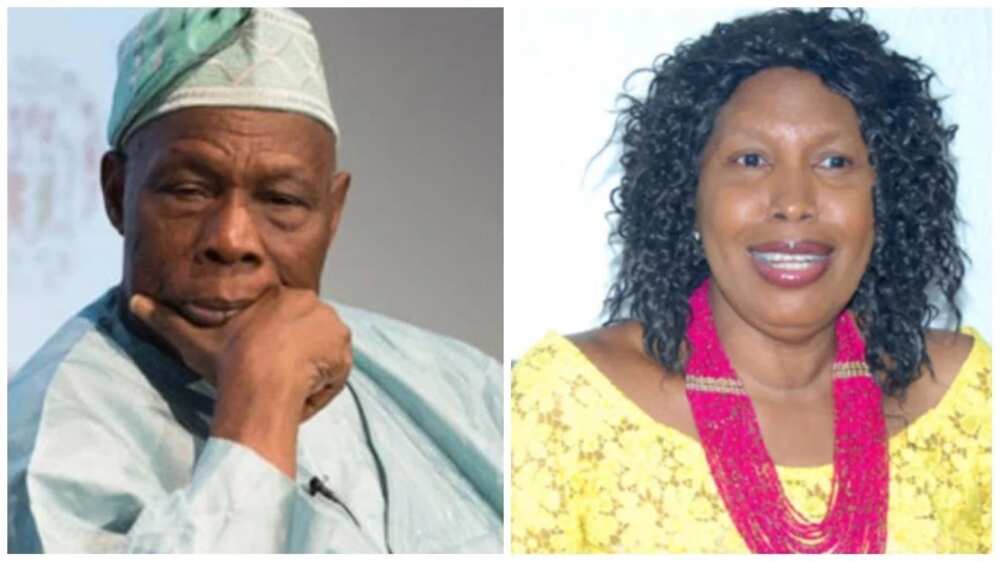 READ ALSO: These guys don't seem to care about what's on their T-shirts
Obasanjo's wife was asked why she did not make effort to stop the wedding from taking place with her physical presence on the set date. She said she could have carried placards and set up drummers to disrupt the wedding ceremony as she had earlier planned but she said she was asked not to take the measure.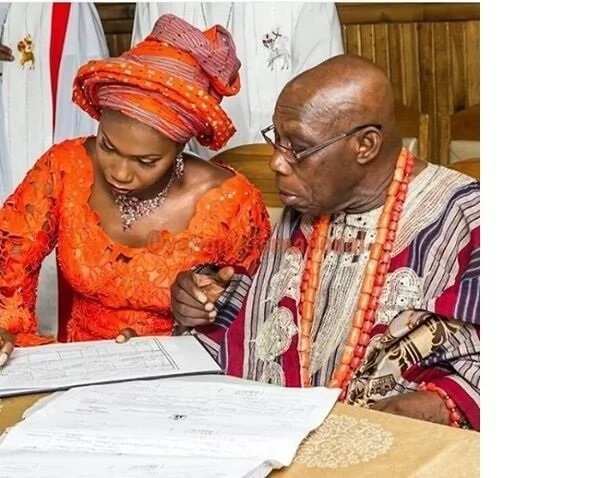 "No, everyone has been calling me across the nation even from outside the country. Important people, men of God have been calling me to drop the protest."
Mrs Obasanjo who is a mother of two was also asked what she plans doing next as the wedding has taken place despite her cries and pleas. Her request for a court order to cancel the wedding was also turned down.
"I plan to take it to God. I am a prayerful woman. I am a project of the living God."
The wife of the Nigerian leader was represented at the wedding by her daughter. She was asked why she took such a decision as no one can really take the place of the groom's mother when she is alive and hearty. Again, she responded by saying, "The Lord did not tell me to go."
Men of God had pleaded with her to go but she preferred to listen to the voice of God instead. Upon being asked if her son would hold it against her for being absent at his wedding, she aired her opinion on his stand and hers.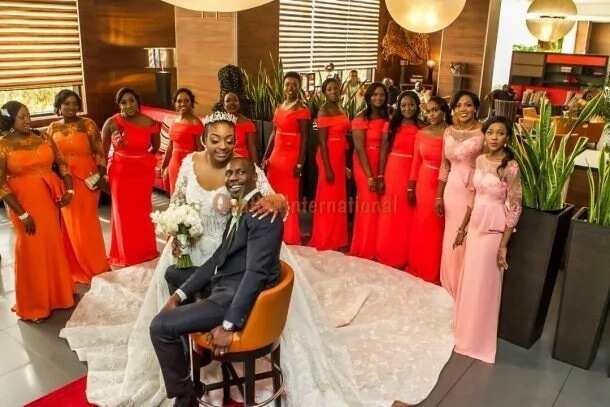 "My son has decided to defy the warning of the almighty God. Who should be obeyed? Is it me, or he or the people that are forcing him that he must do the wedding by fire by force?"
Mrs Obasanjo clarified some issue relating to her son being in a fix as to who to obey with the wedding being planned. The ever poised woman then stated what he could have done even though he failed to do so.
READ ALSO: Chief Gabriel Igbinedion poses beside his N83m Rolls Royce Phantom (photos)
"What is dilemma to a man of 34 and why the desperation when June 1 is just around the corner? Can't he use his brain to say let me stick to the warning of God? The Lord says don't engage in any noisemaking until after June 1, 2017. It is not that he should not get married. The instruction is that any marriage he is going to do before June 1 must be done quietly. Who is he supposed to honour? Is it his father or God? This is not a wedding, it is a demonic gathering."
What do you think about all these? Tell us in the comment section.
Meanwhile, the Legit.ng video below shows how some Nigerians reacted upon being asked if there is any big deal in their partners checking their phones and reading their messages:
Source: Legit.ng