Life has no limits - Nigerian who graduated best from Lincoln University
- A Nigerian has emerged best graduating student from the Lincoln University in Pennsylvanian
- Victor Pere made a straight A average in computer science from the university
- He hails from Igbedi in Bayelsa state
A Nigerian from Igbedi in Bayelsa state has emerged the best graduating student from the Lincoln University in Pennysylvania.
Victor Pere made a straight A average in computer science from the university.
Speaking at the 158th graduation ceremony, the star boy said there is no limit in life to what any individual wants to achieve.
"Life as we know it has no limits," Pere said.
READ ALSO: Finally! Soldiers arrest notorious Boko Haram leader known as 'pepper' (Photo)
Pere said although he had challenged of late fee payment, he never allowed such issues blur his vision towards achieving his focus in life.
He also informed his classmates that he love his school and has learnt that people create their own future and jobs.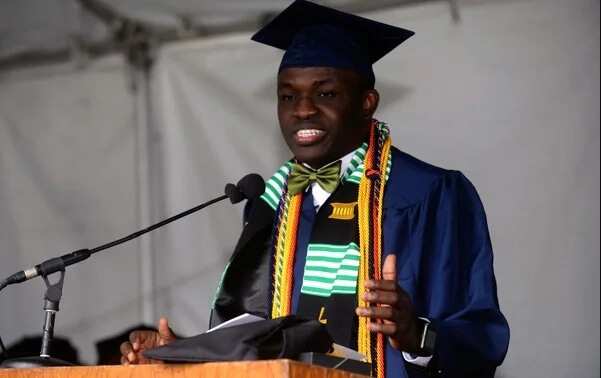 Pere said: "It is one thing to dream and another to achieve. I loved the Lincoln experience," he said.
READ ALSO: Doctor allegedly sneaks out after woman died during delivery at Lagos hospital
"Leave a legacy behind just like the ones you met, but even greater than that, discover yourself," he added.
Likening his life to that of the biblical Joseph, Pere said: "It was the life of a dreamer. One who knew where he would be, but had no idea what the process would look like."
"There are people who have sacrificed beyond measure to make sure we are better than they are now. There are those whose dream is that you be something. That is enough motivation to continue on your dreams and to continue with the fire and passion for it," the fresh graduate said.
The event was attended by over 400 fresh graduates.
READ ALSO: 11 crucial facts about Buhari's corruption war - Saraki
The first president of Nigeria late Nnamdi Azikiwe attended the Lincoln University which was founded in 1854 as America's first degree-granting historically black college and university.
The institution was originally chartered as Ashmun Institute but was renamed Lincoln University in 1866 in honor of president Abraham Lincoln.
Watch this Legit.ng video of Nigerians lamenting JAMB registration hassles below:
Source: Legit.ng