Nigerian mother cries out after surgery leaves her daughter with large facial scars (photo)
- A Nigerian woman has taken her case to the social media after a surgery left her daughter with large facial scars
- The lady said the doctor told her it was a simple procedure as she did not expect this development
A Nigerian lady identified as God's pikin on Twitter has shared her issue with the world after a doctor operated her daughter and left her with a large facial scar.
Legit.ng gathered that the little child was suffering from capillary hemangioma which the mother described to be a collection of bad blood cells. She also revealed that it was not malignant as the doctor had told her it was a simple procedure.
The woman said Lifeline children hospital in Surulere did a terrible surgery for her daughter as she asked people for help on the issue.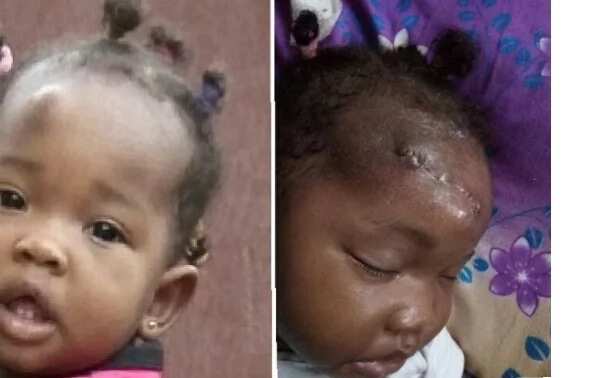 It was gathered that the doctor had spoken with her before the surgery where he told her he was going to be reasonable with the cut on the swelling as the child is a female. This made the unsuspecting mother sign the consent form only for her to see the extent of the damage done on her child.
READ ALSO: Final year student of University of Maiduguri dies after brief illness
Afterwards, the doctor did not brief her or tell her how the surgery went. It was until the spot was opened for dressing that she knew how far he had gone.
In response to her claims, a Twitter user identified as Dr Giroud Otitoju said the doctor might have made a wide circumferential or lenticular dissection to avoid the tumor and bleeding. This according to the man was perhaps, the doctor's way of totally removing what was in there.
He tried calming the young woman by telling her that scarring is a known complication with hemangiomas as it often grows into the orbit, ears and skull from the forehead.
Check out some of the posted tweets below:
READ ALSO: Meet 1 meter pantomime dwarf who was elected Britain's shortest politician
He concluded by saying the woman should not subject the doctor to any form of ridicule on the social media page by calling him a quack as no one knew if he did the right thing or not in that situation.
Watch the Legit.ng video below to see how broken this Nigerian woman is after losing her 16-year-old son to cultists:
Source: Legit.ng