Biafra pressure: FG clampdown on our members will not stop our anniversary - MASSOB
- MASSOB says the FG is clamping down on its members
- The pro-Biafra group says the FG's moves are not under the rule of law
- The group however, says that the clampdown will not stop the forthcoming Biafra anniversary
Movement for the Actualization of Sovereign State of Biafra, MASSOB, has decried the renewed clampdown on its members by the police in Aba, Abia state.
MASSOB however, says that the clampdown will not stop the celebration of the 17th anniversary of the hoisting of the Biafra flag in the city on May 22.
Legit.ng gathered that MASSOB/BIM founder, Chief Ralph Uwazuruike, had hoisted the Biafra flag at a location along Faulks Road, Aba, on May 22, 2000.
Briefing newsmen in Aba, MASSOB leader, Abia South zone, Mr Okporie Nkama, disclosed that activities had been lined up for a hitch free anniversary celebration.
Okporie said all flags will fly at half mast across the city and other Biafran territories, while residents are urged to go about their businesses without fear of molestation.
Vanguard reports that he lamented that police had, last week, arrested three members of the group at a location in the city and called for their release to enable them participate in the anniversary celebrations.
READ ALSO: Biafra: MASSOB 'knocks' FFK, Akinrinade, urges Ndigbo not to be fooled by Yorubas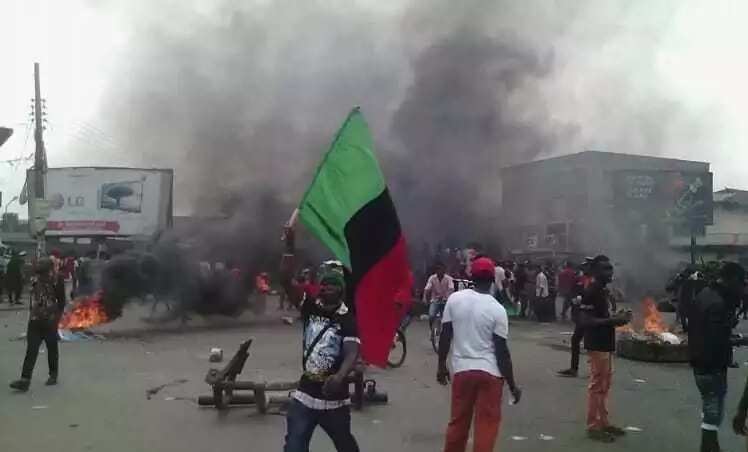 Okporie gave the names of the arrested MASSOB members as Fidelis Anidobi, Ifeanyichukwu Umeizunna and Clement Izunwanne, whom he said, have been languishing in police detention without committing any offence.
He said: "The renewed clampdown on MASSOB members in Aba will not stop us from marking our anniversary in the city.
It might interest you to know that the police have embarked on a secret clampdown on our members. These people did not commit any offence, nothing was found on them, yet they have been in detention for about 3 weeks now."
"We remain committed to the non violent approach adopted by our leader, Chief Ralph Uwazuruike and urge the Police authorities to release our members unconditionally.
Let them know that nobody can intimidate MASSOB into abandoning our struggle for the actualization of an independent state of Biafra.
"We congratulate all members of MASSOB/BIM for not hurting anybody in the past 17 years of this struggle despite the killings and harassment from the Nigerian security agents.
We will also like to appreciate all Biafrans in Abia South mostly Aba traders, artisans and professional bodies including the media for their contributions in making this non violent struggle of MASSOB/BIM a reality."
Meanwhile the release of Nnamdi Knau the leader of the Indigenous People of Biafra (IPOB), has casued Nigerians to ponder over the actualisation of the Biafra agenda.
Below is a video in which some people talked to Legit.ng, about what they feel Kanu's release means to them.
Source: Legit.ng