- Fayose says President Buhari should go and take care of himself and put Vice President Osinbajo in his place
- The Ekiti governor says Nigerians will only believe the president is doing fine when he comes to address them and they hear his voice and see him physically
- Fayose said the president's absence is not good for the image of a country like Nigeria that is struggling to get out of economic recession
Ekiti state governor Ayodele Fayose, a top critic of the Nigerian presidency, has again lashed out at President Muhammadu Buhari over his style of administration.
The Punch reports that Fayose accused President Buhari of having become a part-time and ceremonial President who is only seen during the Friday Jumat service at the Presidential Villa.
READ ALSO: Emir of Kano Sanusi under probe over questionable expenses in his council
Fayose said this on Sunday, April 23 in a statement released through his special assistant on public communications and new media Lere Olayinka.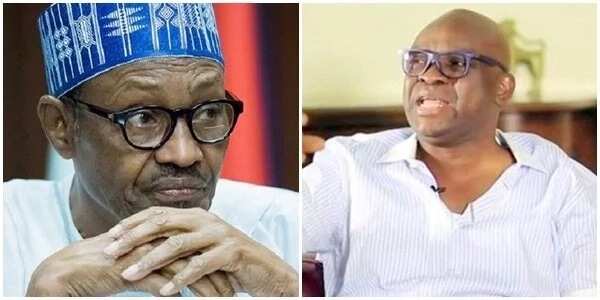 The governor noted that it has become necessary for Nigerians to be properly informed about the well-being of their President while he should go and take care of his health and allow the Vice-President, Yemi Osinbajo, to constitutionally act as the President.
"But it is doubtful if those cabals that are obviously running their own Presidency within President Buhari's Presidency will allow him to take a long vacation, probably outside Nigeria to take care of himself," Fayose said.
He added: "That's why Nigerians are told every day that the President said this and that with the President neither speaking directly nor attending any official function. This is not good for the image of a country like Nigeria that is struggling to get out of economic recession."
READ ALSO: Presidency begins search for new SGF
Fayose also claimed that Nigerians will only believe the president is doing well and acting part-time when they hear his voice and see him physically.
"It is only when the President is seen and heard physically that Nigerians will believe that they are not being ruled by a part-time and ceremonial President, whose powers are being exercised on his behalf by some cabal," he said.
Legit.ng recalls that President was seen publicly for the second time in about two weeks at the Juma'at prayer service on Friday, April 21.
Also at the service was acting Economic and Financial Crimes Commission boss Ibrahim Magu, who put in a surprise appearance.
Watch this Legit.ng TV video of Nigerians making comparisons on who is a better leader between President Buhari and Vice President Professor Osinbajo.