Strange creature that changes from human to animal captured by a farmer in Ghana (photos)
In a post which is fast going viral on social media, a strange creature which was captured by a Ghanaian farmer as fast becoming a sensation, leaving many wondering how possible this is.
The story was shared by a member of the National Service personnel, Agric Department, Sikah Bersah. The office is located at Denu-Tokor, Ketu South Municipality, Volta Region, Ghana.
READ ALSO: Bishop Tom Samson spotted with his luxurious Hummer Limousine in Lagos (photos)
Legit.ng gathered that Bersah posted several pictures of the young boy with the caption: "THE DANGEROUS CREATURE CAPTURED BY A FARMER AT AFIFE, VOLTA REGION. It has been a week now when residents and farmers within Ketu South Municipality and its neighbours have been experiencing terrifying moments both day and night.
There was this creature that camouflage into either pig, guinea pig, or any other wild animal and enter kraal, pen or other dwellings of animals and devour the ordinary pig, sheep, cow, chicken and other animal it chance on by eating the intestines, lever, heart and other delicate part, leaving the remains and disappear thereof. This creature sometimes after turning into a pig do chase people at night and when they run into their rooms, it do try to break their doors to chance on them for its prey but when alarm is been raised by those victims, it disappears abruptly.These terrifying occurrence have been disturbing the inhabitants of the Municipality but no one could help halt the menace until this afternoon(Friday 21st April, 2017) when a hunter who was on his hunting expedition unexpectedly saw the creature in a human like form and suddenly turned into a wild animal , on the process of shooting it, it quickly developed wings and flew to AFIFE, a nearby community where it met an old man in his farm trying to devour him for its prey but unfortunately on its part fail when the man chanted severally, making reference to the forefathers protective magic. The creature camouflage into human being, a male of course and became unmovable in the farm until the man went home (AFIFE). The man narrated the ordeal to the town folks and selected some youth provided them with some magical herbs to serve as protection and sent them to the farm and bring the human like creature home.
READ ALSO: I touched the bride's tummy so she won't have kids – Evil woman confesses (photo, video)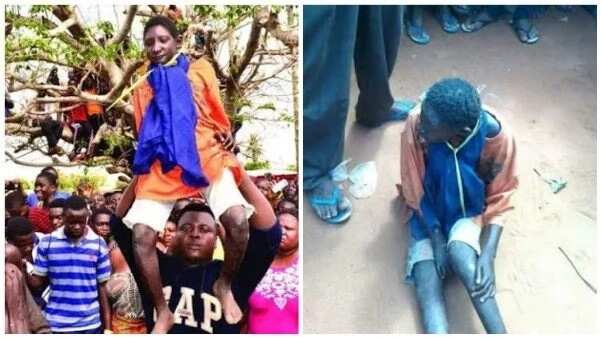 Upon their arrival the creature started turning into half human and half duck , short man and latter on normal human being. No camera could capture it/him until police officers arrived and were able to capture it with their camera when it became human being finally but couldn't speak. The people of Ketu South Municipality and its neighbourhood can now have their peace at night and day."
SOURCE: yen.com.gh
Watch video of the hardship albinos face below:
Source: Legit.ng