Kanu freed: 12 Nigerian states Biafra agitators want (SEE FULL LIST)
The Biafran struggle has been on the minds of many Nigerians recently. This is partly because Nnamdi Kanu, the director of Radio Biafra was released on Friday has kept the struggle up, despite his detention by the Nigerian government.
The question, what do Biafrans really want is one many have asked. The map of states the Biafrans want includes the former Eastern region of Nigeria, which was inhabited principally by Igbo people.
Biafra has been commonly divided into four main sections: the Igbos, the Ibibio-Efiks, the Ijaws and the Ogojas.
If the Biafran agitation is a success, below are the states that will stop being in Nigeria: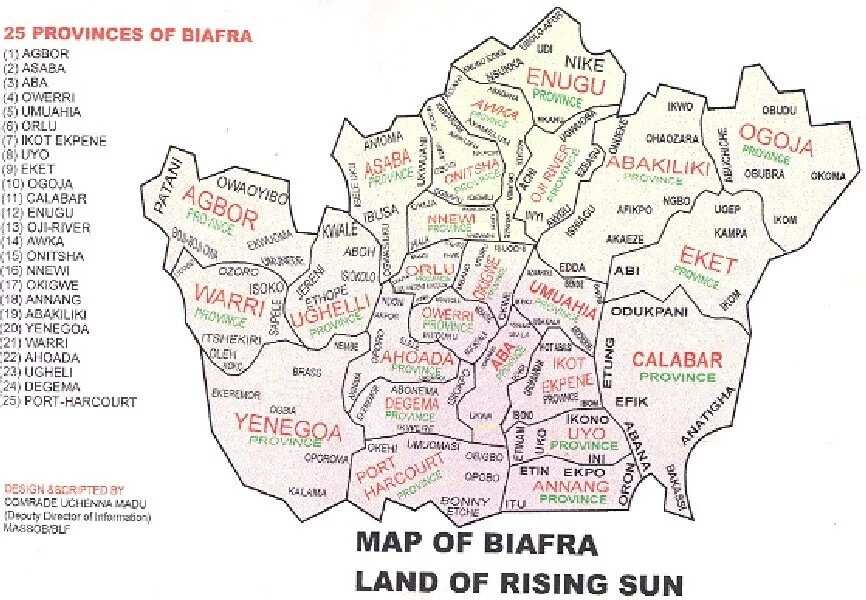 READ ALSO: Check out Nigerian territories on Scottish pound - But could this be real? (photos)
These are the states that will leave Nigeria:
1. Abia
2. Anambra
3. Akwa Ibom
4. Bayelsa
5. Enugu
6. Ebonyi
7. Imo
8. Delta
9. Rivers
10. Cross River
11. Igbanke in Edo
12. Southern part of Benue state
READ ALSO: BREAKING: Southern Cameroon joins Biafra, pledges support for IPOB
Meanwhile, world acclaimed Nigerian novelist, nonfiction writer and short story writer, Chimamanda Ngozi Adichie is to lead team of scholars to Washington where a discuss boardering over Biafra will take central stage.
The writer whose words on the the issues surrounding feminism has a global attention, would be the keynote speaker at a conference tagged: " Remembering Biafra", scheduled to hold at the The George Washington University in DC.
George Washington University's "Remembering Biafra" conference will bring together scholars, activists, and humanitarians to examine the global impact of the Nigeria-Biafra War of 1967-70.
Legit.ng recently produced a video on war machines used during the Biafra war:
Source: Legit Nigeria