Biafra Issue: There is no going back on May 30, says IPOB cordinator
- The People of Biafra will sit at home on Tuesfday, May 30, says Mr George Onyeibe
- Onyeibe says there would be no economic activity in "Igboland" on the specified date
- The National Coordinator of the Indigenous People of Biafra (IPOB), says the action is non-negotiable
George Onyeibe, the National Coordinator of the Indigenous People of Biafra (IPOB), has said that nothing can stop the sit at home order that has been scheduled for Tuesday, May 30.
Onyeibe made the statement on Tuesday, April 11, while speaking to newsmen in Owerri, alongside representatives of IPOB.
He also alleged that the use of Sharia law to try their detained leader, Nnamdi Kanu, would not be accepted by them, adding that it was a ploy by the Federal government to "Islamize" the country.
The IPOB chief said: "The right for self determination is bestowed on man by God as it is backed by the united nation constitution. Biafra has an agenda.
"We understand that the use of Sharia law to try Mazi Nnamdi Kanu, was an arrangement to Islamize the country called Nigeria. And their plan is that when they use it on Nnamdi Kanu and succeed, it will become a reference point for them.
READ ALSO: See Gobe! Pastor in police custody after sleeping with General Overseer and her daughter (Photos)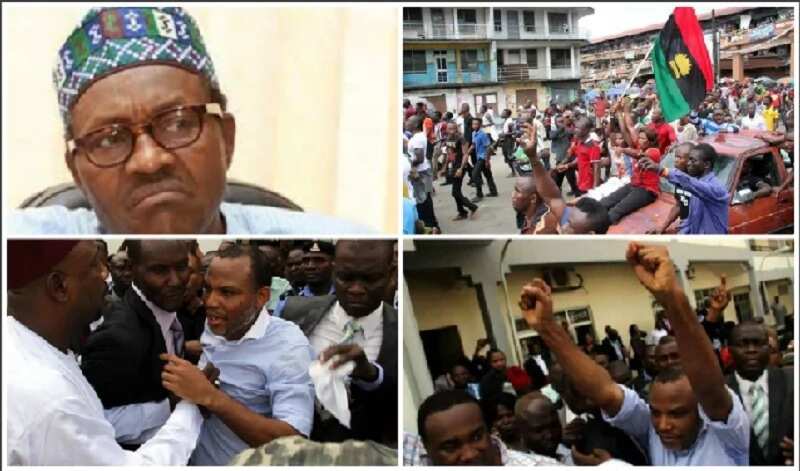 "From there they will start to use it against other people. I want to tell you that they have failed in this their plan.
"The simple fact, is that we have come to restore the sovereign state of Biafra.
Which has existed before the forceful amalgamation of the county called Nigeria."
On the issue of the sit at home order by the Indigenous People of Biafra, IPOB, Oyeibe said that it was not negotiable, adding that Biafra should not be deterred.
Onyeibe said: "Yes, I will simply say that 30th of May we don't negotiate about it. We remember that some of our members have been killed.
READ ALSO: President Buhari gets crucial warning ahead of Government Tompolo's birthday
We remember the one which happened during the time we were celebrating the President of the United States of America. So, I want to tell them that the 30th of May sit at home is not negotiable."
According to an earlier report by Legit.ng, IPOB condemned the remark by the United Kingdom High Commissioner Paul Arkwright on Nigeria and Biafra agitation.
The Biafra group said Arkwright's statement is distasteful and unfortunate.
Legit.ng gathered that Arkwright in a public lecture on, "Brexit: Lessons, Challenges and Opportunities for Nigeria" at the Federal University, Lokoja, on Thursday, April 6 said the UK remain firm in its support for one Nigeria.
But IPOB in its statement signed by Ikenna Chinaka and Grace Ukpai said the British envoy's comment displayed a lack of understanding of international law and protocol.
"From our very careful observation, we are of the view that two factors could have been responsible for Mr. Arkwright's uncharacteristic diplomatic blunder.
"The first that immediately comes to mind is ignorance and the second, which is equally unfortunate, even more so than the first, is mischief.
Riding on these assumptions, we shall now take the liberty of this press statement to address these two possible inadequacies which His Excellency might be suffering from and to clear every doubt his stance may have engendered in the minds of a largely undiscerning and docile populace," IPOB said.
Source: Legit.ng