Islamic group backs Emir Sanusi on bill to ban 'poor' men from marrying many wives
- The Muslim Rights Concern (MURIC) has commended the Emir of Kano Muhammadu Sanusi over his plan to propose a bill that will ban poor men from marrying many wives
- The group said the proposal is a good development and conforms to the pronouncement of the Qu'ran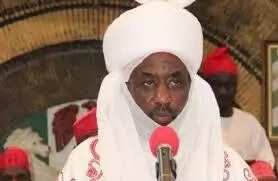 The Muslim Rights Concern (MURIC) has commended the Emir of Kano Muhammadu Sanusi over his plan to propose a bill that will ban poor men from marrying many wives.
The group said the proposal is a good development and conforms to the pronouncement of the Qu'ran.
Over the weekend, the Emir of Kano announced that he had concluded plans to propose a bill that will prohibit poor men from marry many wives and having children whom they cannot cater for.
Sanusi said he had been able to establish a connection between polygamy, poverty and terrorism.
READ ALSO: Emir Sanusi moves to stop poor men from marrying many wives
The former governor of the Central Bank of Nigeria said most men in the North, marry many wives, bear many children who end up on the street as thugs.
He also promised that the bill will be proposed in memory of late Ambassador Isa Wali, a former Nigerian High Commissioner to Ghana.
In support of the Emir's announcement, MURIC said the group is behind Sanusi on the proposed bill.
PAY ATTENTION: Get the latest News on Legit.ng News App
The director of the Islamic group Ishaq Akintola in a statement said the Emir's pronouncement is bold, visionary and revolutionary.
Akintola said: "Although Islam allows a man to marry up to four wives, this permission is meant to provide security for widows and other unmarried women. It is an open secret that women outnumber men in all parts of the world. Islam therefore permits men to marry more than one wife in other to provide shelter and welfare for those women who would have been left single."
He said the Qu'ran also enjoins those who do not have the capacity to maintain even a single wife to abstain from marriage until they can become economically strong enough.
READ ALSO: Rot in CBN, others exposed as EFCC prepares to raid directors of agencies
"The verse says, "Let those who do not have the means for marriage keep themselves chaste until Allah gives them means out of his Grace" (Qur'an 24:33).
Akintola said while the abov verse takes care of Islamic bachelors, another verse in the holy book, caters for both married men and the single ones.
He said the verse allows a man who already has one wife to take a second woman, a third or even a fourth but with the proviso that such a man must have sufficient wherewithal to care for them all.
"The verse says inter alia, "…Marry two, three or four women of your choice. But if you fear that you will not be able to deal justly with them, marry only one…" (Qur'an 4:3). It is thus clear that, ceteris paribus, Islam actually encourages monogamy and a second wife (or third and fourth) can only come in where there is surplus provision.
"What the Kano state government is trying to do is to give interpretation to the phrase 'to deal justly' with two, three or four women.
READ ALSO: EXPOSED: How Jonathan's CDS was allegedly caught with $1m inside kettles
This becomes necessary in view of the fact that many Muslims abuse this window by marrying more than one wife when in reality they cannot even maintain one wife comfortably. The result is the production of children who end up as social miscreants.
"MURIC commends the vision and courage of the Emir of Kano as well as the forthrightness of Kano state government for evolving this great idea.
We charge other states which have Muslim majority population to emulate this policy. It is capable of reducing poverty, raising the standard of living and increasing the number of literate citizens," Akintola said.
Source: Legit.ng